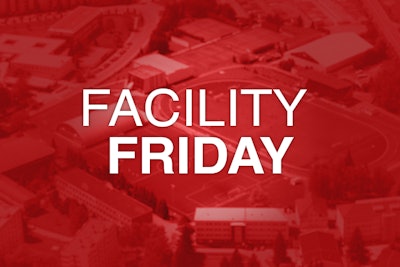 Coastal Carolina University held a groundbreaking ceremony for its new indoor practice facility on Thursday, Sept. 7. Located just south of Brooks Stadium, the $20 million, approximately 90,000-square-foot metal structure will accommodate all aspects of football practice and includes a regulation-size field featuring artificial teal turf.
The project is being funded, in part, through lead gifts from Conway Medical Center with Novant Health and Joe Moglia, CCU's chair of athletics, executive director for football, and executive advisor to the president.
The facility will include two filming platforms, restrooms, storage rooms, and an athletic training space that will be accessible from the interior and exterior practice areas. The space will also be used for practice for various Chanticleer athletic teams and will include an area for student clubs, organizations, and recreation. The University plans to host various campus and community events within the facility as well. [GoCCUSports.com]
Wake up! It's game day in Conway! We'll #CCUSoon in Brooks Stadium. pic.twitter.com/muAvfbBNzx

— Coastal Carolina U. (@CCUChanticleers) September 9, 2023
The University of Maine unveiled its new field hockey complex Friday during a grand opening ceremony.
The new 70,000-square-foot, $8.3 million complex can seat up to 512 people, with additional space for chairback seats in the center of the stadium, the UMaine Athletics said in a news release.
The complex also features synthetic turf, a three-level enclosed press box at midfield with the third level covered in canopy for film, LED stadium lights, two new scoreboards, and brick dugouts, the release stated. Spiideo cameras are also expected to be installed in three locations around the complex to allow for video replay. [NBC]
The University of South Florida's plan to spend $340 million on an on-campus stadium cleared its final hurdle last week, paving the way for what college officials say will be a transformational project set to open in 2026. [Axios Tampa Bay]