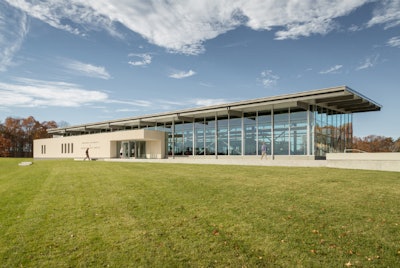 Bulldog Strength and Conditioning Center | Bryant University
"Strength is beauty," commented one judge when referring to Bulldog Strength and Conditioning Center, designed to bulk up Bryant student-athletes while visually anchoring one end of the school's football facility — all in one efficient package that more than doubles existing resources.
Another judge lauded the modern facility's stone, steel and glass detailing and its ability to "flex" between an athletic space and a formal events space. Training spaces include 24 power-lifting stations, selectorized weight and cardio machines, and 160 feet of synthetic turf. A custom tensile shade structure protects a north-facing terrace during alumni gatherings.
Noted one panelist, "This building massing is a great balance of strength and movement, visibility and privacy."
View the full photo gallery>>>
---
Judges' Comments:
"This is an elegant and beautifully detailed small project, particularly for weight training."— Tracy Carusi
"The view from the field gives clear visibility to activities and brand. This elevation conveys strength and balance without relying on symmetry." — Greg Houston
"Disciplined approach to form and material selection housing a great environment for Bryant's athletes."— Dave Larson
---
Architect of Record:
Sasaki Associates | Watertown, Mass.
Cost: $5 million
Square Footage: 10,600
Funded By: Private donations, college donations
Major Facility Components: Weight and cardio training areas, indoor turf sprint area, nutrition station, changing rooms, coaches' offices, conference room
---

A big thank you to our seven judges: Katie Barnes, Barker Rinker Seacat Architecture; David Body, David Body Sports Planning Consultant; Tracy Carusi, Collins Cooper Carusui Architects; Greg Houston, Marmon Mok Architecture; Philip Laird, ARC/Architectural Resources Cambridge; Dave Larson, TMP Architecture.; and Jeff Penner, Stantec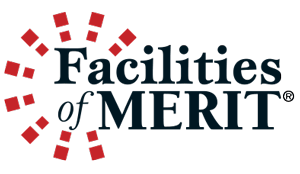 The 2016 Athletic Business® Facilities of Merit® awards were selected by a panel of sports and recreation facility architects during two days of judging in Madison, Wis. The 10 winners are being announced during these two weeks, and profiles of all 10 will appear in the October issue of Athletic Business. The awards will be presented to the facility owners and architects at the Athletic Business Show in Orlando on Friday, Nov. 18.
See more of the 2016 Facilities of Merit