Check out the newest products as seen in the April 2020 issue.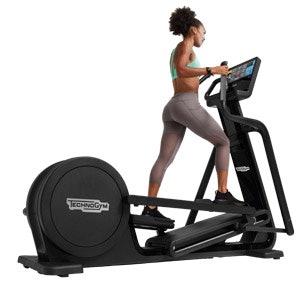 Technogym
Technogym's upgraded, 25-piece Artis line introduces new digital services and style options to the biomechanical engineering and interactive technology already provided by the original Artis line. The new Artis Synchro elliptical has expanded movement due to the loading-response footplates that take pressure off the feet, as well as the ergonomic upper body levers that follow the spontaneous motion of users' arms. The elliptical offers a stride of up to 67 centimeters wide, and a Quick Ramp technology that allows users to change the gradient on the fly. Users can choose from 25 levels of intensity and four science-based video-guided routines. The new cardio equipment also features high-definition screens, video routines and outdoor training content, cell phone chargers, and improved operating systems. Biofeedback is integrated with Technogym's Mywellness platform, which allows users to aggregate data to their personal profile.
www.technogym.com
(800) 804-0952
---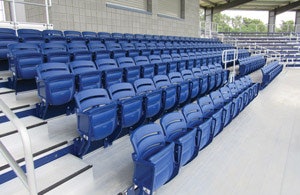 Interkal
The AURA stadium chair from Interkal delivers unparalleled comfort for a variety of sports and entertainment venues. AURA provides strength and durability by utilizing the design of a stanchion-to-stanchion cross shaft through the seat pan. Powder-coated cast aluminum stanchions will not rust, ensuring that AURA stadium chairs will maintain their new look and feel. The AURA chair is designed to provide ergonomic support with modern styling. With numerous customization options, AURA is available in solid- and slat-back designs. A wide range of colors and accessories — including cupholders, upholstered seat and back inserts, and seat numbers and row letters — make AURA a great fit in any application.
www.interkal.com
(269) 349-1521
---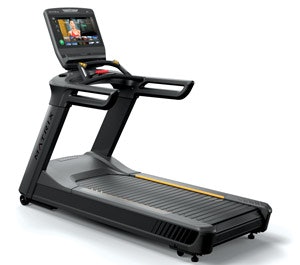 Matrix Fitness
The Performance Plus Treadmill has a shock-absorbing slat belt and a high-efficiency drive that last up to 100,000 miles and make even intense runs feel comfortable, solid and smooth. When it comes to high-intensity interval training, the wide belt and long deck offer unmatched freedom of movement, while a powerful lift motor provides smooth changes. Service and maintenance remain simple, and users can choose what kind of console technology to pair with their treadmill. The technological options provide experiences that span from beautifully simple to digitally connected and rich with entertainment.
www.matrixperformanceplustreadmill.com
(608) 839-8686
---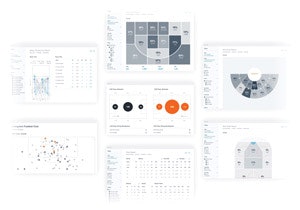 Hudl
Hudl's new athletic department packages give coaches and athletes the tools to use video to learn and improve. From recording and live streaming games with Hudl Focus to professional stats and reports from Hudl Assist, a departmentwide package has everything teams need to capture, analyze and share video. Coaches will save time, players will get noticed, supporters will be engaged, and department operations will be simplified.
www.hudl.com

---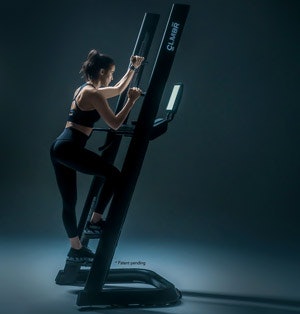 CLMBR
CLMBR is an ergonomic and innovative climbing machine. The CLMBR's patent-pending design is fit for heavy commercial use, as it has a high build quality, a low level of required maintenance and is easy to move. The machine's open structural design leaves users' views unobstructed and supports a natural athletic posture. It also offers the latest user interface technology and a state-of-the-art companion app that displays key metrics to maximize the user experience, including the heights users have climbed and the workout targets they have reached. Optional integrated audio can fill a studio with music and an instructor's voice.
www.clmbr.com
(888) 423-4621
---

Clorox
The CloroxPro™ Clorox® 4-in-One Disinfectant & Sanitizer in lavender is a versatile aerosol that disinfects hard surfaces, sanitizes soft surfaces and the air, and reduces allergens. There is no precleaning required, while the product leaves a fresh, lavender scent. EPA-registered as both a disinfectant on hard surfaces and a sanitizer on soft surfaces, the Clorox 4-in-One allows cleaning professionals to reduce the number of products they need to tackle multiple types of surfaces — from chairs and couches to gym benches and equipment. With no additional step in cleaning and disinfection protocols, coupled with so many uses in one product, facilities can accomplish more with less.
cloroxpro.com
(800) 492-9729
---
This article originally appeared in the April 2020 issue of Athletic Business with the title "New & Improved." Athletic Business is a free magazine for professionals in the athletic, fitness and recreation industry. Click here to subscribe.