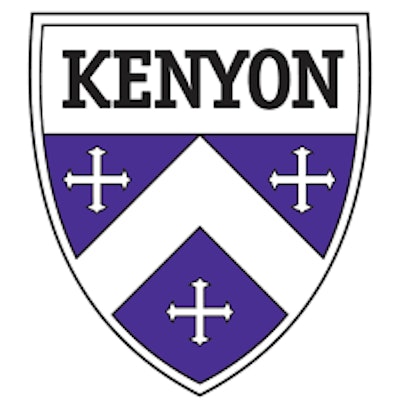 Clothing standards for Kenyon College's Lowry Center have been in place since 2015, but the school is reviving its efforts to communicate the dress code this academic year amid some student criticism.
As reported by The Kenyon Collegian, Lowry Center officials say the code's primary purpose is to reduce contact between skin and equipment in order to minimize the spread of disease. However, recent endeavors to inform gym goers of the rules have sparked criticism among students for being ambiguous and overly restrictive.
The dress code — which is posted around the gym and displayed in an abridged infographic on the screen outside of the Patterson Fitness Center — includes both general guidelines for attire and images of specifically prohibited items. While sweatpants, sneakers and shirts are permissible, Crocs, jean shorts, bare feet and sports bras worn as tops are highly discouraged. Tops are required to cover the entirety of the torso, to be "conservative in nature" and to have arm holes smaller than the area of the patron's hand, as reported by Liz DeProspo of the Collegian. Bottoms should fully cover the buttocks and be free of rips.
Related: UTRGV Rec Center Dress Code Draws Mixed Response
Director of Athletics, Fitness & Recreation Jill McCartney stressed that patrons will not be asked to leave or change out of non-compliant clothing. Rather, employees will seek to open a dialogue about the health and safety benefits of reducing bare-skin contact with equipment. By minimizing the skin in contact with machines, gym directors hope to reduce the topical spread of infections such as ringworm and Staphylococcus aureus (staph). Staph infections are of particular concern to McCartney, as an outbreak in 2013 forced the center to temporarily shut down prior to her time as director, she said in an interview with the Collegian.
According to director of strength and conditioning Chris Rosselot, some staff are still being trained on how to approach gym-goers regarding outfits that don't meet Lowry Center standards. "We are continuously working to provide education for staff as well so please be patient with them if they approach you regarding the policy. This is a learning experience for all involved due to the lack of visibility of the policy previously," Rosselot wrote in an email to the Collegian. Rosselot explained that the code was reviewed with the Civil Rights Office and stripped of the gendered imagery present in previous iterations in order to support a more inclusive environment within the gym.
Related: Mizzou Student Disputes Rec Center Dress Code
Some students are still critical of the rules. "This new 'dress code' is not only inherently unenforceable due to the lack of specific rules about lengths, fabrics and fit, but it seems to depend more on peoples' bodies than the actual clothes," one post caption read. "This is an equity issue that need[s] to be addressed as it inherently targets every — but specifically femme-identifying patrons — of the [L]owry [C]enter."
Ultimately, Rosselot emphasized that developing and enforcing the code is an evolving process that may involve modification and incorporation of student and faculty feedback. "There are many different types of dress policies in fitness facilities across the country, we are just working to find best practice for ours here in the Lowry Center. This policy is not a new policy, the Lowry Center is just making a renewed effort to educate and encourage the patrons to assist in reducing everyone's potential exposure," he said, as reported by the Collegian.