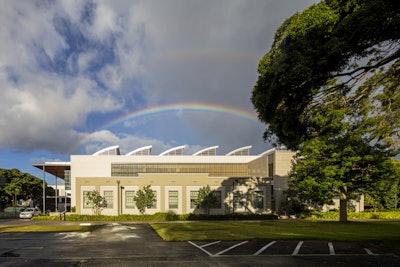 Warrior Recreation Center | University of Hawaii at Manoa
"A great interior quality of light won the jury on this project," stated one jurist, while another lauded the Warrior Recreation Center as "an excellent response to the unique climatic conditions of Oahu."
Both light and ventilation were made possible by an abundance of operable windows, tying interior to exterior. This integration is also made possible by a canopy that facilitates outdoor recreation. Other sustainability efforts included the renovation of two existing buildings for recreation purposes, as well as the use of green roofs, solar panels and rainwater reclamation. But the light-filled main gymnasium in the new recreation facility drew most of the panel's attention. One panelist stated simply, "I love this gym."
View the full photo gallery>>>
---
Judges' Comments:
"The amount of natural light that floods the main gym from all directions creates a stunning and beautiful space. All of the operable windows throughout the building provide opportunities for natural ventilation." — Philip Laird
"This facility takes full advantage of Honolulu's environment to create truly impressive spaces that tie to the outdoors very well." — Dave Larson
"The student-centered response is commendable. Extensive glazing and daylighting spills light into all aspects of the plan." — Jeff Penner
---
Design Architect:
Yost Grube Hall Architecture | Portland, Ore.
Architect of Record:Ushijima Architects Inc. | Honolulu, Hawaii
Cost: $30.8 million
Square Footage: 66,000
Funded By: Student fess
Major Facility Components: Gymnasium, strength and cardiovascular training areas, upper-level track, dance rooms
---

A big thank you to our seven judges: Katie Barnes, Barker Rinker Seacat Architecture; David Body, David Body Sports Planning Consultant; Tracy Carusi, Collins Cooper Carusui Architects; Greg Houston, Marmon Mok Architecture; Philip Laird, ARC/Architectural Resources Cambridge; Dave Larson, TMP Architecture.; and Jeff Penner, Stantec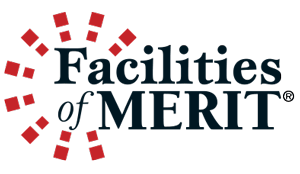 The 2016 Athletic Business® Facilities of Merit® awards were selected by a panel of sports and recreation facility architects during two days of judging in Madison, Wis. The 10 winners are being announced during these two weeks, and profiles of all 10 will appear in the October issue of Athletic Business. The awards will be presented to the facility owners and architects at the Athletic Business Show in Orlando on Friday, Nov. 18.
See more of the 2016 Facilities of Merit