The University of Washington awards varsity letters to pre-Title IX female athletes.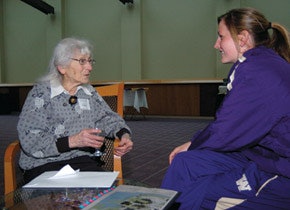 University of Washington president Mark Emmert felt he owed the nearly 200 former student-athletes sitting before him an apology. He told them of the university's mission to provide students with the resources to compete at the highest level. "We didn't do that for you," Emmert said, "and we're sorry."
These particular Huskies, all women, represented Washington on the playing courts and fields prior to the 1972 passage of Title IX. Many of them had taped their own ankles, hand-sewn letters and numerals onto their team jerseys and held bake sales to bankroll their road trips. None had been awarded a varsity letter - that is, until one Saturday this April, when the women returned to Seattle and Bank of America Arena to formally accept their long overdue "W."
The president's words of contrition, delivered during a dinner program, were equally well received, according to UW senior associate athletic director and event co-chair Marie Tuite. "That meant so much to the women in the crowd," Tuite says. "It was wonderful. I underestimated how emotional it would be for these women."
That's quite a statement coming from Tuite, a former collegiate basketball player who received her own varsity letter five years ago from Central Michigan University (one of four schools in that state to so honor pre-Title IX athletes within the past 10 years), saying of the honor, "It was one of the touchstone moments of my life. Still is."
Certainly, many among the UW alums never expected to see the day when they would be recognized with their own varsity letter, much less one mounted for display. "I'm not going to put it in a box somewhere," said three-sport athlete and 1964 graduate Shaughn Gorman, as reported by The Seattle Times. "I'm going to be proud of it and pass it on to my grandkids." Eighty-five women also received purple-and-gold blankets honoring four years of sports participation. Added Shelley Morrison, a 1971 graduate who went from tennis player to female sports broadcasting pioneer, "I didn't realize how much I would care about actually getting a varsity letter. For years I didn't think about it much. But I have a son, and he has my husband's college blanket. And it's like, I played varsity sports, too, but I had nothing to pass on. This is going to make it real."
"I was cynical when first invited," wrote Monta Potter, 30 years removed from her basketball and volleyball playing days, in a guest column for the Monterey County (Calif.) Herald. "I figured the university fundraisers tried to get a donation from a wealthy former athlete, and she told them, 'Not until you give me my letter for competing four years for the U.' But I don't feel cynical anymore. The University of Washington really honored us."
The largely underwritten event (dinner seats sold for $55, with the intent of breaking even) involved more than a year of planning. As committee members met regularly, interns within a new UW master's program - Intercollegiate Athletics Leadership - assisted in tracking down contact information of letter-eligible alums. More than 300 names ultimately made the list - the history of UW women's sports dating back to 1905-06 coming to light in the process. "Prior to Title IX, a lot of things were not very formal, so the records kept were hit and miss," says committee member Ann Higgins, an administrative assistant to Tuite. "That became one of our other goals - preserving the history of the women of Washington."
Some women brought more history to the event than others. At 97, Helen Shanstrom Russell, who played women's baseball (not softball, mind you), was one of three nonagenarians in attendance. Guests were invited to arrive early for a facility tour led by the current women's soccer team, and 80-some alums were lined up waiting for the doors to open. A reception followed on the arena concourse, from where the former athletes were announced alphabetically and by decade to a crowd of nearly 500 onlookers - each honoree descending the seating bowl in a spotlight as a contingent of the UW marching band played "Bow Down to Washington." The dinner program featured a taped interview with Shanstrom Russell, as well as the remarks of Emmert, athletic director Todd Turner and Women's Sports Foundation executive director Donna Lopiano. "The hardest part was keeping those women quiet backstage, let me tell you," Higgins says of the honorary procession. "The excitement and energy level was unbelievable."
And event organizers don't expect the excitement to die down anytime soon. Each honoree received a one-year membership in the Big "W" Club to further foster a sense of reconnection. "Because of what these women went through, because they didn't get scholarships and recognition, some of them never really felt part of the university," says Higgins, who has been flooded with positive feedback from event attendees. "Several women have said, 'I now feel like an alum. I feel like I'm part of the university again.' "