Fans have tested the security staffs in more than one professional baseball park this season by gaining access to the field during games, but news that two men had broken into Pittsburgh's Heinz Field (with the help of a third) and been chased across the football gridiron by police early Sunday morning got me thinking about off-season security measures.
According to the Pittsburgh Post-Gazette, Shazad Hosi Mehta, 28, of Elmhurst, Ill., Adil A. Minocherhomjee, 22, of La Jolla, Calif., and Neville Noshir Medhora, 27, of Austin, Texas, were arrested at gunpoint and charged with criminal trespass and conspiracy to commit criminal trespass. Read what you will into their foreign-sounding names and far-flung hometowns; I wanted to know how any three individuals could, in these post-9/11 United States, simply use each other as human ladders to scale a fence and enter a major sports venue, with the luxury of enough time to breach Heinz Field's Gate A after an initial attempt at Gate B had failed.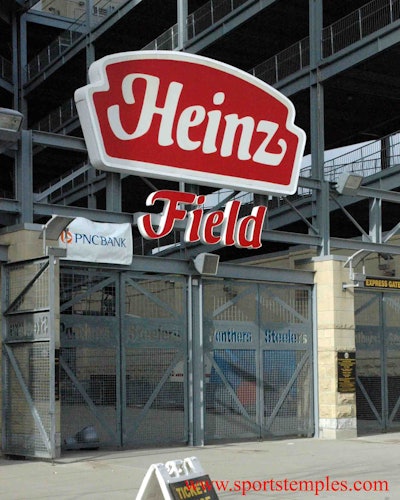 I asked sport facility security expert Ben Goss, associate professor in the department of management at Missouri State University, if Heinz Field could be considered "secure" under the circumstances. "Absolutely not," Goss responded via e-mail. "I have a hard time believing that a facility of this magnitude and visibility didn't have motion detectors that immediately set off all kinds of alarms, lights, sirens and police notifications. With the outright expressed desire by terrorists to target sport facilities, it's high time to treat and guard these facilities like the plum terror targets they've become."
Goss wouldn't venture a guess as to what the three individuals were up to at 7 a.m. on a Sunday at a venue that hadn't seen a capacity crowd since December, though he said he read one account in which they claimed they had been to a wedding at the stadium earlier, were denied field access for a photo and came back to take one. The Post-Gazette reported that the search for a lost wallet was the reason given police for the break-in. Heinz Field's public relations department has not responded immediately to AB's interview request.
The three men were released on bond and are scheduled to appear in court Thursday. Pittsburgh police notified the FBI and the Department of Homeland Security, and have stepped up patrols around Heinz Field, PNC Park (home of MLB's Pirates) and Rivers Casino, the Post-Gazette reported.
Goss admits that the nation's collective guard may be down somewhat since 9/11, but that venue security is still well ahead of where it was prior. What worries him most is the lasting images created by fans spontaneously gaining midgame access to the playing field. "My fear is that those who mean harm of a larger scale see the reluctance of facility security to use more forceful measures - both at the time of the incident and subsequently - to curb this sort of behavior, and grow more emboldened to attempt a larger, more intricately planned attack," he says. "Make no mistake about it. If facility managers don't send a clear message about this sort of behavior when it occurs on a smaller scale, it will at least result in more large-scale attempts. And even botched large-scale attempts could prove disastrous in many respects."