Arash Izadi and Steve Flanagan, Directors of LPA's Sport + Recreation and Higher Education practices, led a presentation on future-proofing recreation facilities and discerning trends from fads during the recent Athletic Business Show in San Antonio, Texas. The presentation, which included Erik Jaeke, Associate Director of Programs at the University of Wisconsin-Madison, and Chris Fiocchi, Senior Director of Campus Recreation at Clemson University, focused on strategies to develop flexible, adaptable facilities capable of accommodating the latest trends.
A few of the key takeaways from the presentation:
Keep the Non-Traditional User in Mind: Administrators should consider the diversity of the community and their evolving preferences as they look to expand their programming.
"With the changing environment in enrollment, we have to think about what the student population is going to look like in the next five, 10 and 15 years and how we can adjust our recreation offerings to account for the student demographic and the non-traditional recreation user," Fiocchi said.
Universal or family locker rooms are one growing trend that creates a more inclusive environment for all users.
"Creating spaces that are more accessible and inclusive to a wider variety of users is so important," Jaeke said.
Expand Outdoor Recreation:
No longer indoor-only facilities, modern recreation centers extend to the outdoors and help support outdoor adventure activities.
"If COVID taught us anything, it's the importance of connecting individuals to the outdoors beyond the traditional outdoor adventure programs," Fiocchi said. "Clemson University opened up its Outdoor Education Center just prior to the pandemic, and it served as an incredible resource for students to recreate and connect in ways that required very few restrictions."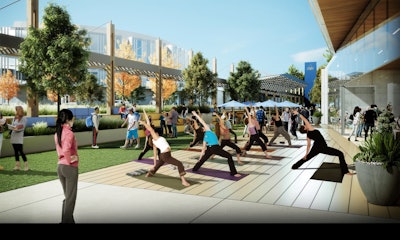 Running, hiking, road/mountain/BMX biking, camping and fishing are the most popular outdoor activities among young adults aged 18-24, according to recent studies. Adding locations near the front entrance for students to check out camping, kayaking and other outdoor equipment can help address the constituency. Indoor/outdoor turf training areas can also move traditionally indoor activities outside. Blurring the lines between indoor and outdoor exercise studios with operable walls of glass can provide choices for students to be indoors or outdoors to take part in any exercise class.
Virtual Fitness:
Online classes became ubiquitous during the pandemic. While many students are eager to return to working out in-person, facilities can cater to users who love the convenience of working out from their living room. Many colleges are increasing their library of content to help people participate in live or recorded virtual fitness.
"Students have gotten used to participating in virtual fitness programs, and it's a great way to introduce them to the recreation program," Flanagan said. "This is also a great way for colleges and universities to introduce their program offerings to incoming students before they start as a freshman, which creates a sense of community and gets them excited about recreation programs before they're even on campus."
Peloton and other tech-enabled equipment can help make this connection between recreational programs to draw to students into a facility.
eSports are another growing virtual trend, with some recreation centers offering dedicated space to accommodate individual recreational use as well as leagues and tournaments.
Holistic Wellbeing: "We're no longer just focusing only on physical fitness within wellbeing, but taking a more holistic approach to how we can support the health and wellness of students within our spaces and throughout campus," Jaeke said. "How can we be a one-stop-shop for college students so they can visit a single facility for everything from playing basketball and taking a HIIT class to visiting a primary care doctor and accessing mental health resources?"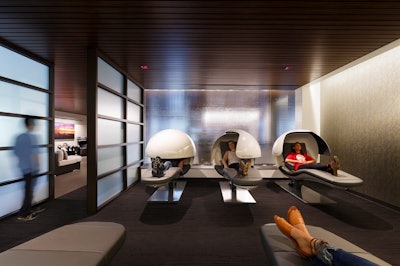 Outdoor adventure activities, fire pits, beach-like outdoor seating, resort-style pools, lazy rivers, massage therapy rooms, nap pods, counseling rooms and meditative spaces are all in-demand amenities that support students' health and wellness and help make recreation centers the center of campus life.
"Recreation centers have become the student unions of this generation. It's a place where you can see and be seen," Izadi said.
Trends vs. Fads:
It's important to look at the staying power of current trends in the fitness space and assess whether they are truly trends worthy of a long-term investment or just fads, said Micah Walters, West Coast Regional Sales Manager at Mondo USA, a global leader in track and field, indoor sport and contract flooring. Walters collaborated with the panel on the presentation, and noted that it is critical to include multifunctional, open space that can be easily adjusted as trends evolve.
"Weight loss and racquetball were hot trends driving the design of recreation facilities in the 70's, 80's and even early 90's," Izadi said. "Now, it's all about wearable technology, high intensity interval training and functional fitness. People are seeking areas where they can plug in and connect, but also spaces where they can unplug and rebalance."
Functional fitness may have particularly strong staying power, and it doesn't require much retrofitting to provide the necessary space at campus recreation centers. Rarely used racquet ball courts can easily be transformed with some structural wall and ceiling enhancements to outfit rooms with a variety of equipment for high intensity interval training and functional fitness.
Functional fitness areas may also be used by paid programs like F45 studios, which can generate additional revenue for colleges and universities.
Speed ramps are another trending amenity. "Instead of running in a circle around a basketball court, you're weaving around and going up and down through the facility. Going up and down is a more strenuous activity and creates an opportunity to see and be seen by classmates as one moves through the building," Flanagan said.