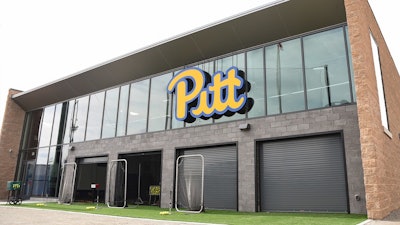 The University of Pittsburgh unveiled the new state-of-the-art indoor batting cage facility at Vartabedian Field earlier this month.
Located directly behind the scoreboard in left field, the 3,600-square-foot facility includes two netted batting cages, three infield clay pitching mounds, six instant feedback cameras with four TVs and surround sound speakers. The facility is fully heated for the winter months with two industrial fans for the spring and summer. It also includes four retractable garage doors to allow outdoor hitting against a portable net.
"Pitt Softball is extremely grateful for the investment of this beautiful hitting and pitching facility because it allows us to elevate our training and development to an elite level," head coach Jodi Hermanek said. "Everything we need for these athletes to have a quality experience is right here at Vartabedian Field. With this indoor facility, we are now able to add technology training tools and extensive video resources that we value in our training. Along with that, the impact that this facility has already made on our recruiting allows us to compete for elite prospects. We are looking forward to the upcoming recruiting season to fill this facility with prospects and show them how Pitt is invested in our athletes and our sport."
As part of the unveiling ceremony, Hermanek and University of Pittsburgh Athletic Director Heather Lyke and the team honored Nish Vartabedian for his longtime support of Pitt softball.
"I want to say thank you much, Nish, for believing in our department," said Lyke while unveiling the new indoor facility in front of the team. "Our current student-athletes are why we do what we do and giving back to our program means a lot to this university. Nish has made a huge difference and we are really, really grateful and proud to play at Vartabedian." — Pittsburgh Panthers
---
Ohio Christian University in Circleville is adding a new sport to its ranks this year: disc golf. According to OCU Athletics, both men and women will be able to compete in the sport, and a new 18-hole course is set to open in the spring.
Ohio Christian University has had disc golf chains on campus since 2007. A brand new course will be open to both the community and athletes.
"We are excited to welcome disc golf to the athletic program," OCU Director of Athletics George Arroyo Jr. said. "Over the past few years, disc golf has emerged as a quickly growing collegiate sport on many college campuses. With a newly constructed 18-hole course on campus, athletic scholarships, and a wonderful surrounding community, we believe disc golf at Ohio Christian will allow us to attract students to campus while providing new opportunities to compete collegiately."
Arroyo said the Trailblazers will begin competing in local tournaments with a goal of becoming a member of College Disc Golf along with other NAIA and NCAA colleges and universities.
The university said a search for a head disc golf coach is underway. — The Circleville Herald
---
Washington, D.C., officials broke ground on the new Joy Evans Therapeutic Recreation Center on Wednesday. The $40.4 million project will become the premier therapeutic recreation center in the region and will serve residents along the full spectrum of physical and cognitive abilities.
Scheduled for completion in summer 2023, the Joy Evans Therapeutic Recreation Center will include several features to enhance cognitive development and support physical disabilities. The center will feature therapy wellness and active rooms, including a sensory room, an 1,800 square foot therapeutic pool and a 135-square-foot spa. It will also include senior and tech lounges, a caregiver lounge, fitness center and multipurpose rooms. For younger ages, the center will have playgrounds for 2-to-5 and 5-to-12-year-olds, a splash pad, basketball court, and baseball field. The project design will incorporate a connection to nature throughout the site.
"We know that individuals of all ages and abilities deserve to experience a sense of community, engagement, and inclusion – and that will be the focus of this space for generations to come," said Mayor Muriel Bowser. "Washingtonians love our rec centers, our community centers, and our senior centers, and that's because not only do we build beautiful facilities, we also build the types of programming that our residents want."
The new facility will consist of 37,000 square feet on more than 7.5 acres of land and will bring together several agencies to provide comprehensive recreational and therapeutic programming. The new center will be an evolution of the District's service system that will provide dignified cognitive opportunities for those with intellectual disabilities.
The Joy Evans Therapeutic Recreation Center will also offer a plethora of comprehensive programs and services including leisure life skills development, adaptive sports and aquatics activities, senior programming, arts and crafts and culture activities, special events, field trips, and summer camps.
Beginning in 1967, Joy Evans of Washington, D.C., was a resident of Forest Haven, an institution located 22 miles outside of the District. When she passed away at the age of 18, her experience brought needed attention to the disparity of city resources for residents with disabilities.
"The Joy Evans Class Action remedied the practices of segregation, maltreatment, and institutionalization of people with intellectual disabilities," said Andrew Reese, Director of the Department of Disability Services. "Having a recreation center named in her honor reflects the significant strides our government has made and will continue to make so that DC residents with intellectual and developmental disabilities have every opportunity to use and receive services from any District business and facility. It reflects the commitment of Mayor Bowser to improve the lives of every District resident and fosters greater community inclusion for people with intellectual and developmental disabilities."
The center provides ADA enhancements including automatic door openers, wheelchair ramps, call buttons, and braille signage for assistance.
The District worked with several disability consultants in designing the new facility including Amy Wagenfeld, co-author of Therapeutic Gardens: Design for Healing Spaces, who has also worked with MedStar National Rehabilitation Hospital.
The mayor also highlighted investments in her Fiscal Year 2023 Fair Shot budget that will keep Washington, D.C., a city where all residents can thrive, including $353 million over the next six years to construct and modernize parks and recreation facilities, $294 million to preserve and maintain ADA-compliant recreation, library, and school facilities, $2.6 million to keep seniors connected to family, friends, healthcare and wellness through the distribution of personal tablets, as well as $11.5 million at the Department of Disability Services to retain direct support professionals who care for residents. — D.C. Mayor Muriel Bowser
---
The University of Pennsylvania in Philadelphia announced a $17.5 million gift to the Penn Track & Field and Cross-Country Campaign for Excellence from 1997 graduate Jay Alix, which will allow the university to start construction on the long-planned project.
The milestone gift will support the centerpiece of the fundraising campaign: a planned indoor track and field facility to be located at the southeast corner of campus.
Once complete, the new track and field center will be the only collegiate indoor facility of its kind in the greater Philadelphia region.
The university said it will name an area inside the new Jane and David Ott Center for Track & Field after Alix: the Jay Alix Throws Area.
The planned 73,000-square-foot structure will be located behind the Hollenback Center near the South Street Bridge. Designed for track and field, it will include a six-lane, 200-meter banked track; an eight-lane sprint track; dedicated areas for field events; and seating for spectators during competitions.
Construction is slated to begin in August 2022.
The planned Ott Center will offer countless benefits to Penn's track and field athletes. — Penn Athletics