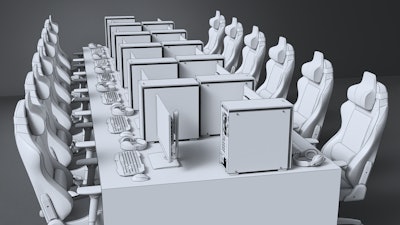 The Perkins&Will Denver and Austin studios led a study for an esports space at a high-profile public research university that focused on outreach to those who will occupy the space daily — casual gamers and competitive gaming team members alike.
The space will have a dedicated area for the university's competition team members to practice, bond and relax from the fast-paced world of competitive esports. The facility will also offer plenty of gaming stations for casual gamers.
Perkins&Will has a solid foundation of esports knowledge from prior designs and internal research projects within the firm's Innovation Incubator program. During the feedback sessions from the students attending the university, a substantial portion of the research was confirmed. There were also several new and interesting ideas generated. They are summarized here.
Revenue Generation
Revenue generation represents an important component to any esports facility with a public gaming area. Common ways to generate revenue include rental of the gaming machines for a small fee. Typically, this fee is by the hour or by other blocks of time. During the survey sessions with students, we found that the overwhelming majority of those who would use this space would use it for anywhere from one to six hours.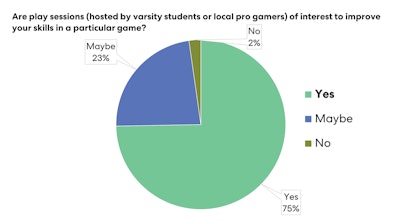 Another source of revenue for an esports space is food and beverage sales, though the results of our survey were a little mixed on that subject.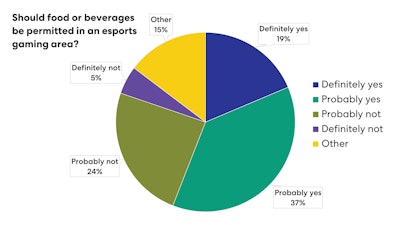 A common concern with having food and beverages near these high-powered gaming machines is that spilled drinks and food crumbs can damage the equipment. In many of the existing operational esports spaces, there have been few to no incidents of this kind. A design consideration might be to make a dedicated space for consumption of food and beverage sold within the venue. This concept is not always preferred, as many gamers like to have at least beverages at their stations so they can consume water or energy drinks between sessions. A solution may be to have food limited to specific areas, but beverages allowed at the gaming stations.
An additional revenue generator that was identified during the study involved streaming stations that users can rent for a higher fee than a normal gaming station. What makes the streaming station different from a normal gaming station is that this station is equipped with everything needed to stream the game onto popular platforms such as Twitch or YouTube. Streaming station equipment would include a video camera, a microphone and an additional monitor so the user can see any comments written in the chat app during their streaming session.
With this type of streaming station, the issue of noise may arise. Typically, when streaming, the player is talking regularly — either to people watching or just providing general commentary about what is going on in the game. To mitigate the issue of sound, these streaming stations may need to be placed away from the public machines or have sound dampening partitions around the area.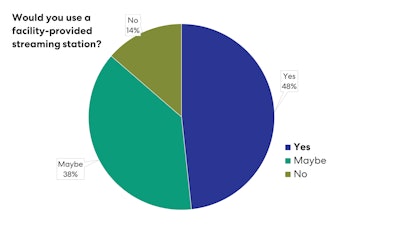 An added benefit of the streaming station is that while the person is on camera, the background activity of the esports space can be seen by the viewers tuning into the stream. If a person has 2,000 individuals watching the stream, and if any of those viewers are nearby, they may be encouraged to check out the esports space.
Design Considerations
Understanding that an esports space is not a computer lab is essential. Gaming spaces have unique requirements that set them apart.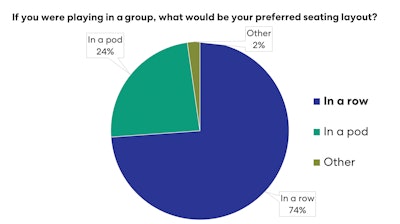 One such requirement is that many people who will experience the space will do so in larger groups. While computer labs may have a few people collaborating in groups working side by side, most people in the esports space are working as individuals. That said, there may be up to six people playing esports as a team, and they will want to play on gaming stations close to their team members. Station arrangements that organize gamers in a pod versus desks arranged in a line were tested during the design exploration stage of the study. In one of the feedback sessions with the students, the majority felt that they preferred to play on desks arranged in a line rather than in a pod.
One of the major reasons for the preference of the in-line setup is that it is easier to communicate and see their team members' screens. This is not to say that the pod configuration is not useful — it most certainly can be used for stations where a single gamer may prefer more privacy. However, most of the gaming stations should be arranged in a linear way with at least six stations next to each other.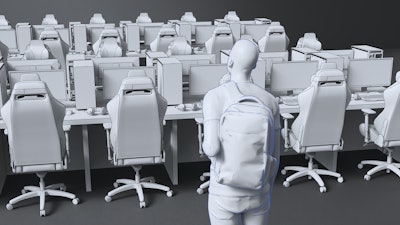 Feedback from experienced users on the organization and amenities of a space is important throughout the design process. After the design team identified the best desk configurations, they provided the students with several layout options. During this session, the design team developed a potential spatial layout that may not have been explored had they not involved active esports participants in the feedback sessions.
We learned that with most first-timers, the initial experience often determines whether a person will come back to the esports space. Therefore, it was critical to arrange the desks in a fashion that would not immediately intimidate users of the space when they walk through the door.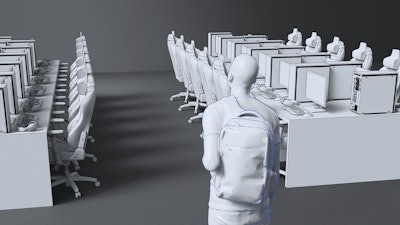 The design team's original preferred layout had the desks arranged in a way that they were all perpendicular to how someone would enter the space. One of the students suggested keeping the same number of desks but arranging them parallel to the path of entry. The student said that as a new or casual gamer, entering the space and seeing the desks aligned perpendicular to where they entered would create an intimidating wall of screens. When the screens are arranged in a parallel fashion, there is less of an intimidation factor for new or casual gamers.
In the initial survey of the students, most identified as new or casual gamers, making intimidation an important consideration for the overall design of the space.
Final Considerations
Lighting in an esports space is another critical design element. In this study, natural light was not available as the space under consideration is underground. If an esports space is above ground and does have access to natural light, there needs to be an understanding of how natural light can be detrimental to the overall esports experience. Natural light, while great for certain environments, can create harsh glare on computer screens, which in turn degrades the experience and can disincentivize repeat visits.
In one of the esports spaces toured, even though the windows had very deep overhangs that shaded much of the direct sunlight, the overall brightness from outside created glare on computer screens. Operators indicated that during the daylight hours almost no one used the desks that had screens facing those windows, which negatively impacted rental income. And harsh glare on screens is not just related to natural light. Sources of all light in the space need to be given careful consideration with lighting studies.
Spaces designed for esports should also be considered for uses other than gaming. These spaces house very powerful computers that can be used for workshops to train future video game designers, or the next generation of esports broadcasters (often referred to as "shoutcasters").Classes can be held on esports journalism and marketing to teach writing and language skills.
In addtion, members of the university's competitive team or local professional gamers may host play sessions to help improve other esports enthusiasts' skills on a particular game. The survey results show that the majority of respondents indicated they would attend a play session to improve their skills and that they would also attend workshops to explore career paths. While the gaming aspect of esports is a primary driver for the space, we should also think about this space in terms of education, competition and entertainment potential.
When considering an esports space, it is imperative for design and operations teams to constantly be engaging with the users who will experience that space. These users will present considerations that even avid gamers and esports enthusiasts may not consider. This feedback will lead to a greater user experience, which in turn will lead to greater repeat use and improved revenue metrics.