Rutgers University is transforming its athletic facilities to support its Athletics Strategic Vision. This series of targeted renovations continues an emphasis on encouraging the highest level of student-athlete development. The recent upgrades at the Hale Center result from a three-year phased renovation strategy developed with Rutgers Athletics, the Planning Department, and Natoli Construction. The reconfigured spaces take advantage of underutilized space beneath SHI Stadium, home to the Scarlet Knights football team. Working within the existing building footprint, EwingCole increased the size of the sports medicine area to facilitate new modalities for player treatment, emphasizing athlete analytics, rehabilitation area, and wet recovery therapies. Nearby staff and team meeting spaces were upgraded with branding and audio-visual technology. The new players' lounge creates a dynamic gathering space for the team, and the new nutrition area provides a much-needed refueling station. The state-of-the-art recovery suite promotes relaxation and healing. This ensemble of spaces provides the full package to support Rutgers Student-Athletes at the highest level.
Sports Medicine Area
The design team utilized former high-density storage space to serve as the new sports medicine area in the Hale Center. The expanded and renovated space allowed for additional treatment and taping tables, upgrades to the hydrotherapy area, including new glass walls and a shower for pre- and post-treatment sessions, and most needed additional open rehabilitation areas. The reconfigured space allowed for additional cardio positions along the curved exterior of the building and a revamped training area with new sports flooring, force plates, Bluetooth accessibility, and dedicated electrical circuits for specific rehabilitation equipment. The entire suite received new finishes, including a new ceiling and lighting accentuated by a new branded entry sequence, cohesive with other recent upgrades to the Hale Center.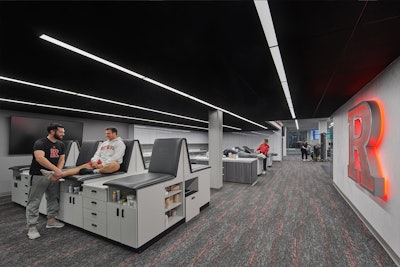 Recovery Suite
The former men's lacrosse locker room space was renovated into a Recovery Suite for the Football Team, which provides a quiet and soothing space for the players to relax and recuperate. The suite provides space for various state-of-the-art recovery technologies including salt pods, infrared saunas, dry float therapy rooms, electric cryotherapy booths, and a vibroacoustic therapy suite. The new all-glass entrance visually connects the Sports Medicine area and Recovery Suite.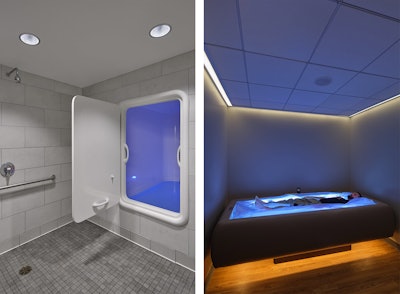 Nutrition Center
The renovations allowed the Nutrition Center to centralize, providing athletes with convenient access to new offerings, including refrigerated and shelf-stable snacks with direct access from the main corridor. The center is equipped with blenders, refrigerators, a freezer, a dishwasher, and a sink to facilitate the preparation of athlete-specific nutritional shakes. New nutrition offices and storage areas were constructed adjacent to support the new center.