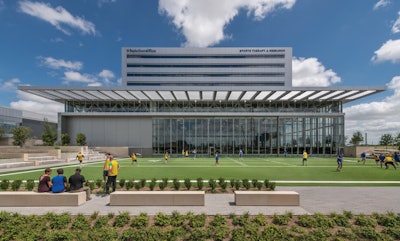 All photos and images courtesy of Perkins&Will
The integration of medical and athletic facilities is becoming increasingly important in the world of sports. Driven by the desire to improve the health, wellbeing and performance of athletes, there has been a rise in medical and athletic organizations working together. Partnerships range from medical-based collaborations to research and grant-based initiatives. These partnerships often create a different focus on wellness — one that incorporates physical, medical and mental health considerations for athletes competing at all levels.
There is an indisputable desire to improve the health and performance of athletes and to provide a more comprehensive approach to wellness. Understanding what athletes and medical professionals need under one roof is a fundamental aspect that makes crossover facilities successful, sustainable and equitable.
Why partnerships?
For the healthcare industry, the integration of athletic services can streamline care by offering patients access to multiple services in one location. This not only saves time and facility resources but also improves the quality of care, as medical practitioners and athletic trainers can work together to provide coordinated and personalized treatment plans. Whether a facility serves a professional, collegiate or recreational demographic, the common theme they all share is the "under one roof" approach.
For sports and recreation, rehabilitation is often more convenient at a facility athletes already frequent, such as a local recreation center. There is also the ability to combine capital funds, share resources, and build a better and more efficient facility instead of two separate facilities (one for athletics and one for healthcare). It is also notable that the healthcare industry spends much more on facilities overall. College athletics is a $15.8 billion industry, sports and recreation is a $79 billion industry, whereas healthcare is an $800 billion industry.
Maximizing usage
By analyzing data and facility usage over time, medically integrated athletic centers can study peak hours to optimize appointment scheduling and ensure resources are available when they are most in demand. For example, if data shows that peak recreation usage occurs in the morning, the facility may schedule appointments for physical therapy or other medical services in the afternoon. Studying peak hours is an important part of optimizing facility usage and ensuring members have access to the resources they need when they need them.
The Piedmont Wellness Center is an example of a medically integrated fitness center that offers a unique blend of medical and athletic services. The center, designed by Perkins&Will, serves the community through a holistic approach to wellness that integrates traditional medical practices with athletic training and conditioning. One of the key features of the center is its medical services area, which includes an outpatient physical therapy clinic with a complete array of rehabilitation programs. The programs offer comprehensive evaluations, personalized treatment plans, and rehabilitation services to help patients get back to their active lives quickly and safely. The goal is to have patients graduate into members, continuing on with a healthy, active lifestyle by using the facility's pools, virtual spin classes and high-intensity interval training (HIIT) classes.
The center gathered data about its peak occupancy days and times to determine the best window for medical patients to schedule appointments with physicians, therapists and nutritionists. By collecting data and analyzing usage patterns, Piedmont Wellness Center was able to make data-driven decisions that benefit both the facility and its members.
There are various ways athletic and medical organizations can utilize their partnerships. Whether the partnership is research or medically based, different organizations are seeking a match that fits their needs. Each of the following facilities, unique in their own way, is an example of how various partners and organizations can leverage their expertise in one building. Healthcare partners can see patients for appointments, athletes can use the facilities for training and rehabilitation, and all entities can further their research and advancements.
Private healthcare meets rec sports
Located in Rocky Mount, N.C., the Rocky Mount Event Center is a 165,000-square-foot multipurpose sport and entertainment destination. The facility offers more than 75,000 square feet of uninterrupted playing space for basketball and volleyball, six meeting rooms, concessions and its own in-house specialty healthcare center.
The Rocky Mount Event Center continued its partnership with longtime partner and nonprofit Opportunities Industrialization Center (OIC) to offer medical services, education and workforce development to visitors and community members in Rocky Mount. The OIC has served Eastern North Carolina for more than 50 years, providing the community with human support, education, primary medical services and career pathways. The OIC has a major focus on helping economically disadvantaged and unemployed community members receive medical and wellness services, treatment and career counseling.
At Rocky Mount, this ongoing strategic partnership has made it possible for community members from all walks of life to receive obtainable and affordable healthcare treatment. The facility offers mammograms, vaccinations, community fitness challenges, community health challenges, emergency care, injury prevention, rehabilitation services and much more. It handles urgent medical needs while also encouraging community members to utilize the entire facility for health, wellness and entertainment. Rocky Mount Event Center is in the heart of the city, within walking distance of the community on the east side and accessible to all users from its centralized location. The medical center was intentionally incorporated into the design of the building to provide the community with one central gathering place and help encourage the use of available medical resources.
Medical and athletic crossover facilities can come in many shapes and sizes, with each facility accommodating a different set of athletic and medical users. Recognizing that it can take many organizations to come together and meet community needs is one of the key reasons the Rocky Mount Event Center has been a successful addition to the city.
MU athletics and grant-based research
In 2016, Perkins&Will completed Phase 1 of the Marquette University Athletics Master Plan Update. A primary outcome of the master plan was the creation of the 47,000-square-foot Athletic and Human Performance Research Center (AHPRC). MU president Dr. Michael Lovell had a vision to encourage innovation on campus that could expand to the greater Milwaukee area. The project teams were tasked with creating a state-of-the-art performance and training center backed by applied research and clinical partnerships.
The AHPRC was created to be a national destination for scientific research and human performance. Outfitted with cutting-edge equipment and technology, researchers from a variety of disciplines can carry out athletic performance and injury prevention research backed by grants and other funding. Researchers with backgrounds in biomechanics, physiology and nutrition can collaborate with athletes, coaches, students, faculty and healthcare professionals to optimize human health and advance the field of sports medicine. According to the university, much of the research that takes place in the AHPRC involves elite athletic performance, human performance, rehabilitation and fitness data analytics.
Outside of research capabilities, the AHPRC also offers educational opportunities for the student population. Internships, workshops and seminars are offered to elevate the quality and vitality of the student experience. Marquette is one of many collegiate institutions that offer funding opportunities for researchers. Grants are often awarded by government agencies and private foundations.
Unprecedented partnership at The Star
Baylor Scott and White Sports Therapy and Research at The Star is a world-class athletic health complex in Frisco, Texas. The facility is an unprecedented partnership between two major North Texas powerhouses: the Dallas Cowboys and Baylor Scott & White Health. Elite professionals and student-athletes alike have access to an athletic training and sports medicine facility that converges sports performance, therapy, wellness and research. From injury prevention and training to healing and recovery, the complex enables visitors to experience the full spectrum of physical performance in one place.
The design invokes a sense of strength, durability and precision — attributes of both the athletes who seek treatment at the center and the physicians who provide the care there. The facility features an indoor/outdoor football field and a light-filled strength training room surrounded by glass walls, putting human health and sports performance on public display. Transparency of glass is used throughout the facility to showcase the human body in motion, creating a "living brand" experience that celebrates athleticism and physical fitness. Everything in the facility, from the design to the amenities, was intentionally selected to encourage wellness and suit the needs of any type of user.
The goal of the partnership was to create a facility that offers all programmatic functions under one roof: healthcare, science and technology, sports and recreation, a workplace, a branded environment and a community gathering destination. The Star truly is a one-stop shop for sports medicine and rehabilitation services.
Future forecasting and final thoughts
Research is leading to innovative advancements in technology that help athletes' recovery, rejuvenation and healing. Different ailments require different approaches to rehabilitation and recovery.
The integration of medical and athletic services residing in partnership under one roof is a trend that reflects the changing needs of both athletes and healthcare providers. As the worlds of medicine and sports continue to overlap, we can expect to see more facilities that cater to the unique needs of athletes, researchers and medical practitioners. The crossover trend has led to innovations and may soon revolutionize the way we approach healthcare, wellbeing and wellness as a nation in the years to come.
Ernest Joyner (ernest.joyner@perkinswill.com) is an architect and managing director at Perkins&Will, where Paige Hawthorne (paige.hawthorne@perkinswill.com) is a marketing coordinator.
For more perspective on the convergence of medical and sports facilities visit: https://www.athleticbusiness.com/crossover