Most facilities are designed to reflect — if not directly interact with — their natural surroundings.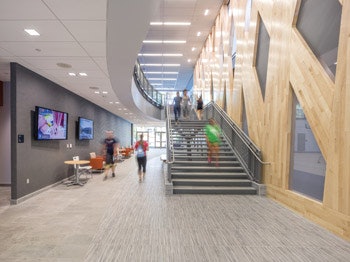 Some elevate the link between exterior and interior to an abstract art form, while at the same time addressing a very real functional need. In the early design stages of the Hamel Recreation Center addition at the University of New Hampshire, a challenge arose as to how to maintain a safe but open separation between the lobby, its main stair and an adjacent large multi-activity gymnasium. Several options were developed — from laminated glass panels to a perforated metal screen. The "Forest Wall" option was ultimately selected as the design that best echoed the forest located beyond the project's footprint. The mirage-like forest pattern is made possible using a steel frame clad in plywood with a tongue-and-groove wood plank finish. A perforated metal infill was installed at the lower portion of the wall to maintain transparency while preventing loose balls from entering the lobby. "The Forest Wall provides a unique feature and identity to the recreation center," says Eliel Alfon, a principal at Hughes Group Architects. "It is visible from every vantage point of the facility, reinforcing the university's environmental context and commitment as a vivid part of the recreation experience."
---
This article originally appeared in the October 2021 issue of Athletic Business with the title "'Forest Wall' Links to Site Exterior, Serves Interior Function." Athletic Business is a free magazine for professionals in the athletic, fitness and recreation industry. Click here to subscribe.