Community Recreation Centers Can Serve as a Constructive Weekday Destination for Youths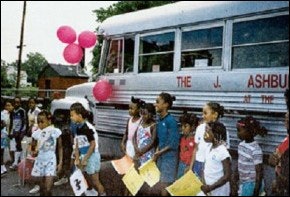 Each weekday from 3:30 to 9 p.m., approximately 75 children walk through the front doors of the J. Ashburn Jr. Youth Center in Columbus, Ohio. Some kids visit the center after school to shoot baskets in the gym, others opt to play cards in the club room - but nearly all of them stop by on their own. Open to youths ages 5 to 18, the drop-in center adheres to an ambitious mission statement: to provide youths with developmental activities, guidance and support as an alternative to destructive behavior and to assist them in becoming responsible and productive citizens.
For years, nonprofit organizations - parks and recreation departments and church organizations among them - have created such programs to meet the recreation needs of youths in their communities. On the whole, these have been successful. It is estimated that there are between 20 and 40 million youths under the age of 16 who participate in sports programs away from school, a number of whom are after-school program participants. On the other hand, there are currently 53 million school-age children nationwide, meaning that as many as 33 million school-age children are falling through the cracks.
Focusing their efforts on serving the recreation needs of these remaining children, nonprofit organizations such as the Ashburn Youth Center are employing a number of different strategies. In addition to constructing facilities such as skate parks and leisure pools, recreation departments are also instituting comprehensive after-school programs. While youth centers are becoming popular places for children to safely play and socialize after school, after-school programs also provide tools and resources to aid youths in the development of educational and practical life skills.
Annette Jefferson, development director for the center, says the organization serves approximately 1,000 children a month and accomplishes its mission by offering tutoring and counseling programs, in addition to its various recreational opportunities - including arts and crafts, sports, fitness and social club activities. "Our goal is to increase the graduation rate in the city of Columbus," says Jefferson. "So we have homework help and tutors available." The center also staffs trained social workers to offer guidance counseling services in the hopes of reducing teen pregnancy, drug use and gang activity among Columbus-area youths.
Says Jefferson, "We want the children to be surrounded by tools to nurture and support them as they grow to adulthood."
At its outset in 1962, the Ashburn Youth Center was a church-based mission outreach program, but it later became a nonprofit corporation and formed a partnership with the United Way, which accounts for 90 percent of the center's $394,736 budget. These funds, coupled with grants and contributions, allow the Ashburn Youth Center to offer after-school services for free, although its directors are contemplating adding a nominal membership fee in the near future. "There is a shrinking pool of resources for nonprofit organizations such as ours," says Jefferson. "So we are looking at ways to become more self-sufficient."
The same can be said of YouthGo Inc., a Neenah, Wis.-based recreation center that offers teen-oriented after-school and outreach programs. "We would like to expand our programs and purchase new computers for our tutoring room," says Rebecca Sgarlotti, executive director of YouthGo. "But we depend on the economy, receiving money from local businesses and community members, so you never know."
Roughly 40 percent of YouthGo's $270,000 budget is funded by a combination of grants and local fundraisers, the most profitable of which is the annual haunted house that YouthGo teens organize and open to the public every October. United Way provides the remaining 60 percent.
Despite a limited budget, YouthGo continues to attract Neenah's youth population - serving upwards of 3,000 children each year. About 30 middle school and 40 high school students visit the center on a daily basis and gain access to such amenities as a pool table, an air hockey table, an arts-and-crafts room, and a basketball court. However, YouthGo participants are well aware that before the games begin, they must spend some time studying. "For middle school kids, we have a mandatory homework program," says Sgarlotti. "They have to bring in their homework and do a half-hour in the tutoring center before they can participate in recreation activities." And the high school students? "They can make an appointment with the tutors and come in at night for help," says Sgarlotti. "But with high school kids, we try to do more with life skills. On a weekly basis, we have an educational session where we'll talk to them about such things as careers, AIDS prevention or the dangers of drugs, smoking and drinking. So with them, the educational focus is a little bit different."
More important than individual YouthGo programs and services, according to Sgarlotti, is the fact that staff members are available to listen. "Kids have a lot of issues in their lives - some have divorced parents, others have trouble fitting in at school," she says. "These kids are looking for an adult to pay attention to them." Focusing on this need, YouthGo's staff often turns to its inhouse youth board, made up of teens who frequent the center. Says Sgarlotti, "When we start a new program, we're always looking to see what the kids want to talk about."
Nancy Kirts, recreation services superintendent for the Jacksonville (Fla.) Department of Parks, Recreation and Entertainment, adheres to a similar policy. She attributes the growing success of her department's four-year-old Club Rec after-school program - in which approximately 800 children ages 6 to 12 participate for free - to a practice of attentively listening and responding to public input. "You must know what your target population's interests are and structure your program around those interests," Kirts says.
A more recent request has led the Club Rec program to establish a partnership with Jacksonville's public transportation authority to bus children from their schools to the 25 Club Rec community centers throughout the city. Kirts says that the new "Ride to Recreation" service is an example of how agencies can partner to provide children with the inclusive after-school programs they need. "I think it's important to start collaborating so that we can try to provide the best services for kids," says Kirts. "Down the road, I can definitely see our department doing more collaboration."
For three years now, the Afterschool Alliance, a Washington, D.C.-based coalition of public, private and nonprofit organizations, has dedicated itself to developing such partnerships and raising awareness of the importance of youth after-school programs. On Oct. 11, the Afterschool Alliance organized its first nationwide event - "Lights on Afterschool!" - to rally support for such programs. According to Alliance officials, there are still as many as 15 million children nationwide who have no place to go in the hours after school, either because their parents work late hours or simply because they are too young to stay home alone.
Jefferson and Sgarlotti hope such efforts will trickle down to their respective communities. Both encourage agencies offering after-school programs to establish or strengthen existing ties with local school districts. "Find out what it is the schools feel they need to better serve young people," says Jefferson. "See what kind of supplemental support you can add to what's going on in the schools."
Because there are few after-school programs in the Neenah area besides YouthGo, Sgarlotti hopes that in the future her center can somehow partner with local schools. "Maybe our staff can go in and do some counseling or tutoring at those sites if the kids aren't comfortable coming to our center," she says. "We just want all the kids to have someplace to go."