North Dakota rec departments have a knack for transforming sick clubs into healthy businesses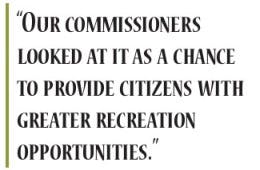 The past 25 years have been witness to countless battles between nonprofit and for profit fitness and recreation organizations. Yet in North Dakota, such unproductive fighting has taken a backseat to handshakes at the negotiating table, a trend that has worked to the benefit of recreation enthusiasts throughout the state and, in the long run, the public recreation agencies that service them.
Beginning in the mid-'80s, a number of parks and recreation departments across the state have acquired private health or racquet clubs. While many of these businesses were failing financially at the time of their purchase, public recreation agencies have revived them, turning them into recreational resources for their communities.
The most recent example took place just this past January in Dickinson, a town of 16,000 residents. The Dickinson Parks and Recreation Department's buyout of a local privately owned fitness center wasn't so much a hostile takeover as it was a stroke of good fortune. In fact, the goal of the meeting that eventually resulted in the parks department's acquisition of Jordheim's Gym and Fitness for $235,000 was simply to devise a strategy for the two entities to civilly coexist.
"They had been successful in squashing our attempts," says James Kramer, Dickinson's director of parks and recreation. Twice in the past decade, town voters failed to approve funding measures for a multimillion-dollar recreation center, which according to Kramer was largely due to Jordheim's owners and the negative buzz they stirred up within the community. "They were very vocal about unfair competition," he says.
These defeats came on the heels of three previous failures to build some sort of civic center, dating as far back as the mid-1970s (earlier concepts ranged from a domed facility to a joint-venture wellness center at a local university). However, last fall, the parks and recreation department finally achieved a victory at the ballot box (a half-cent sales tax increase to finance the recreation center's construction passed in November), and soon after, called a meeting with Jordheim's owners. "We asked them, 'What can we do to make it fair.' " says Kramer. "First, we talked about limiting the size of the fitness area within the community center to so many pieces of equipment. Then it eventually went full circle, to the point where the owners asked us, 'What if you bought ours.' It was really that simple."
By accepting that invitation, the Dickinson Parks and Recreation Department accomplished two immediate goals: provide the community with additional recreation opportunities and eliminate a potential naysayer for the recreation center's planning phase.
Despite their accomplishments, officials in Dickinson admit they have several other public recreation agencies to thank for paving the way. Perhaps the first to do so was the Grand Forks Park District, which purchased the Center Court Fitness Club in 1986. At the time, the seven-year-old tennis club claimed only 200 members and was unable to make its loan payments. The struggling club's owners approached the park district with a request to assume Center Court's loan. "They had lost money. The bottom line is that there just wasn't enough of a market to sustain something like that," says John Staley, Grand Fork's park district director. "Our commissioners looked at it as a chance to provide citizens with greater recreation opportunities."
As a government enterprise, the park district outlined a low-cost strategy for maintaining the club's operation. Center Court would be operated primarily on income generated from user fees, but when needed, the park district could turn to tax subsidies to keep the facility afloat. "It required some cash subsidy from time to time," says Staley. "But again, that is a relatively small amount, considering we're providing a positive recreation resource for the community."
Initially, Center Court only offered indoor tennis, but over time, the park district expanded its programming and amenities to include strength-training and free-weight equipment and aerobics classes. Center Court's membership doubled immediately upon the park district's purchase of the facility, and now the club boasts more than 2,400 members. "One of our biggest problems is that we don't have enough parking spaces," says Staley, who adds that with the increased membership, the club now operates in the black.
The facility is so popular that Grand Forks officials recently embarked on a fact-finding mission to visit recreation centers in the Minneapolis/St. Paul area - the nearest metropolis - and are including a bond issue on the town's next ballot to fund the construction of a much larger recreation center.
Despite the gradual addition of programs and features over the past 16 years, Staley attributes Center Court's success to the park district's rapport with the community of 50,000. "The concept of the club being owned by the park district has been well-supported," he says. "I specifically remember those who have said, 'Well, the park district owns it, so it must be well-run.' "
It's that sort of grassroots business approach that can distinguish public-operated fitness centers from privately owned facilities, says Roger Gress, park district director in Fargo. That district operates Courts Plus Fitness Center, which offers two weight rooms, seven racquetball courts, seven indoor tennis courts and a gymnasium. The club is the only facility in Fargo to offer indoor tennis, a popular recreational activity among residents. "But that alone doesn't drive our business," says Gress. "We really put an emphasis on customer service. We want you to feel like this is a mom-and-pop operation."
Courts Plus' staff customarily calls members at home if and when they miss classes or training appointments, even going so far as checking on the welfare of their families. "When you come in, we don't just read your card," continues Gress. "You've got to know the people, know their names and make it a fun experience. With so many good products out there today, it may be that customer service is the difference."
It has certainly made a difference for the Fargo Park District. Since taking over the club in 1995, Courts Plus' membership has increased tenfold, from 400 to more than 4,200. "Our mission statement is to provide parks and recreation to the people of Fargo at an affordable price," says Gress. "We have some programs running out of the club that aren't available elsewhere in the community."
Which, according to Roger Ralph, former chairman of IHRSA's fair-competition committee and former owner of Bel Air (Md.) Athletic Club, is exactly how it should be. "To the extent possible, the private marketplace ought to provide the community with as much access to as many services as possible," he says. "On the other hand, the job of a non-profit or tax-supported government entity is to provide services that can't be provided by a commercial provider."
In Bismarck, it appears that public and private providers of fitness and recreation have naturally come to this sort of arrangement. In addition to the city-owned Capital Racquet and Fitness Center, Bismarck residents can also choose to work out at either of two private, for-profit fitness centers or a YMCA. But the way Steve Neu, the city's director of parks and recreation, sees it, there is plenty of business to go around. "We're a very active community," he says of Bismarck, which has a population of 56,000. "We haven't had any issues that have created turmoil within the community. Everybody has their own clientele. I think each one of us has a different niche."
Staley likewise subscribes to this view, and asserts that each of the various fitness and recreation providers in Grand Forks offer unique programming - although his sentiment is not always shared by others. "There's friction. From time to time, some of the smaller clubs have complained about us, even though we find ourselves in a completely different market," he says. "But some of those that have complained, frankly, haven't done a very good job with what they have."
And where that's the case, public recreation agencies in North Dakota have been eager to capitalize upon these shortcomings and turn them into added recreational offerings for their residents. Officials in Dickinson have waited more than 25 years for their chance, and with this fall's groundbreaking on the city's $11 million replacement for Jordheim's, they will finally begin to see the end result of their patience and forethought. "I think it was just a matter of time before the majority of people understood what we were trying to do," Kramer says. "With each attempt, we learned a little bit more and we educated the public a little bit more."