To preserve their opening-day sheen, recreation centers must be given daily, weekly, monthly and yearly care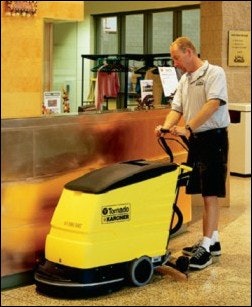 Emerging from the chaos that typically surrounds the construction of a recreation center comes one distinct and overwhelming objective: Get it done. It's understandable, under the circumstances, that after years spent on the planning process, the construction process and putting the programming plan in place that mundane tasks like custodial and maintenance issues get shoved to the back burner.
It doesn't take long, though, for these issues to assert their primacy in the successful operation of a recreation facility. Oftentimes, it only takes a day. A facility's grand opening brings with it throngs of users - a crowded child-care area, an overtaxed concessions area, and recreational activity participants in every corner of the building. Even if major damage doesn't occur somewhere, the community's excitement can still translate into minor spills, full to overflowing trash cans, marks on the floors and walls, and fingerprints on nearly every inch of plate glass.
The same goes for older facilities, where the damage inflicted by heavy use is compounded by surfaces, equipment, plumbing and other materials that have already withstood years of abuse, some more successfully than others. Custodial and maintenance services are vital in keeping these buildings looking as new, as fresh, as possible.
One of the reasons these services tend to get short shrift is the distance between the recreation and maintenance professions. While the recreation ranks are increasingly populated by persons holding recreation-oriented degrees, many maintenance staffs are dominated by longtime city employees, refugees from other businesses, volunteers and seasonal and part-time workers. Indeed, in many cases all custodial and maintenance work is handled by a separate city division with responsibility for all types of buildings.
That's the case in Dallas. That city's parks and recreation department retains responsibility for programs and services taking place in its various facilities, but the Equipment and Building Services division cleans and makes repairs in the city's recreation centers, libraries, fire and police stations, and government offices. A separate division of parks and recreation, Pool Services, maintains the city's 22 pools, as well as a number of new "spraygrounds."
One of those pools (and the city's only indoor pool) is located within the Bachman Recreation Center, a 44,000-square-foot facility that has served as the home of the city's Therapeutic and Community Services division since it opened in January 1980. Emergency repairs - such as the ones that were needed when a power surge knocked out the pool's pump and the building's HVAC system this past Labor Day weekend - are handled by EBS's licensed plumbers and electricians. For non-emergencies, Bachman's administrators must submit a list of desired repairs and alterations at the beginning of each fiscal year. Preventive maintenance, meanwhile, is handled by EBS without the administrators' input.
"EBS has a systematic approach to preventive maintenance, in which they schedule people to come out here on an annual or semi-regular basis," says Carol Lucas, manager of the Therapeutic and Community Services division. "I'm not sure exactly what their schedule is, but they've got one."
Lucas admits to some frustration with being only one of a number of different entities vying for EBS's attention, but says that the current economic picture has had a way of bringing all city employees to a closer understanding. "They've taken severe cuts to all their services, so they're like we are in recreation, doing more with less," she says. "They're doing an admirable job with what they've got right now."
Rec departments whose cleaning and repairs are handled in-house have different issues - in particular, the range and depth of direct experience (or possibly, the lack thereof) among their various staffers, and the necessity to share maintenance workers with other departments.
It takes Daniel Lang, building maintenance foreman at Rec-Plex in St. Peters, Mo., several minutes and several pregnant pauses to recall his staff's disparate schedules. Rec-Plex, which has been up and running since 1994, consists of 160,000 square feet of pools, ice rinks and other recreational components - and the equivalent of six maintenance staffers working side by side with a host of part-timers.
"One staff member works his 40 hours over at the outside rink while it's open, September through April," Lang says. "Then we have kids to help fill in, 16 to 18 years old, who do ice resurfacing and crowd control at both rinks. But to get them to do any cleaning is like pulling teeth, so they don't do much of that. Inside the center, I have one and a half staffers on the day shift, one on the second shift." Lang pauses. "A part-time person covers the two days that the second-shift person is not here, plus a Sunday where my fulltime person drops off. Then there's the third-shift person, who overlaps with the second shift three days a week."
At Rec-Plex, the daytime shift (early morning until late afternoon) cleans floors and windows during off-peak times (mid-morning and mid-afternoon), generally staying ahead of the daytime dirt. Those staff members are sometimes joined by people serving court-ordered community service for crimes ranging from vandalism to DUIs. (Community-service "volunteers" get tough assignments such as removing black marks from racquet-court walls and scrubbing toilets.) The second shift (4:30 p.m. to 1 a.m.) handles concessions areas and rest rooms as they become less busy, and other areas as the facility closes. The late shift is dominated by locker room disinfection; where the shifts overlap, tasks are performed that tend to fall through the cracks (cleaning light fixtures, HVAC systems, bannisters).
All shifts spend at least part of their time, Lang says, covering for others who neglect their own cleaning responsibilities, especially the younger pool and rink staff and part-timers. "My staff is supposed to focus on the core of the building, but I'm always sending them into those other areas because the kids never get them clean. Anybody who has kids knows this: They'll say, 'I tried cleaning that, but it didn't come out.' So I'll go out with some clean water and a light-bristle scrub brush, rub it for a whole half-second, and it's clean. It's not too fun sometimes."
Steve Sutton, building maintenance coordinator for the Town of Silverthorne, Colo., has a story similar to Lang's, pregnant pauses included. Sutton oversees the town's eight-year-old Silverthorne Recreation Center in addition to four other public buildings, supervising a staff of eight that includes a four-person custodial staff that works in the rec center virtually around the clock. The recreation center is the epicenter of cleaning and repair activity, with the locker rooms being the epicenter's epicenter. "They really need to be hit hard," Sutton says. His crew hits them so hard, in fact - spraying on disinfectant, scrubbing with a power buffer with a bristle brush attachment, and then hosing the rooms down - that the original lockers rusted away and had to be replaced, and the grout between the tiles has worn away to the point of needing replacement. "We get an average of 800 people through this facility a day, so the wear and tear is incredible," says Sutton. "Most people cannot comprehend just how much abuse this building takes."
There is one piece of equipment that can serve as a metaphor for all that abuse: The treadmill. One of Sutton's staff members splits his time between cleaning and maintaining City Hall and the rec center; his four hours a day at the rec center are spent cleaning and fixing fitness equipment, primarily treadmills. Like the runner who runs and runs while standing in place, Sutton's crew fixes and fixes, and every two weeks another machine is back in the shop. ("By the time we trade out our treadmills," Sutton observes, "they probably have 80,000 to 100,000 miles on them.")
The custodial staff's powered cleaning equipment gets a workout, too. The gym, racquet courts and jogging track are dust-mopped every morning, but it's the battery-powered scrubber (used twice weekly) that gets out the black marks left by sneakers and street shoes. Add the lobby and hallways to the mix, and it wouldn't be much of an overstatement to say that some floor is being cleaned somewhere in the building at all times of the day. "They just naturally accumulate a certain amount of dirt from people's shoes," says Sutton. "It's never-ending."
Somehow, the crew must find time within this busy cleaning schedule to handle all of its maintenance tasks, the ones that occur twice-monthly (replacing light bulbs), seasonally (replacing HVAC system filters and greasing bearings inside ducts) and annually (screening gym floors, emptying pools). Somehow, also, the crew must remember when these and other preventive maintenance tasks need to be performed. While many still log such information manually, maintenance software is becoming a standard weapon in the custodial arsenal.
Lang, who estimates his preventive maintenance program at 2,800 man-hours per year, spent three years setting up his software system. Every component in the building has a number assigned to it, and every Monday the program prints out all work orders (instructions are printed at the bottom) for that week. Once jobs are finished - everything from checking whether toilets are flushing properly to maintenance on building compressors - staff members' comments regarding each component or task are entered into the system.
"It cuts down on breakdowns probably about 95 percent," Lang says. "We had a fan motor go out two weeks ago that maybe should have been caught in preventive maintenance, but other than that, we really haven't had anything trip us up in a long time. By sending a maintenance guy out to look at a door, for example, you'll find out that the hinge is worn or that screws are broken. You catch stuff on a regular basis."
Even though custodial crews are increasingly reliant on high-tech gadgets, two very traditional methods remain a staple of the profession: the checklist and the comment card. Rec-Plex's checklists (a sample is reprinted on p. 107) cover each area in the facility and each work shift, ensuring that each day's essential tasks aren't missed. Comment cards, meanwhile, enable the building's users to have their say about what needs special attention. Says Bill Parker, facility maintenance director with Georgetown-Scott County (Ky.) Parks and Recreation, "We encourage our patrons to use the comment cards, and everybody seems comfortable doing so. Believe me, their suggestions go right on our task sheets."
The future doesn't scare Bruce Kary, operations manager for Dickinson (N.D.) Parks and Recreation. Though his department is just putting out bids on an 84,000-square-foot recreation center, he believes that his crew of six will be able to handle the workload. After all, they currently take care of 2,000 acres of fields, two small fitness centers (which will be shut down when the new center opens), as well as two outdoor pools and, from October to March, an indoor ice rink.
"It's going to be different because it'll all be under one roof, and the indoor pool will be more of a challenge," Kary says. "But a lot of this stuff carries over from what we do already. Our park district is known for being exceptionally clean. We're very picky about things being in place and being appealing to people when they come in."
Parker felt the same way - but then his new building opened. He was hired three years ago because of his construction background, he says, at a time when The Pavilion (the department's now year-old, $8 million recreation center) was still being built. Parker spent much of his time early on working out of a job-site trailer, being the recreation board's eyes and ears, and getting familiar with the building.
After that, it was time to start cleaning the building's two pools, fitness center, gymnasium, track, conference rooms and party rooms, something with which Parker had little experience. Initially, the programming staff cleaned the floors, while Parker assembled a crew of eight to take on responsibility for The Pavilion and the department's other recreational facilities. He purchased a top-of-the-line scrubber, pushed for and got plastic lockers for the locker rooms, and will soon purchase software to help set up a preventive maintenance program for the building. He says his crew quickly identified the trouble spots (the biggest being the locker rooms, which can be accessed from the gym and the pool) and realized the importance of regular walk-throughs to guard against improper shoes and sports-drink spills.
And yet, Parker says, his crew has never gotten caught up. In part, this is because of his belief in controlled chaos - "I'd rather work half a person short than half a person too many," he says - but the main reason is that there are no lulls in the process of cleaning and maintenance.
"We always have things that we need to do," Parker says. "We're still critiquing our schedules. Our staff started about four weeks before we opened, and I tried to work every shift with them so that we could all learn the building and try to determine what needed to be done when. We've developed daily task sheets for our 5:30 a.m. to 2 p.m. shift, and task sheets for the other shifts are in the works. We only knew two things when we opened this facility - one, that we didn't know all we thought we knew, and two, that we knew we were going to have to make a lot of changes as we went along. By now, we've learned a lot. We're learning every day."