Adventure programming? Ladies' Night? Corporate leadership courses? Facility operators are finding more ways to heighten and sustain interest in climbing walls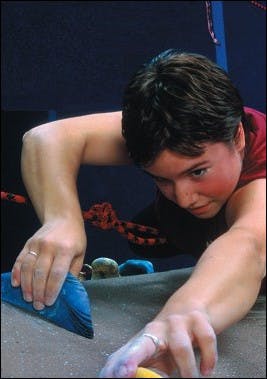 Kent State University's Student Recreation and Wellness Center opened in 1999 to great fanfare, with a 40-foot-tall climbing wall among the facility's most prominent features. Today, although "The Wall" (as it has affectionately become known on campus) continues to generate a certain amount of interest among both students and community members, the initial excitement surrounding it has dissipated. "You could say that the novelty has worn off," says Paula Murray, assistant director of marketing and public relations for the university's Recreational Services Department. "But because we have that incoming freshman class every year, there's always some renewed interest."
While some operators of campus and municipal recreation centers, YMCAs and other facilities may dispute the argument that climbing walls eventually lose their luster - Steve Bobbitt, coordinator of adventure programs at James Madison University is one of them - there is little question that wall operators have needed to change their approach to climbing programming in recent years. "The key is to build a climbing community," says Bobbitt, whose program is the local lead agency for the Adopt-a-Crag program, a national initiative to preserve climbing resources, maintain climbing areas and promote general awareness of climbing. "A climbing wall is not just a one-shot carnival ride with a fifty dollar bill taped to the top of it."
That's for sure. Climbing walls, while still a relatively recent facility design phenomenon, have slowly become ingrained into the fitness and recreation culture - particularly on college campuses, where they are often revered as "monuments to architecture," as one industry observer calls them. On campuses across the country, adventure programs that encompass not only climbing but also other outdoor-related activities such as backpacking, kayaking, snowshoeing, fly fishing and caving have taken root and introduced climbing to new legions of participants. After a climbing wall has been in place for a few years, some facilities also add a bouldering wall, which allows users to climb horizontally instead of vertically and without the aid of ropes.
Likewise, programmers at other facilities with climbing walls now realize that simply scheduling time for open-climbing isn't going to generate the traffic (and revenue) a wall did when it was new. "Success depends on having somebody who's an expert in climbing and who can create passionate climbers," says Ned Crossley, coach of the U.S. Military Academy's Cadet Mountaineering Club at West Point, N.Y.
To inspire that passion and create lifelong enthusiasts, facility operators of all kinds are striving to keep their wall a vital program element - whether hosting orientation sessions for physical-education classes from nearby middle and high schools, teaching mentally challenged youths and adults the basics of climbing or sponsoring special after-dark outdoor-wall climbs during full moons.
For plenty of wall-programming ideas, look no further than Miami University of Ohio's Outdoor Pursuit Center, part of the university's Recreational Sports Center, which was built in 1994. Like Kent State to the east, Miami University opens its facility to the community, ensuring a large user base. During non-peak hours in the mornings and late evenings, the Outdoor Pursuit Center's climbing wall is rented by a variety of outside groups - from local Boy Scout troops attempting to earn merit badges to mentally and physically challenged children and adults from Butler County's Board of Mental Retardation & Developmental Disabilities.
"We try to stay very active in the Oxford and Butler County communities," says Mark Freidline, director of the university's Outdoor Pursuit Center. "Doing accessible climbing programs is definitely more work, but we find it's also very enjoyable. The people in that group don't think they can ever climb a wall, so it's a very powerful moment for them when they do."
A similar esteem-boosting program can target at-risk children by giving them both an after-school destination point and a reason to feel good about themselves. "We have at-risk groups in here regularly," Murray says. "When they're done, they really feel a sense of accomplishment."
So do corporate groups, who make climbing walls one component of leadership training courses that also incorporate ropes courses and other adventure program elements. Exercises using tethered or blindfolded climbers help build trust and leadership while pushing people's comfort zones and exposing both their strengths and weaknesses - a goal of most corporate sessions.
Climbing walls also provide athletic opportunities for younger kids and high school students who might otherwise not participate in organized sports. A youth climbing team at Miami University, for example, is open to anybody in the community and promoted through area schools as a way to be part of a team and learn a new skill at the same time. Freidline says he tries to keep climbing and bouldering competitions with other teams more educational than competitive in nature - even though one member of his team is a nationally ranked climber.
Hosting regional climbing competitions, throwing birthday parties and creating a training environment for local climbers prepping for a major ascent will also increase a facility's visibility and revenue, as well as generate community goodwill.
In an effort to generate new climbers, James Madison University sponsors a Women's Climbing Night three times each semester at its 33-by-27-foot wall, installed in 1997. Held on Sunday evenings from 7 to 9 p.m., the event usually draws a few dozen participants and is a time set aside for fitness and fellowship. "The joke around here is, 'When is Men's Climbing Night?' " Bobbitt says. "Well, that's every night. Climbing is primarily a male-dominated sport." Nevertheless, the special nights, which was instituted in 2002, have boosted the number of female climbers who regularly use the wall, Bobbitt says.
The Charleston County Parks and Recreation Commission uses its outdoor 50-foot climbing wall and 1,000square-foot bouldering wall at James Island County Park in Charleston, S.C., to generate public interest by incorporating seasonal programming. Holiday and full-moon climbs are among the special activities offered for climbers, who can be as young as 4 years old.
Not surprisingly, many programming ideas revolve around young people, climbing's next generation. That's why facility operators are lowering the target age of their marketing demographics, especially considering that many elementary schools are now incorporating small-scale climbing walls into their physical education programs. To make the school's new wall more inviting for students at Forest Avenue School in West Babylon, N.Y., one parent designed a jungle-scene mural complete with palm trees, wild animals and the names of donors who contributed to the purchase of the wall. Art students from West Babylon High School then outlined the mural and Forest Avenue fifth graders painted it.
The Internet is loaded with climbing games geared toward children, as well as beginning and experienced adult climbers - from tag and memory games to activities modeled after Scrabble ® and Twister ® . A good starting point for game descriptions is www.indoorclimbing.com, and some wall manufacturers also post game ideas on their web sites.
"We don't really have a canned program we offer," Freidline says about his facility's programming strategies. "When a group contacts us, we ask what its goals are, and then we tailor our programming to meet those needs." It's that kind of forward thinking that has led staff members of the Outdoor Pursuit Center to custom build portable and permanent climbing walls.
In addition to crafting a 16-by-12-by-12-foot bouldering cave adjacent to its 38-by-40-foot wall in 1999, employees have also built a 14-foot-high portable climbing wall (its steel structure has a homemade plywood surface) to use as a promotional tool at campus and community events, such as back-to-school fairs and scout camps. More recently, the university designed and built a temporary bouldering cave for Ohio State University to use until the facility on that campus is completed in another year or two. The money generated from the project helps sustain the Outdoor Pursuit Center.
"It keeps us fresh, so we know what's going on in the industry," Freidline says about building walls. "Plus, that's how we get new people interested in climbing."
Diverse programming is just one way to make climbing walls more appealing. Changing climbing routes with a high density of handholds (as often as weekly, if possible), offering certificates or other forms of recognition for participation or improvement, and making the climbing area more of an appealing destination spot can provide continual challenges for seasoned users and return incentives for new climbers. In a space where the base of the wall is located on a designated floor away from other activities, consider adding snack and beverage machines, an inviting gathering area with comfortable chairs and a table or two, stretching mats or a few pieces of fitness equipment.
Pursuing partnerships from which users can benefit is another option. In September, a poll on the web site for Stone Age Climbing Gym in Albuquerque, N.M., the state's largest indoor climbing facility with more than 4,700 square feet of climbing walls, asked members if they would take advantage of a discounted health club membership in conjunction with a Stone Age membership. In addition to "no" and "maybe," there were six "yes" options, each offering the name of a potential partner club in the area.
"We thought about the partnership idea as a benefit to our members and have not contacted any of the gyms in the poll about arranging discounted or joint memberships," facility owner Bryan Pletta says. "We wanted to see what the interest level from our members was before approaching the proposed gym. If it looks like there is sufficient interest, we will probably contact the gym that gets the most votes. I foresee trading out discounted memberships rather than offering a joint membership, to keep the accounting simple."
Sponsoring group climbs at off-site locations allows climbers to put their learned skills to a real-world test and reinforces the important role played by awareness organizations such as the Access Fund and the American Safe Climbing Association (an organization dedicated to making rock climbing safer by replacing unsafe bolts and anchors). Thus, education at every level is crucial. "Climbing is still a new activity for most people," Crossley says. "If you don't have great education programs, people leave your facility thinking they're ready to go out into the real world and climb. Sometimes they're not."
Basic lessons, advanced sessions dedicated to learning special skills, lead climbing classes and personal training lessons should be at the foundation of every programming activity. In addition to offering climbing clinics for beginners, many facilities also continuously post staff members at the foot of a wall during open-climb sessions. They are present to assist and instruct new climbers (who have usually taken at least some sort of introductory course) and to attend to experienced climbers should they run into trouble.
Kevin Kullberg, assistant recreation coordinator of the Henderson (Nev.) Multigenerational Center - a community and fitness complex for residents of all ages that opened in January - didn't even have the chance to implement diverse education programs for his facility's 40-foot-high cylindrical centerpiece. In early summer, the hydraulic pumps on the auto-belay system shut down. And because the wall's manufacturer had gone out of business since installing the structure, the wall remained closed indefinitely as of this writing.
"When we first opened, we had open climbs for any age group, no restrictions," Kullberg says. "Now, the wall is definitely missed." Kullberg and his staff were in the preliminary stages of developing climbing activities and educational offerings for older adults (similar to the way some facilities market strength-training programs to older adults) when the wall closed. The center already had a fee structure in place that allowed children older than five to climb free with every adult admission, encouraging young and old to climb together. Kullberg hopes to expand on those ideas once the wall reopens.
Expansive and creative programming seems to be the mantra for operators of climbing facilities old and new these days. "Our programs are constantly changing," says Freidline, who already offers a wide-ranging slate of activities. "We've been doing a lot more to make our programs more comprehensive. But we definitely need to do more marketing. People have grown up with football, basketball and baseball, so they need exposure to climbing. It's up to us to do that."