More accessible and affordable than ever before, sustainable design is gaining traction in a variety of recreation and construction projects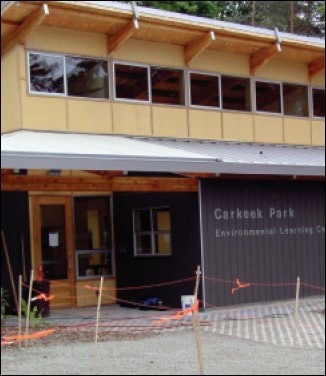 Over the past 30 years, Seattle has been the birthplace of many a cultural phenomenon - grunge rock, Microsoft multimillionaires and a trendy little coffee shop called Starbucks. Today, the Emerald City is again the epicenter of what is destined to become a far-reaching trend: sustainable, or "green," building.
Nationally, the concept has been advanced by the U.S. Green Building Council (www.usgbc.org), formed in 1994 by a coalition of building industry leaders working to promote environmentally responsible, profitable and healthy places to live and work. Locally, the green building trend reached new heights when, in February 2000, the Seattle City Council unanimously endorsed a Sustainable Design Building Policy. Its purpose: "to demonstrate the city's commitment to environmental, economic and social stewardship, to yield cost savings to … taxpayers through reduced operating costs, to provide healthy work environments for staff and visitors, and to contribute to the city's goals of protecting, conserving and enhancing the region's environmental resources."
Seattle's policy mandates that all municipal building projects more than 5,000 square feet in size are conceived and built with the goal of achieving silver-level certification under the USGBC's LEED ™ (Leadership in Energy and Environmental Design) Rating System, which first appeared in 1998 and has been the talk of the building industry ever since.
The most widely accepted benchmark of sustainable design, LEED recognizes projects at the Certified (26 to 32 credits), Silver (33 to 39), Gold (40 to 51) or Platinum (52 to 69) levels. Projects are evaluated and credits are awarded in six categories: sustainable sites, water efficiency, energy and atmosphere, materials and resources, indoor environmental quality, and innovation and design process (see "LEED: Between the Lines," p. 67). In some categories, as many as 17 credits are possible, and others, such as sustainable sites, have prerequisites (for example, all projects seeking LEED certification must implement erosion and sedimentation control throughout construction).
LEED has also become a buzzword among architects of sports and recreation facilities and the professionals charged with the operation of those buildings. Project teams in places like Colorado and Virginia have made it their goal to build sustainable recreation facilities, following in the footsteps of their counterparts in Seattle - a city that boasts, among its 16 most recent municipal projects, four recreation centers that have sought or are currently seeking LEED certification.
Though pockets of green building advocates can be found here and there, David Hammel, a principal with Denver-based Barker Rinker Seacat Architecture, believes it'll take some time before the recreation industry at large latches onto the concept. "The two biggest things holding it back are education and priorities," he says. "I don't think a lot of parks and recreation people are of that mind-set yet."
Hammel is convinced, though, that once parks and recreation professionals come to see that the purpose of sustainable design and programs like LEED coincide with their intrinsic values, they'll be sold. "Rec centers are huge energy hogs," he says. "A typical community recreation center uses more energy on a square-footage basis than a hospital. If ever there was a building that people needed to take a look at in terms of energy usage, it's the rec center."
Perhaps the passing of time is what the sustainable design movement needs most, as fresh in the minds of many recreation industry professionals are reports of green facilities that were extraordinarily costly to design and build. It's been reported by some industry insiders - including this magazine, not so long ago - that sustainable recreation facilities cost as much as 10 percent more than projects built to meet standard code requirements. According to Jeff Marlow, construction management specialist with the Arlington County (Va.) Department of Parks, Recreation and Cultural Services, that kind of talk comes "from somebody who's trying to squash the idea."
Sometimes, the naysayers are manufacturers, suppliers and building subcontractors who have little or no experience with green buildings. "There's a fear factor in their pricing because it's something new and unfamiliar to them," says Marlow, who recommends introducing project team members to sustainable building at such industry events as the USGBC's Greenbuild International Conference and Expo. "Of course, you want your architects and engineers to be there. But you really need to educate your contractors to help keep costs to a minimum."
Grand Rapids, Mich.-based Integrated Architecture designed the David D. Hunting YMCA, a 159,000-squarefoot facility set to open in Grand Rapids next May, to meet LEED certification requirements. Bill Roy, senior project manager with the firm, says it's feasible for architects to patronize suppliers whose products are friendly to both the environment and the pocketbook. "We've been doing sustainable design for awhile, and we've gotten used to specifying certain products," he says. "It involves doing a little bit more homework in finding those products, but more manufacturers are coming out with finish materials that have less VOC [volatile organic compound] content and that are just as durable as any other products."
Increased architectural and engineering design time (according to Marlow, the additional workload leads some architects and engineers to bump their fees by 2 to 3 percent) is responsible for much of the cost premium of green building. But if efforts are made early to get all interested parties on the same page, project efficiency can be improved and costs lowered. "We did a lot of strategizing with our engineers, which is different for us. It used to be a very linear process - we'd do some sketches on the site and floor plans and go from there," says William Brown, a LEED-certified professional and partner in charge of educational design for the Springfield, Va., office of architecture firm BeeryRio. "What we've done now is take a more holistic approach. Engineers and architects are involved every step of the way, trying to figure out ways to meet project requirements and make sure there's an environmental benefit."
The project team for the Firstenburg Community Center in Vancouver, Wash., currently under construction, held an introductory "EcoSymposium" during which designers, representatives of various city of Vancouver departments and green building experts met to hash out possible strategies to incorporate sustainable practices into the 80,000-square-foot facility. "It was a one-day workshop during which people presented concepts on how we could take advantage of the opportunities available to us," says project architect Jeff Stern of Portland, Ore.-based Opsis Architecture LLP, Firstenburg's architect of record. "The EcoSymposium helped get everybody on board because it was then that we made a lot of value judgements with respect to things like cost, programming and aesthetics."
These efficiency efforts have had a marked effect on costs. In fact, according to the state of California's Sustainable Building Task Force - a collaboration of more than 40 governmental agencies assembled by the California State and Consumer Services Agency - green building has become quite affordable. Last October, the task force published The Costs and Financial Benefits of Green Building, which it billed as "the most definitive cost-benefit analysis of green building ever conducted."
Featured in the study are cost figures of 33 green buildings obtained from several dozen building representatives and architects. After comparing these numbers to cost figures of buildings featuring "conventional designs," the study finds the average premium for green buildings now to be slightly less than 2 percent - or $3 to $5 per square foot. "For our project to reach LEED silver, there was a 2 to 3 percent cost premium," says Marlow of the John M. Langston High School and Langston-Brown Community Center, a $7.5 million, 50,000-square-foot facility shared by the Arlington County Parks, Recreation and Cultural Services Department and Arlington County Schools. (The alternative high school/community center, which was designed by BeeryRio and earned LEED silver certification in March 2003, replaces a 23,500-square-foot facility that previously existed on the site.) "Yet we estimated that there is a 10 to 15 percent increase in end-user productivity."
The up-front premium for sustainable building becomes even less significant when one considers the practice's long-term energy-bill savings. "Minimal increases in up-front costs of about 2 percent to support green design would, on average, result in lifecycle savings of 20 percent of total construction costs - more than 10 times the initial investment," reads the California task force report. "For example, an initial up-front investment of up to $100,000 to incorporate green building features into a $5 million project would result in a savings of $1 million in today's dollars over the life of the building, assumed conservatively to be 20 years."
Generally speaking, more savings can be realized if the decision to go green is made earlier on in the design process. Because the renovation of the North Boulder (Colo.) Recreation Center, which earned LEED silver certification in March 2003, was originally conceived as a traditional project, the sustainable cost premium for that facility was slightly higher than average. "About a third of the way through the project, we said, 'Wait a minute. Let's take a step back and do this to LEED specs,' " says facility manager Al Quiller, adding that the eventual cost premium was about 4 percent.
One of the city of Boulder's highest priorities - a $265,000 rooftop-mounted, hydronic solar energy collector - was responsible for much of the cost overrun, says Hammel, whose firm served as the project's architect. Ironically, the collector only earned the North Boulder renovation two of its 33 LEED certification points. "Had we not done the solar energy collector, we could have cut our LEED costs in half," he says, adding that the project earned just as many certification points with the implementation of other green accessories that were much less expensive. "We put a carpool sign in the parking lot and got a point for that. We put in an electric car charger and got another point for that. We spent $200, maybe $300, for those two items and got the same number of points."
There's no getting around the fact that submitting a project for LEED certification involves a lot of point crunching - and a lot of paperwork. Most often, the responsibility for assembling that documentation falls to project architects and engineers, although nowhere is it written that clients can't pitch in, too. In Boulder, for example, the LEED application for the North Boulder Recreation Center was placed under the purview of that city's planning department.
Because USGBC representatives do not personally inspect each project site, LEED submitters must rely on thorough documentation - which can include (but is not limited to) project summaries, architectural and schematic drawings, and energy usage computer models - to prove to the council that their projects have met the minimum LEED criteria.
Applications are broken into sections and reviewed by LEED committee members, each of whom is an expert in a particular discipline of sustainable design. Reviewers may choose to approve a particular credit, return the application to the submitter and request further documentation before final approval, or deny credit altogether. "We had seven or eight points that were denied, based more on not having enough documentation than on simply not having addressed those areas," says Hammel. "Had we redone that application, we might have gotten those points."
While the documentation required for LEED certification is certainly daunting, over the past couple of years the USGBC has taken great pains to streamline the submission process. The council has revised the LEED Rating System several times since the program's launch six years ago. The latest version, 2.1, was released in November 2002 (and revised in March 2003) and now provides pre-formatted submittal sheets for each prerequisite and credit that outline the specific project data needed to demonstrate achievement of the LEED performance requirements and include calculation formulas, where applicable.
BeeryRio's Brown bristles at the suggestion that the USGBC's demand for thorough documentation is burdensome. In his opinion, every building project - sustainable or traditional - should be held to such scrutiny. "It's another layer of information you have to put together," he says. "But a lot of it is parallel to what you'd do in a normal construction process."
Marlow agrees. He had no qualms with his project team's decision to bring in a third-party energy consultant to commission the Langston-Brown center's climate control system, fulfilling a LEED prerequisite. "On a lot of commercial buildings, you're going to do that sort of commissioning, anyway," he says. "It's good to have a second set of eyes."
Nevertheless, some design professionals may fear that LEED's exhaustive criteria stifle the creativity so essential to designing community recreation facilities. "People still criticize it, saying, 'It doesn't cover this or that,' " says Brown. "But the USGBC is just trying to get the discussion out there. Hopefully in 10 more years, we won't need LEED because everybody will see that this is the right thing to do."
In the meantime, architects who want to have fun with their designs and still achieve sustainability are accommodated by the sixth LEED category - innovation and design process. The category serves as a catchall of sorts, offering submitters the prospect of earning anywhere from one to four credits and inviting them to "apply strategies or measures that are not covered by LEED such as acoustic performance, education of occupants, community development or life-cycle analysis of material choices."
A number of project teams have accepted that invitation. Take, for example, the Langston-Brown center, which, in addition to accommodating alternative high school classes and community center programs, also serves senior citizens and Head Start preschool students.
Marlow says that individuals from these user groups - although they may not immediately know what makes their building a green building - enjoy using the Langston-Brown center because of its high-quality indoor air (thanks to low-toxin-emitting interior finishes) and bright interior spaces (due to an extensive use of interior daylighting, controlled by operable sunshades that double as cooling devices).
"We've done something really good here. For the high school students, whatever personal problems they have don't matter because they now have a nice place to look forward to," says Marlow. "The seniors have a warm, comfortable place to go, and the Head Start kids can be brought up in a really nice facility."
The Langston-Brown center's staff offers tours every other day to those interested in learning about green building. Boulder Parks and Recreation officials, too, have focused on educating their constituents on sustainable design. In July, they implemented a signage program that features information stations explaining the operation of building components that contribute to the facility's LEED certification. "Our intent is to serve as a model for the community and to encourage private developers to consider LEED," says Quiller. "But the signs and brochures are also kid-friendly, written in a way that everybody can understand."
Carkeek Park Environmental Learning Center, which opened in July 2003 in Seattle's most popular park, is the city's first and only public facility thus far to achieve LEED gold certification. The 1,800-square-foot center's purpose is twofold: to serve as an environmental education center for youths and adults and to publicly demonstrate sustainable building practices. Among the facility's sustainable features: a rainwater collection system that supplies water for toilets and outdoor water sprinklers, and an exterior photovoltaic light system mounted on recycled wood pilings. "These pilings had been buried for 50 years," says Jim Ishihara, an engineer with Seattle Parks & Recreation and a member of the city's Green Building Team. "When we pulled them out of the mud, they were like brand new."
The Firstenburg Community Center will also use recycled lumber, about 12,000 board feet in all, much of it coming from the project site itself. "It's a heavily forested site, with a lot of diseased trees that we have to take down. But the trees have root rot, which means you have to be careful with the relocation of contaminated soil but it doesn't affect the lumber," says Opsis' Stern. "A local family volunteered to mill the trees into benches for the pool deck, bleachers in the gym, and wall and ceiling panels."
Also on the Firstenburg site will be a porous concrete parking lot, which will allow rainwater to drain through the concrete directly into the soil below and eliminate the need for a stormwater management system. "The soil here is very good," says Stern. "It's sort of like a gravel pit, once you get past the topsoil."
Indoors, the most intriguing sustainable features will be found in the aquatic center. That area will feature a system that collects and filters excess pool deck water and pool backwash, recycling it to flush locker room toilets (the system will save an estimated 280,000 gallons a year) and a removable, washable cloth ductwork system (the rest of the facility is naturally ventilated). "Some of its advantages are that it's very lightweight and the labor to install it is very low, not nearly as expensive as rigid, metal ductwork," says Stern. "It's entirely non-corrosive and it's washable. You can actually take it down, unzip it in sections, put it in a commercial washing machine and wash it."
Although these solutions are certainly inventive, there's no guarantee they'll pass muster with the USGBC and earn the Firstenburg project LEED innovation and design credits. That doesn't seem to bother either Stern or his client. "We look at LEED as a framework for how to design sustainable buildings," he says. "The city has not entirely committed to going all the way for LEED certification. We're willing to do the things they ask us, but if for some reason we don't get certified, we did what we could to build as green a building as possible. From day one, that has been the goal."
With municipal recreation projects, it's essential that everyone involved - from the design team to the client to the community at large - be committed to the goal of sustainable building. In Boulder, Vancouver and Arlington, it was the clients who were seeing green. "The county has a vision and truly believes in being environmentally responsible," says Brown of Arlington County officials.
On the other hand, members of the Vancouver, B.C., community were the most vocal proponents of the sustainable design of that city's 1 Kingsway project. The $26.5 million (Canadian) complex will include a 32,000square-foot community center, a 12,000-square-foot library, a 6,800-square-foot child-care center with a rooftop playground, an underground parking garage and about 75,000 square feet of rental housing, accommodating 98 apartments. The 1 Kingsway project will be certified with the British Columbia Green Building Council, an affiliate of the USGBC, and is being designed and built to meet LEED silver certification requirements. The project, expected to break ground by next spring, is located in a dense urban section of Vancouver.
"For one group, sustainability has a lot to do with transportation issues. Some people want more public transportation and less reliance on cars. Then there are people speaking out vociferously against any parking at all because it would encourage more traffic," says city of Vancouver project manager Melanie Marchand, adding that as a compromise, revisions were made to the original site plan to reduce on-site parking by 30 percent. "Others want green roofs. Ours won't qualify because the roof is not a reflective surface. From a community perspective, it's green, even though it doesn't meet LEED. Since there are going to be trees and plants on the roof, we've turned it back over to community use."
Marchand admits that addressing all of the community's sustainability concerns, in addition to those of the 1 Kingsway project's four major tenants, has been a challenge. "We're trying to keep the big picture in view, using LEED as a guideline," she says. "We listen real hard, the whole architectural team. We can't ram ideas down people's throats. Any other developer would have had to go through the same thing. But when you're the city, the bar's a little higher - which is as it probably should be."
As awareness of green building increases, it's likely the bar will be raised even higher as more people come to expect the public facilities in which they exercise and recreate to be sustainable. Stern, for one, is pleased to see that recreation professionals such as those in Vancouver, Wash., are embracing their new charge - which really isn't all that different from their standing mission. "Vancouver parks and rec people already understand their role as environmental stewards," he says. "Sustainable design is an expression of their responsibility to the public."