A Calgary rec center specializes in helping diverse at-risk youths overcome social obstacles.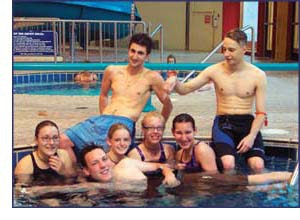 Joe Grainger knows that most of the kids who visit his recreation facility aren't troublemakers by nature. As facility manager of Village Square Leisure Centre in the Pineridge neighborhood of northeast Calgary, Alb., Grainger understands that at any given time, a variety of factors could be at play on those occasions when he emerges from his office to find a group of teens engaged in a heated exchange in the lobby. "Our catchment area is the most culturally and economically diverse in the city. In terms of aboriginal peoples, we have the highest concentration in the city," says Grainger, referring to minority groups including North American Indian, Metis and Inuit peoples. "Our quadrant has the lowest average annual income and we have the highest incidence of single-parent families."
That said, Grainger has grown accustomed to hearing junior patrons of his facility sling all sorts of insults at each other, leaving some teens with deeper emotional scars than others. And when those wounded youths decide to lash out against their verbal assailants -- not with a flurry of retaliatory remarks, mind you, but with their fists -- Grainger and his staff are left to address what can be a very delicate situation. "Sometimes we've been forced to ban people from the facility," says Grainger. "But a couple of years ago, our youth coordinator at the time cooked up this thing where, rather than just ban the kids, we would give them an opportunity to get back in the facility if they would come in to do some things to demonstrate ownership in the facility."
Some lucky youths may get the opportunity to work as water-slide monitors in the facility's indoor water park. But most often, Grainger expects the offenders to demonstrate their respect for the facility by taking part in custodial tasks, such as picking up garbage or washing windows, under the supervision of a facility employee. "When you kick them out, they're gone. And when they come back, their attitude hasn't changed," says Grainger. "Whereas, when we try to get these kids involved in the facility in some way, they get to know some of our staff." In this manner, Grainger and his staff are able to personally keep these youths engaged in leisure center programs, thus keeping them engaged in healthy, positive activities.
"For a lot of kids, their whole social lives revolve around this facility. So removing them from the facility is a very significant thing to them," says Grainger, noting that the Village Square Leisure Centre's adjacency to a high school campus makes it popular as an after-school hangout. "By offering them the chance to get back inside in a positive way, we're providing opportunities for them to learn good decision-making skills."As can be expected, not everyone is willing to take that chance. Some youths are less than thrilled when presented with the option to work off their offense through community service.
Other youths are considerably more enthusiastic, particularly those who receive the offer after they have found themselves on the wrong side of the law. The Calgary Parks and Recreation Department has teamed with the Alberta provincial court system to offer youths and adults who've committed misdemeanor offenses the opportunity to repay their debts to society through service at the Village Square center.
"Nowadays, kids are of the impression that the cops are out to get them and that everybody else is on their case. They go to court and get fined or penalized in some way. Kids get toughened to that sort of treatment fairly quickly," says Grainger, who understands how easy it can be for someone who feels trapped to adopt such a negative outlook. "When people don't have choices, they get their backs up against the wall and tend to get on the defensive a lot more. If you give people a choice between this and that, you're putting them back in the driver's seat. You're giving them some degree of accountability for what it is they're doing."
And once a youth finds his or her way back onto the road of social responsibility, Village Square Leisure Centre staff members do their best to help keep that person moving in the right direction. Office space is provided in the facility for probation officers, to make checking in easier for those youths who need to do so. Also on site is a neighborhood community resource center that offers youth and family counseling programs, among other services.
Leisure center staff members have found particularly useful a set of positive reinforcement activities based on tenets of the 40 Developmental AssetsT, a program designed by the Search Institute, a Minneapolis-based independent nonprofit youth-development organization. "We had a program last summer in which we'd hand out tokens for free French fries at our concessions stand if we saw kids doing something positive," says Grainger. "Rather than just always deal with the negative side of the coin, we gave kids this coupon as a way to say, 'Thanks' -- to encourage them to keep doing the right thing."
Through yet another local partnership -- this one with the Calgary Public Library, which operates a satellite branch inside the 230,000-square-foot center -- immigrant youths can take advantage of programs that help them overcome language barriers that otherwise might spark fights with peers who don't appreciate their struggle to integrate into an English-speaking society. This summer, the library has offered an English as a Second Language reading program for youths and their parents.
Some might wonder if it is appropriate for a recreation and leisure center to devote so much of its resources to programs that one would expect to find at a social services center. But Grainger believes that it is -- as long as he and his staff are doing their best to address the needs of their immediate community.
"Most other facilities throughout the city are in higher socioeconomic areas. My perception is that the need for social interventions isn't quite as great in some of the other facilities as it is here," says Grainger. "We're just trying to be relevant for people in the community. We're more than just a leisure center -- we try to promote wellness. You can spend a lot of time structuring recreation programs, or you can make it part of your culture to always look for ways to help people."