Club owners who beat their local Y have devised something to help the Y meet its stated goals.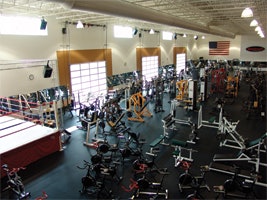 Don Anderson and Mike Kellam want to be perfectly up-front about this - they can't stand their local YMCA. For more than a year now, the co-owners of Workouts Fitness Campus in Lancaster, Pa., have told newspapers at various times that the YMCA of Lancaster County "hasn't been square" with the community and has tried to "bend the rules." In a flyer they distributed prior to an April meeting of the East Hempfield Township Planning Commission - at which topic No. 1 was the expansion of the Y as a fitness provider - the two went even further, calling the Y "irresponsible" and accusing the organization of acting with "a total disregard for the community."
And now?
"They're disingenuous, they're lying, and it's wrong," says Kellam.
Kellam's use of the present tense belies the fact that he and his business partner have already succeeded in pushing a Lancaster Y mega-gym out of their neighborhood. Unlike other health club owners who have fought with the Y and won, however, Anderson and Kellam have no intention of leaving the field of battle until they've - well, until they've made their point.
"Not many clubs have beaten the Y, and those that have just let it continue on, and everybody goes on with their business," Kellam says. "When it's all said and done, we're going to put the Y in its place."
The events that led to Kellam's evident disgust began in January 2004, when the Lancaster Y announced that it had sold its 80,000-square-foot, downtown facility (which it had occupied for 34 years) to Lancaster General Hospital, the site to be eventually razed and replaced with a parking garage. Soon after, the Y made public its intention to re-emerge as a three-facility branch system consisting of a new downtown headquarters (although downsized to 20,000 square feet) and two new suburban wellness facilities that would measure around 60,000 square feet each. With great fanfare, the Y trumpeted partnership agreements with two nonprofit organizations, Woodcrest Villa (a retirement community) and the Lampeter-Strasburg Recreation Commission, to build state-of-the-art facilities costing between $8 million and $10 million apiece.
These announcements happened to coincide with the considerable and costly renovations Anderson and Kellam were making to Golden Meadows, a 40-year-old competitive swimming facility boasting indoor and outdoor pools just half a mile down the road from Woodcrest Villa. When the two were finished, in May 2005, the 11.5-acre Workouts Fitness Campus featured upgraded pools and the county's largest health club, a new 43,000-square-foot building dubbed "The Lodge" that features weight and cardiovascular equipment, racquetball courts, a climbing wall, a competition-size boxing ring and multipurpose rooms for group fitness, yoga and Pilates classes. To round out the site's offerings, the two entrepreneurs brought in independent businesses to offer physical therapy, tanning and massage services.
What irked Anderson and Kellam about the Y's plans at Woodcrest Villa began with the project's scope - 64,000 square feet - and extended to the Y's aspirations beyond the retirement community itself.
"Woodcrest Villa has 1,000 residents - many of whom are very, very old - and 500 employees," Kellam says, adding with characteristic reserve, "To build a 64,000-square-foot facility there is asinine." The reason for all that space, of course, was that the Y's stated intention was to open the facility to the public through the sale of fitness-center memberships. As the Y's executive director, Jeff Kenderdine, described it to the Lancaster New Era last summer, "This will bring us some wonderful intergenerational programming - meeting the needs of the retirement community residents, as well as the needs of children and families." (Officials of the Lancaster Y did not respond to AB's requests for comment.)
The only trouble was that Woodcrest's acreage is zoned high-density residential, meaning that even though the Y spoke (and the local press duly reported) as if it were a done deal, a zoning amendment would have to be granted by both the township's planning commission (on April 12) and its board of supervisors (on June 5). Both failed, by votes of 2-1 and 3-2, respectively. To make matters worse for the Y, the two no votes bracketed the May 22 decision of the Lampeter-Strasburg Recreation Commission to cut the Y out of its recreation-center plan.
Anderson and Kellam view the demise of the Y's plans as nothing more or less than proof that karma exists. In their eyes, the Y's procurement of a $5.3 million tax-exempt loan to finance half the cost of the Woodcrest project is a slap in the face of businesspeople such as themselves, given that to get the loan the Y had to certify that none of the money would be used to finance a "health club facility" or "racquet club facility."
"They continuously say, `Oh, we're not a gym, we're not a gym,' " Kellam says. "But what they offer is what a health club offers."
Kellam says that he and Anderson are not out to point fingers, particularly at Woodcrest - which is, after all, a neighbor of theirs. "Woodcrest said they partnered with the Y so they could implement intergenerational programs, and maybe there's something to that. They have a lot of unused land that can be used for intramural fields and play areas," Kellam says. "You know, we don't feel right telling them, `You're wrong, go away.' We want to give them an idea that works."
To that end, he and Anderson are in the process of implementing a building program that they hope Ys across the country will replicate. Kellam says they offered this intellectual property to the Lancaster Y but were rebuffed, so they're exploring forming a nonprofit corporation of their own ("Family Clubhouse"), have secured the familyclubhouse.org web domain, and are prepared to put up their own money to get the first one built within, or next door to, Woodcrest Villa. If the plan is successful and the Lancaster Y still isn't interested, Kellam says they'll turn the whole thing over to the YMCA of the USA.
The prototype blueprint, drawn gratis by a local architect and estimated by a local contractor to cost $3.9 million, shows a Family Clubhouse of 20,000 square feet designed to encourage - guess what? - intergenerational programming. The ranch-style building includes meeting rooms for the Y's "valid" offerings (Kellan's word to describe the Y's vaunted programs targeting truancy, alcoholism and drug abuse), a "mess hall" and a social room with 15 game tables for chess, dominoes, cards and board games. A basketball court includes a suspended walking/jogging track and a movable wall to convert the space into two multipurpose rooms. Outside, recreational play spaces accommodate horseshoes, quoits, bocce, shuffleboard and outdoor game tables (Kellam imagines a viewing area replete with banks of rocking chairs), and a walking path encourages functional fitness.
The building plan also includes a 35-by-50-foot cardiovascular training space on the first floor, with a similarly sized strength-training space upstairs. Kellam stumbles a bit on the question of whether these spaces are "valid" in a nonprofit setting, seeing as how he and Anderson fought like crazy to stop a YMCA from moving next door.
"There's validity in strength training," he says, and pauses. Is the issue a matter of degree? "Who's to say?" he asks. "If the purpose is to keep kids off the street, maybe a gym is okay. I don't think they need to have the best equipment, but - I don't know. I think they should limit what they do, focus on what they're always preaching."
Although the first Family Clubhouse will serve a retirement center, the larger target is the YMCA. "These clubhouses, we believe, will be adequate for them to economically fulfill their mission," Kellam says, "and we want the industry to win. We see this as the right thing to do before we close this chapter in our lives."