Amid escalating construction costs and rising tuition rates, colleges and universities still see strategic advantages in pursuing campus recreation projects.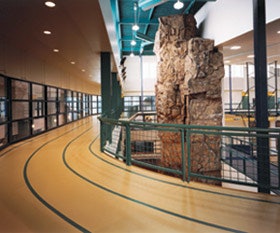 As the dawn of the new century approached, West Virginia University found itself mired in the campus recreation dark ages - and without much elbow room. At that time, the school was offering 0.9 square feet of dedicated recreation space per student - among the lowest figures ever calculated by Brailsford & Dunlavey, a Washington, D.C.-based facility planning firm that specializes in such assessments. "That's one of those numbers that I will never forget," says WVU director of recreation Dave Taylor, a 37-year veteran of the institution. "I asked, 'What does 0.9 square feet of dedicated student recreation space even mean?' They said, 'Where you're standing. That's 0.9."
Where Taylor and his department stand today is another story. The $32 million West Virginia University Student Recreation Center, funded in part by a $90-per-semester student fee that has remained unchanged since the day the building's doors opened in July 2001, offers WVU's 27,500 students some 177,000 square feet of space. Taylor admits he has never done the math, but those figures equate to more than six times the space previously offered. Where students once had to share facilities with the WVU intercollegiate athletics and physical education departments - taking a backseat to both - they now lay exclusive claim to seven basketball/volleyball courts distributed between two separate gymnasiums under one roof. There are the requisite (by today's campus standards) climbing wall and hot tub, too, and enough space dedicated to recreational badminton - yes, badminton - to accommodate three regulation-size courts full time.
Log in to view the full article