Administrators embarking on the renovation of a historic structure must decide how best to integrate the past with present-day needs.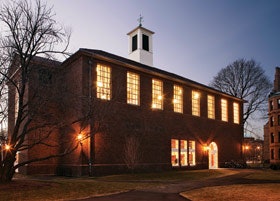 A balky historic commission put designers through the wringer during the renovation of Harvard University's Hemenway Gymnasium (before, top). Eventually, the panel allowed for the addition of three windows into the building's facade (bottom).
Old sports and recreation buildings have earned a special place in the hearts of collegians everywhere and of every age. The old varsity gym, the field house or the wellness center cobbled together from various expansions over the years - these have become repositories of so much collective memory that many former and current students, faculty and staff are unable to see them clearly. They may be examples of classic architecture, or eyesores - in either case, the history they represent can insulate them from criticism, constructive or otherwise.
This is true even - one could say, particularly - in instances when buildings have earned a spot on the National Register of Historic Places. Buildings that achieve this status, or those that are merely located in what are designated as "historic districts," are suddenly given an extra layer of protection against those who would seek to alter them - including people with the best of intentions.
All of which makes their inevitable renovation among the most emotionally fraught and technically challenging types of projects faced by campus administrators and campus architects. The fact that wealthy donors are often involved in the project funding just makes things that much more difficult.
Dave Dymecki, a principal with Watertown, Mass.-based Sasaki Associates Inc., paints a picture that isn't very pretty - the architects and clients excited about the project, ready to move forward, but then met and thwarted at every turn by a phalanx of historic review board members, alums and others intent on scuttling the old building's rehabilitation.
"It often goes something like that, where an alumnus wants to give $10 million for the project, so he's going to have his say," Dymecki says. "It's usually something to the effect that, 'Well, in 1928 we built this state-of-the-art athletic facility, and we all have so many fond memories - my grandfather scored his first basket there and had his first kiss in the stands. So don't even think about tearing it down.' "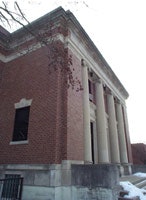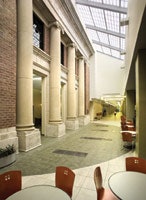 Not historic but classic, this grand entrance was incorporated into the cafe of the renovated Huff Athletic Center at Monmouth College.
The whole concept of "historic places" is absurdly complicated. Nationally, the Secretary of the Interior designates places as historic "because of their importance to all Americans," with buildings nominated by governments, organizations or individuals. In many cases, the buildings are nominated by their owners with the goal of reaping certain tax benefits - and only buildings receiving federal funds or tax credits are bound by the
Secretary of the Interior Standards for Rehabilitation
, which guides owners and architects contemplating a renovation. (See "Can't Touch This," p. 38.)
Beneath this tier of 2,400 national historic landmarks and 13,500 historic districts are 85,000 state historic places and an unknowable number of community-designated historic structures. Each of the overseeing jurisdictions has its own standards for rehabilitation, whether based on the national standards or not. While rarely are these considered anything more than guidelines - and they are exceedingly vague - their existence means that any number of groups can drum up opposition to any facet of a renovation project.
"Regardless of who is telling who what they can and can't do, the Secretary of the Interior standards are basically good preservation models," says Paul Lusignan, a historian with the National Register of Historic Places. "But local communities have zoning and police powers that the federal government doesn't, and they can mandate that a private owner can only do certain things with his or her property."
Even less clear is under whose jurisdiction public or private universities fall. While very few sports and recreation buildings on college campuses anywhere are officially designated as historic, many campuses (or parts of them) are designated as historic districts. Private institutions typically will handle historic preservation deliberations in-house as part of campus master planning - although a number of campus groups will be a part of the decision-making process - while public-institution planning will typically have a more pronounced community and state presence. Since many older campuses adjoin historic neighborhoods, the jurisdictional boundaries aren't always obvious.
Anita Moran, a principal with Dallas-based F&S Partners Inc., notes that in Texas, state universities must follow standard accessibility and life-safety codes, but they aren't required to go through the process of procuring building permits. For universities seeking to renovate a structure, that often means little oversight by any outside group larger than a single building inspector or fire marshal. But that doesn't mean it's always obvious to whom to turn when disagreements arise. Moran points out that the 33 acres that make up the original University of Texas-Austin campus are considered a state historic district; during her firm's renovation of and addition to UT's Gregory Gym, the design team was "to some extent under the purview of the state historic trust," she says. "That's a state agency, and UT is a state agency as well. They're kind of on an equal footing, so it was not always clear who had final say." Were design negotiations cordial? "They politely respected one another," Moran says.
Erik Kocher, a principal with Hastings & Chivetta Architects in St. Louis, says that to his knowledge his firm has never worked on a sports or recreation building that had actual historic landmark status. However, all university projects are subject to campus politics, and most occur within the sphere of community political influence, whether organized or not. If the push to renovate rather than build anew starts with either the university president, primary donor, alumni organization or university architect, it quickly sweeps various other groups into the mix.
Hastings & Chivetta is at work on a renovation plan for a 1904 building that sits in a historic neighborhood in a southern city. The building, which has never been used for sports or recreation, has had a number of different incarnations over the last century, and Kocher suspects that its neighbors are putting it to its most pointed use yet - as a political football.
"It actually started as an open-air market, and now that the university wants to use it as part of a rec center, the neighborhood is just having a fit," Kocher says. "The neighbors are looking for any reason to stop construction on this part of campus, and so they're using the historic district designation. In this case, the neighborhood is saying to the university, 'Hey, the building may not have the historic landmark designation, but we're going to hold you hostage anyway to the Secretary of the Interior guidelines.' "
And that's just the first step in the long and arduous approval process. A project might need neighborhood approval, as well as review and approval by the relevant historic preservation board, the local planning and zoning board and then final state approval. Kocher is familiar with another potential historic renovation that was tripped up by the existence of a campus-wide master plan that had years before been prepared by another architect and adopted by the city. When his firm made a recommendation that didn't jibe with the master plan, the entire process in effect had to be started over.
Such are the frustrations of working with historic structures. Says Kocher, "If you just stood back and said, 'Are we doing something good for the neighborhood?' Absolutely. 'Are we preserving a historic building?' Yes, we're going to great pains to preserve it. But even then, some people get almost spiteful. In the case of the former open-air market, it's gotten to the point now where the university has agreed to do all these weird things in the renovation."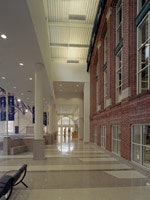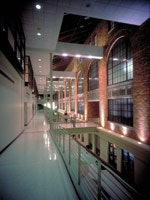 Skylights above what used to be the exterior of recreation facilities at Marietta College (left) and UT-Austin (right) give users looking out the preserved windows the impression that little has changed.
That particular project involves the wrapping of an L-shaped addition around two sides of a historic building, and a major concern of the presiding preservation board was that an alleyway on the city block would disappear. The current plan, therefore, includes the architectural replication of the original alleyway using a long-axis interior street, glass end walls and flooring that resembles exterior surfacing.
Most historical commissions aren't after anything quite that esoteric, however. Ordinarily peopled by building architects, landscape architects and historians, such groups are more typically concerned with (in keeping with the Secretary of the Interior's exhortation that "historic character of a property will be retained and preserved") materials selection and consistency between the original building and anything added to it.
Harvard University's Hemenway Gymnasium, while not designated as historic, contributes to a historic district by its position adjacent to a building designed by 19th-century architect Henry Hobson Richardson, and across the street from the designated Cambridge Common. Cambridge, Mass., has perhaps the largest number of preservationists per capita of any American community; city ordinances set down modus operandi for both the Cambridge Historical Commission (a city department, not to be confused with the private and largely ceremonial Cambridge Historical Society), as well as four distinct neighborhood conservation district commissions. During Sasaki's renovation of the gym into a state-of-the-art fitness center, the firm had all sorts of trouble getting past the historical hurdle, having determined that bringing the building up to millennial standards required the insertion of three large windows into the building's facade.
"I think had the gym been on the National Register it would have been much more difficult," says Sasaki's Bill Winkler. "Although it was incredibly difficult, just the way it was, to convince them it needed those windows to be a functional place." It took "three or four" visits to the board to convince them, Winkler says, even with the exhaustive research that such presentations require.
Architects at historic-preservation hearings offer blueprints and other documents, before and after photos, and other exhibits that show the building in its original state and after each subsequent addition or renovation. This detailed argument - for example, the original windows were of a certain style, and 40 years later they were changed to a different style - might lead not to approval, but to suggestions for further study. In the case of Hemenway Gym, the firm's more contemporary design was nixed in the first go-round, and the added windows were tabled until the firm could come up with more detailed information about their look, potential colors, the numbers of glass panes per window, the size of the mullions (the nonstructural vertical strips between window panes) and so on.
Winkler says what is particularly tricky is that historic boards' various members (around 10 were on the Hemenway panel) come from different backgrounds, so they don't necessarily come to the presentations with a unified idea of what form the renovation should take. The meetings therefore often run late into the night, with the result being a suggestion that the firm and client work up a new plan and present it at a later date.
"We probably did 20 schemes for the front of Hemenway," Winkler says. "Fortunately, we had really good photos, so using PhotoShop we could do really accurate portrayals of what it was going to look like."
In Austin, the Texas Historical Commission scoffed at F&S Partners' initial plan for Gregory Gym, which involved the creation of an interior street between the original 1930s-era gym and the 1960s-era addition. The interior street eventually won over the commission, but not before panel members requested more generous entry areas and entered into a detailed, multiple-visit discussion about the circa-1930 steel-casement, crank windows.
"The old windows, which aren't made anymore and are not particularly energy efficient, had really thin mullions. To replace them would have meant a fatter mullion section; when the commission balked at the idea of replacement, we ended up restoring them," Moran says. "Texas has an energy code that all buildings have to comply with, and those windows also had lead paint on them that had to be abated."
Similar issues cropped up on two other recent Sasaki renovation projects, West Point's Arvin Cadet Physical Development Center and Yale University's Malkin Athletic Center. Like all such renovations, Malkin's required the addition of an ADA-compliant ramp; by the time the gigantic new ramp got its elaborate brick and limestone banding to match the building's original exterior, Winkler believes it had become "the number-one, class-A ADA ramp of all time." At West Point, meanwhile, some of the interior spaces had been deemed "historically important" (Hayes Gym, the earliest surviving component of the structure, is on the National Register), so the board strictly limited what could be altered. But, as Winkler points out, any renovation has to meet modern seismic codes, which dictated that some historical accuracy had to be finessed.
"ADA is a federal requirement, which is why we didn't get too many problems with the ramp," Winkler says. As for the seismic updates, he adds, "Historic boards tend to be more liberal with you if you're trying to keep the building standing."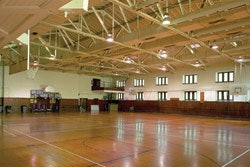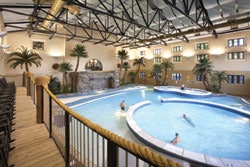 Renovations that preserve the building exterior need not restore interior spaces' original function, as this conversion of a gym into a natatorium at the University of Missouri-Columbia shows.
Architects renovating an old building don't need to be goaded by a review board into preserving the past. It is standard procedure when embarking on a renovation to take elements of the old structure and incorporate them into the new design. That logo from the old basketball floor can be saved and used in the lobby or Hall of Fame; those old light fixtures can be restored and used in the updated circulation areas; the ornate ticket booths can serve as historical touches inside a modernized interior. Certain areas of a facility are more readily preserved than others, as Kocher notes. "You can do fancy old lights in the fitness center, a fancy ceiling, some things that look historic, but the reality is if it's a fitness center it's going to have flat-screen TVs and a rubber floor."
With environmental design all the rage in architecture these days, there's one more reason to preserve the past. Points can be garnered for LEED® certification by reusing building elements, since each element saved represents a new element that need not be manufactured, packaged and shipped to the site, all of which are processes that consume natural resources. Viewed in this light, preservation can be seen as just one more design concept that is, simply, good architecture.
But it's costly. All of the code updates required in all renovations - life safety, egress, seismic, accessibility - become that much more complicated and expensive when so much care needs to be taken to preserve historic building elements. All board-required changes - roof tile to match the old roof tile, dormers to match the old dormers and so on - can add many dollars to the bottom line. "It's hard sometimes to find materials, or you may only find one of the things you're looking for," says Sasaki's Dymecki. "If you're looking to match the color of an addition, it may be there's a certain color brick that's only made by one manufacturer, and now you've lost competitive bidding for that product."
Then, too, says Kocher, "Anything a contractor has to touch twice, or more than twice, costs more. We're working on a project where we're tearing 60 percent of the building down, and it's beautiful stone. We could keep it, but by the time the masons put up a scaffold, tear it down block by block, clean off the old mortar, store the stone somewhere on site and put it back up, it's going to be cheaper to go out and find freshly quarried stone of a similar quality."
And this is, ultimately, why the Secretary of the Interior's restoration guidelines are so unspecific: One way or another, somebody is going to have to foot the bill.
"All of this still has to make sense for the owner from an economic standpoint," says Moran. "That's why there is always some friction when a historic commission is involved."
Can't Touch This The Technical Preservation Services department of the U.S. Department of the Interior delineates when preservation, rehabilitation, restoration or reconstruction will be most appropriate. In all four categories, the guidelines are extremely similar. Renovations of nearly all athletic and recreation buildings fall under the
Secretary of the Interior Standards for Rehabilitation
, which is the proper treatment "when repair and replacement of deteriorated features are necessary; when alterations or additions to the property are planned for a new or continued use; and when its depiction at a particular period of time is not appropriate."
Standards For Rehabilitation Rehabilitation is defined as the act or process of making possible a compatible use for a property through repair, alterations and additions while preserving those portions or features that convey its historical, cultural or architectural values.
A property will be used as it was historically or be given a new use that requires minimal change to its distinctive materials, features, spaces and spatial relationships.
The historic character of a property will be retained and preserved. The removal of distinctive materials or alteration of features, spaces and spatial relationships that characterize a property will be avoided.
Each property will be recognized as a physical record of its time, place and use. Changes that create a false sense of historical development, such as adding conjectural features or elements from other historic properties, will not be undertaken.
Changes to a property that have acquired historic significance in their own right will be retained and preserved.
Distinctive materials, features, finishes and construction techniques or examples of craftsmanship that characterize a property will be preserved.
Deteriorated historic features will be repaired rather than replaced. Where the severity of deterioration requires replacement of a distinctive feature, the new feature will match the old in design, color, texture and, where possible, materials. Replacement of missing features will be substantiated by documentary and physical evidence.
Chemical or physical treatments, if appropriate, will be undertaken using the gentlest means possible. Treatments that cause damage to historic materials will not be used.
Archeological resources will be protected and preserved in place. If such resources must be disturbed, mitigation measures will be undertaken.
New additions, exterior alterations or related new construction will not destroy historic materials, features and spatial relationships that characterize the property. The new work will be differentiated from the old and will be compatible with the historic materials, features, size, scale and proportion, and massing to protect the integrity of the property and its environment.
New additions and adjacent or related new construction will be undertaken in a such a manner that, if removed in the future, the essential form and integrity of the historic property and its environment would be unimpaired.