Campus recreation departments are playing a lead role in promoting green facility operations.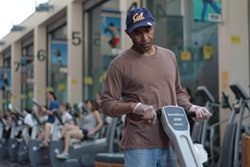 At Cal, custodial staff works the fitness floor even as students work out.
Atop the roof of San Diego State University's Mission Bay Aquatic Center sits 5,000 square feet of solar panels used to heat water pulled from the facility's 50-meter pool. Representing $100,000 of an overall $10 million construction budget, the panels are already halfway to paying for themselves in energy savings - remarkable, considering the facility celebrates its first anniversary this month.
Within the school's 10-year-old recreation center, meanwhile, 24-foot ceiling fans installed last year move conditioned air so subtly as to virtually go unnoticed, yet enough to substantially reduce air-conditioning costs.
"Rec centers are not the most energy-efficient places in the world. We use a lot of electricity, we use a lot of water in bathrooms and showers, and we use a lot of air conditioning," says Eric Huth, SDSU's recreation director. "Our building has a $300,000 annual energy bill, and if I can reduce that by just 10 or 15 or 20 percent, I can make a substantial monetary savings for our budget. So that's my interest."
But, Huth adds, the Associated Students of San Diego State, under whose auspices the rec department operates, are demanding that campus sustainability efforts transcend the physical plant. That's why over winter break the recreation staff broke up into groups of five and formulated ways to mitigate the department's environmental impact even more. Ideas ranged from encouraging users to turn off entertainment monitors on stationary bikes and elliptical machines when done working out to discouraging staff from using aerosol spray cans. It's the kind of thinking that the student group has officially dubbed "Green Love."
"We really got on board with it and have been working since the fall semester to do as much as we can," Huth says. "I think there's been a tipping point in sustainability in the last couple of years, and it just seems like it's on everyone's agenda."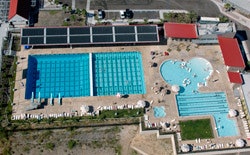 Poolside solar panels are only part of the San Diego State recreation department's commitment to energy savings.
Just as student interest in personal health and fitness has driven the recreation center development boom of the past 20 years, a growing concern among students about environmental well-being is now having a direct influence on how these facilities are run.
"I met recently with some student leaders, and I left that meeting absolutely astounded at the interest in cultivating the 'go green' spirit," says Kathleen Hatch, director of Washington State University's recreation department, which last fall launched the "Be Crimson, Go Green" campaign. "Because we are an institutional arm that's reaching 85 to 95 percent of students, the recreation department is a great place to start to model different practices. I mean, we've actually been ordering organic T-shirts."
And the green movement in campus recreation is rapidly becoming more than a West Coast phenomenon. The University of Maine, for instance, has invested in green cleaning supplies to care for its 87,000-square-foot Student Recreation and Sports Center, which opened in August and is well positioned for LEED® Silver certification through the U.S. Green Building Council (the paperwork is being finalized). One benefit of switching to green cleaning products was immediately apparent. "There isn't the smell," says director of campus recreation Jeff Hunt. "Some people think they need to smell the cleanliness, but that smell is exactly what you're trying to get away from."
At sustainability-minded schools everywhere, the buildings - even those equipped with high-efficiency light fixtures, waterless urinals and recycled floors - are only the beginning. Says Hatch, "No longer is the issue just about a building design going green, but rather what we're starting to look like in terms of our programs, our services, our awareness."
Awareness is on the rise at the University of California, Berkeley, where a "PlayGreen" initiative emphasizing environmentally sound operations was launched in January. "We wanted to use our relationship with students to educate and inspire them, but also connect them," says Mike Weinberger, Cal's director of recreational sports. "There are a lot of student sustainability groups on campus, and we weren't sure they were all talking to each other. We thought we could facilitate that by building a community that's focused on green initiatives."
Weinberger quickly realized that his own charges had to set an example, so he asked himself, "What are we doing as a department? What are the things that we can do to save energy or reduce pollution?"
Several things, it turns out. Weinberger schedules custodial work to take place during the Golden Bear Recreation Center's regular operating hours, allowing the building to go completely dark between its closing at midnight and reopening at 6 a.m. and producing energy savings approaching 25 percent. "Inevitably, there were complaints - 'I'm working out and somebody's mopping the floor next to me,' " Weinberger says. "We had to educate our users, explain what we were doing and kind of sell it."
The educational process extended to staff members, too. "There are ebbs and flows in the day around certain types of equipment, and you have to work with your staff to set their schedule so that they're cleaning an area at low use times." Shower detail presents the greatest patron-relations challenge, as the area is cleaned one half at a time even as it is being used. Says Weinberger, "Custodians need to be sensitive. If somebody really is uncomfortable and complaining, we tell the custodian to temporarily stop, let that person finish up and continue later."
In December, Cal's rec center began offering locker room-only memberships. For $15 a month, faculty and staff who walk or bike to campus can access day lockers, towels and showers. "People who commute to campus with alternative transportation now have a way to come and clean up before they go to work," says Weinberger, adding that the measure has gained favor with a campus bicycle alliance and other green transportation advocates.
The department also has reached out to the private sector, consulting with Clif® Bar & Company, the Berkeley-based producer of organic energy bars that sponsors Cal's annual triathlon, about how to ensure that the hundreds of wrappers generated by the event are recycled. Corporate partner Bank of America has agreed to finance tree plantings every time a new member joins the rec sports Facebook community. An agreement with mobile service provider Kadoink allows rec center scheduling changes to be sent to patrons via text message. "We're trying to communicate with the students the way they live," says Weinberger. "But it also saves us paper. Instead of throwing out the old weekly schedules and printing new ones, we're trying to do more electronically."
Finally, Weinberger hoped to have installed by spring two water-bottle filling stations not unlike those seen in supermarkets. The goal is to get students in the habit of bringing reusable water bottles to the rec center instead of brand-name water in disposable bottles. "Our belief is if we provide good quality water that's chilled and filtered, these stations will help students make the transition from buying bottles of water to just refilling," says Weinberger, who also hoped a sponsorship would help make the reusable bottles readily affordable, if not free, to students. "It eliminates plastic waste and it encourages them to drink water instead of Coke and other bottled beverages."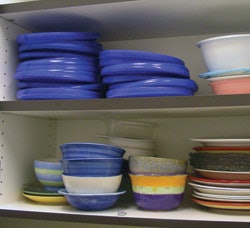 Excess Frisbees serve as plates at Sonoma State.
Waste management is a green strategy common to most environmentally friendly recreation departments. Rick Grizer, maintenance manager of Recreation & Wellness Services for the University of Akron, reports that since answering a student request to place plastic bottle recycling bins throughout the school's Student Recreation & Wellness Center, his department recycles ten 60-gallon bags worth of plastic each week, a number that can easily double during special events. Meanwhile, paper bins within the facility's administrative suite yield 50 gallons of recyclable material weekly.
A survey of University of Nebraska recreation patrons last summer produced more responses regarding a lack of newspaper and magazine recycling receptacles than any other topic, and Florida International University has upgraded its recycling program to target not only waste paper, but cans, plastic bottles and plastic food containers generated by FIU Rec Center's pro shop and food service outlet. "In addition, the university has directed that all photocopiers be converted to double-sided printing," says recreation services director Rob Frye. "If I have to print more than one page of a non-official document from my printer, I use the two- or four-pages-to-a-page command, and I have recommended my staff do the same."
Other recreation departments are making similar efforts to reduce paper consumption. Operational guidelines at California State University, Fresno discourage excessive copying, while Maine's Hunt encourages both "using recycled paper and recycling our own paper - if we print on one side we put it in the recycle tray to be used again." (Hunt also employs a printer that uses a waxy block of solid ink - "like a crayon, essentially" - to eliminate the recycling issues posed by plastic cartridges.) Western Illinois University used to print hundreds of copies of its intramural handbook for distribution among students, but now posts the information online. "I don't know if we'll ever get to everything going online and having zero paper, but we've set benchmarks in our department," says Washington State's Hatch. "We wanted to reduce our paper consumption by 25 percent, and we're ahead of that this year. We've even had a coordinator on campus who has at times gone into our dumpster to check what could be composted and what really needs to go to our landfill."
"My personal passion is composting, and I do what I can to promote it," says Rodney Bloom, operations coordinator for the University of Oregon's physical education and recreation department. "There are two possibilities. The first is handling whatever organic waste is generated by the rec center - food scraps coming out of juice bars or administrative areas from snacks or meals during break time. We also run a laundry facility, and it produces 80 to 120 gallons of lint a week that can also be composted."
The recreation department's staff kitchen at Sonoma State University uses real cups and silverware in an effort to "diminish the amount of disposables that we have in the building," says campus recreation director Pam Su, adding that the department has even put a new spin on excess promotional Frisbees: spill-proof lunch plates. "It's important to be conscious of the lifecycle of items coming into your possession," Su says. "Can items be turned into new items? And if they do have to be disposed of, will they break down easily or sit in a landfill for years?" Southern Illinois University Edwardsville's recreation department has taken steps to minimize the amount of Styrofoam it contributes to landfills by selling beverages at its poolside concessions stand in reusable 32-ounce bottles. The drinks sell for $2.50, but can be refilled on subsequent visits for 50 cents. Says SIUE assistant director of recreation Keith Becherer, "In the long run, it's going to save everyone money and it's going to save a lot in terms of the environment."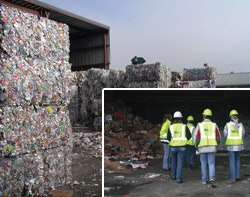 SSU students survey the school's recycling plant
By accepting such measures, and in many cases demanding them, college students are helping set a national agenda of environmental stewardship - in recreation settings and beyond. "Because campuses are like little towns all their own, the passion that students have for this topic lends itself to the movement in a big way," says Katherine Otten, assistant director of marketing for the National Intramural-Recreational Sports Association, a member of the Higher Education Associations Sustainability Consortium. "Campuses are in a unique position. Not only can they take steps to reduce their carbon footprint, they can also help spread the word and educate people. They can really be at the forefront to effect change beyond their borders."
"Depending on where they are in the country, some people are having a much easier time addressing sustainability on their campuses than others," says Su, who presented "Greening Your Operations" at NIRSA's 2007 Recreation Facilities Institute in October. "There are some people who are hitting their heads against a wall because they don't even have a recycling program. Some campuses out there have larger challenges, and they have to start with baby steps."
Many schools just need a little push, according to Tony Cortese, cofounder of the 15-year-old sustainability advocacy group Second Nature, which helped establish the Association for the Advancement of Sustainability in Higher Education and the American College and University Presidents Climate Commitment. (Second Nature is also the current coordinator of HEASC.) "When a college decides to do something, unless it puts out a press release, nobody's going to find out about it. There's no entity out there that has the resources to collect this information right now," Cortese says. "AASHE hopes to do that on a pretty large scale in the future, because one of its primary purposes is to be able to help people share best practices."
At schools like Washington State, where a student fee increase is being proposed to fund the appointment of an on-campus sustainability coordinator (Oregon already has one), the recreation department is - to recycle a worn phrase - pushing the green envelope. "I would like to say we're brilliant, but we aren't," says Hatch. "It's really in response to our student audience. We're working with our global citizens of tomorrow. The consciousness has been raised in this generation, and so these students are coming here expecting us not to practice in our old way. If we want to continue to have as strong a profile as we've had in the past, our leadership is needed in this new, green way."