A long-ago investment helps one city's nonprofits upgrade their recreation facilities.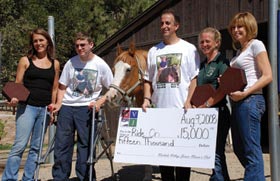 Fifteen thousand dollars won't come close to covering the construction cost of three new soccer fields at Thousand Oaks, Calif.'s Conejo Creek Park South (estimated price tag: $1 million). Ten thousand will barely cover a third of the cost of purchasing bleachers for the California Lutheran University Aquatic Center. But you didn't hear much grousing this fall from the nonprofit organizations in charge of funding those projects. By all accounts, the money, though relatively meager, was happily accepted by the American Youth Soccer Organization, Region 9, and the Conejo Swimming Association Parents Organization - two recipients of 2008 grants from the City of Thousand Oaks' Sports Facilities Endowment Fund.
Eight different groups this year took home grants from the fund, which for a dozen years has helped nonprofit organizations in Thousand Oaks construct, expand or upgrade fields, courts, pools and ancillary areas - in many cases, at facilities that the groups use but don't own. The average outlay each year is only about $12,000 per recipient, but as the saying goes, every little bit helps.
"I'm sure the city council would like to offer more," says Jana Covell, an associate analyst for the City of Thousand Oaks. "Unfortunately, in these economic times, that's not really doable."
What Thousand Oaks can do with regard to facilities is limited by its secondary position in the local recreation hierarchy and by limitations in the amount of funding it receives. The city itself began ceding authority in the area of leisure and recreation 45 years ago, when citizens voted by a four-to-one margin for the formation of the Conejo Recreation and Park District. The money situation, meanwhile, appears dicey. The vast majority of revenues enjoyed by CRPD come from property taxes, which don't rise spectacularly the way they used to, and state funding is dependent on legislators being able to agree on a budget (no easy feat in California). Impact fees, another source of revenue, have essentially dried up as the rate of new home building has dropped to nearly zero.
The good news is that the voters in 2000 approved the creation of a park maintenance and recreation improvement assessment district that adds about 11 percent ($1.4 million) annually to CRPD's $12.5 million share of city property tax revenue. Some of that money has gone to replace old playground equipment, refurbish fields and undertake other similar projects, and some has been set aside each year with the eventual goal of finishing up some parks, according to Jim Friedl, CRPD's general manager. "We're the tortoise in the tortoise and the hare story," says Friedl. "Our property tax revenue these days doesn't go up a lot, it just plods along."
That might also describe the Sports Facilities Endowment Fund. The work of farsighted city management back in the mid-1990s, the fund is one of three city-held endowments (the others target social services and community services) that annually produce $300,000 in interest accrued on an initial deposit of $6 million. (The $300,000 figure is purely theoretical: The city assumed an annual 5 percent interest rate, which only recently has seemed unreasonable.) That extra cash in the city's coffers could have been used to make one big splash in 1996; instead, it has been producing ripples ever since.
Thousand Oaks' formal process for distributing funds from the endowment starts with applications from registered 501(c)(3) nonprofit organizations that are reviewed by the city council's handpicked Community Funding Review Committee, whose members boast a knowledge of grants processes or have a general financial background. Applicants must be able to show "a demonstrated need, beyond the normal capacity to fundraise, for the requested funds," and, moreover, must provide at least a 100 percent match of the city's grant. Requests must be for capital improvements only, which must be shown to benefit "a wide cross-section of city residents."
Committee members enjoy a fair amount of latitude in the granting of funds. They are limited by rule in the amount that can be given to each organization - the application notes "a maximum of $200 per individual team member of the benefiting organization" - but a larger grant may be awarded if the committee and city council believe it is warranted by the "nature and scope of the project."
"They really look at the applications; this isn't just a rubber stamp," says Covell. "This year, for the first time, the Conejo Valley YMCA applied, and the committee didn't feel that some of the things on its list qualified as capital improvements. The request was for $18,000, and the Y was given $12,000 for upgrades to soccer fields and baseball diamonds, and to construct bleachers and a storage shed. But that was after the committee subtracted the requests for equipment such as a pitching machine and a dry-line marker."
One constraint on the committee, Covell says, is that the group is not permitted to fund more than 10 percent of any nonprofits' total project cost. That, plus the matching requirement, ensures that beneficiaries aren't just standing on the sidelines with their hands out.
"User groups have to really want something and be willing to put their own money toward it," Friedl says. "It's a great way to make the users and not just the taxpayers actually invest in the facilities, which I think is pretty fair. It encourages investment by the people who are most directly benefiting from the facility."
If there is another virtue encouraged by the endowment, it's patience, as a number of groups use the fund to make small additions to their facilities every year. Funding in consecutive years is specifically allowed in the grant application, with beneficiaries having to demonstrate "a clear community, philanthropic or public benefit." AYSO Region 9 has now netted $50,000 since 2001 toward its gradual field expansions. This year's $13,000 grant for concrete slabs topped with bleachers at its baseball diamond brings the total haul for the athletic department at Newbury Park High School to $51,000. And the $9,000 that Ride On Therapeutic Horsemanship (an organization that teaches horseback riding to children and adults with physical and mental disabilities) took home this year for the installation of a handicapped-accessible restroom in its barn, brought its all-time share of the endowment to $52,500.
"Since I've been here, the most we've granted at a time is $25,000," says Covell. "This year we got 11 initial requests for a total of $182,000, and we only had $100,000 to give away - so nobody got what they asked for."
Friedl says that both Conejo Recreation and Park District and Conejo Valley Unified School District are grateful for the local interest in upgrading facilities, even if the dollar amounts are small.
"CRPD is spending $2.8 million on soccer fields, and AYSO is giving us $330,000 - of which they're getting $15,000 from the fund," he says. "We're definitely providing the cake, and this is the icing. Does that $15,000 mean the difference between having fields or not having fields? No. It allows us to do just a little bit more."