A small-town Colorado recreation center sets a global standard for sustainability.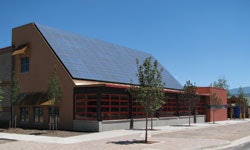 Carbondale, Colo., has a relatively longstanding commitment to environmental stewardship. Despite serving a population of just 6,000, the municipal government includes an environmental board and a separate tree board. The town flower is the dandelion, which is celebrated each spring with a nature-themed town-wide festival and symbolizes Carbondale's policies prohibiting the use of herbicides and pesticides. And Carbondale's board of trustees recently created the position of energy manager, who oversees code related to energy-efficient design of all building projects within the town limits.
"Most towns this size wouldn't even consider something like that," says Carbondale Parks and Recreation director Jeff Jackel. "This is the most environmentally conscious, energy-conserving community that I have ever been a part of."
It was no surprise, then, that when community leaders embarked on a new recreation center project five years ago, sustainable design principles would be incorporated. What is surprising is that a project that, at its inception, merely aimed to achieve basic LEED certification has become the world's first LEED Platinum-certified recreation center. "Our recreation center is pretty small compared to a lot of the other well-known LEED projects," says Jackel. "But even though it's small, it's a pretty big feather in our caps."
Siting of the 15,000-square-foot building was the first in a series of environmentally conscientious decisions made before LEED certification was even considered. After voters in 2004 approved using $2.8 million in revenue bonds to construct the building, the board of trustees opted to build the center on an existing, centrally located site next to the town hall, local transit and a regional bike path.
LEED credits were later earned after grant money was secured to develop a xeriscaped park with native and mixed vegetation fed by a stormwater reclamation system. The park surrounds the structure and, as part of the LEED program, will be maintained as open space in perpetuity. "That was a big consideration for the project," says John Baker, owner of Carbondale-based J.R. Baker Architects Inc., which led the recreation center design. "One of the things to keep in mind in a LEED project is that the whole system, everything that gets you points, needs to be maintained permanently. The park is a good example of that. You have to create an ongoing maintenance system for the entire project - ensure that whatever you build does not degrade."
Once the site was selected, a member of the center's design steering committee (who also happened to be associated with the local nonprofit Community Office for Resource Efficiency) suggested approaching the trustees about the possibility of LEED certification. The organization even secured a grant to make possible a design charrette with an energy consultant. "If there is anything I can recommend for getting a LEED project built, it is to hire a consultant right out of the gate - someone who is familiar with the LEED program," says Jackel.
By 2006, as the town hired an architect and plans began to solidify, more coordinated meetings related to the LEED process began to take place between Baker, engineering contractors, subcontractors and a third-party engineering consultant hired by the town. "We spent days going through each of the LEED points and discussing the pros and cons of all the building systems," Baker says. "When we had everything put together, we were able to go to the town and tell them what it might cost to obtain basic LEED certification. We said, 'It's going to cost a little more,' but everybody was all for it."
As with other LEED projects, the Carbondale Recreation & Community Center reflects some of the latest thinking in good green design. Energy-saving measures include R-19 wall insulation, R-38 roof insulation, occupancy sensors and controlled daylighting to 75 percent of the building. Water-saving features include dual-flush toilets and low-flow fixtures. A wide range of recycled, recyclable and low-VOC materials were chosen, a third of which came from manufacturers within a 500-mile radius, and more than 90 percent of the construction waste was diverted from landfills.
As the design was refined and as the outdoor park plan materialized, the project team realized that LEED Silver, or possibly even Gold, might be within reach. "We were sort of picking up steam as we were doing these modifications," says Baker. What allowed the project to cross the Platinum threshold - represented by 52 of the 69 possible LEED (version 2.2) points - is a 52-kilowatt photovoltaic system installed as 288 panels fitting squarely across the flat gymnasium roof and on a 45-degree, south-facing roof atop the cardio fitness area. The system, which cost nearly $500,000 and generates approximately two-thirds of the entire center's annual power needs, was manufactured by a local company and financed by a third party that sells the power to the town.
"We had considered incorporating a photovoltaic system from the outset, if we could afford it. But sometimes you have to get a little creative in how you work some of these sustainable features into your project," Baker says. "Even though the town does not own the system, it's a way they can get that renewable energy source on the site and, at the same time, get those LEED points."
Once the town realized LEED Platinum was within reach, more focus went to each of those LEED points. An energy consultant even suggested purchasing $1,500 in wind-energy credits to receive an additional buffer point. "We didn't want to come up with 51 points when we needed 52 to reach Platinum," Jackel says.
All told, the project cost $4.2 million - much of which came from various grants and donations, including a local bank's funding of the climbing wall purchase - and it received 53 LEED points. But as Jackel explains, the project was never intended to be part of a points game; rather, the LEED system was used as a framework to guide the town's efforts toward sustainability. "Even if you don't pursue LEED, if you have no intentions of getting certified, you can still try to get some of those points," he says. "If you just get 10 or 12 points, at least you know that you're doing something to make your project greener."
For those who use the building, the green strategies employed reflect more than just a morally correct commitment to the environment. "People comment just about the way it feels to be in here - the environment, the atmosphere, the air quality," says Jackel. "It's brighter; you can sense that the air is cleaner."