The late-February opening of a 104,000-square-foot facility in Memphis, Tenn., meant that the Salvation Army could count 23 Ray and Joan Kroc Corps Community Centers in all. ...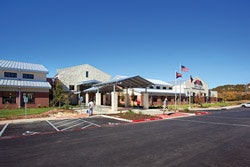 ALL SHAPES, SIZES
The Kerrville, Texas, Kroc Center is the smallest such facility at 47,510 square feet. (Photos © Hastings+Chivetta Architects Inc./Fentress Photography)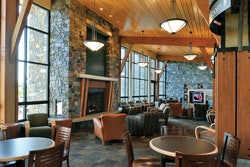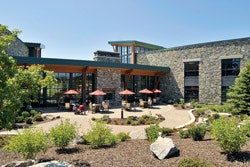 The late-February opening of a 104,000-square-foot facility in Memphis, Tenn., meant that the Salvation Army could count 23 Ray and Joan Kroc Corps Community Centers in all. The 24th was scheduled to open in Guayama, P.R., in April, followed (in April 2014) by the 92,000-square-foot South Hampton Roads facility in Norfolk, Va., which topped out its steel the same week the Memphis facility opened. Three of the four Salvation Army territories will have completed Kroc Center construction once Norfolk opens, with the lagging east territory still collecting donations and seeking permanent sites for planned facilities in Camden, N.J., and Staten Island, N.Y.
But as Salvation Army administrators are well aware, larger challenges lie ahead. Although endowments were provided to keep the facilities operational as part of Joan Kroc's $1.8 billion donation, these funds are insufficient on their own. Facilities of such size and scope - and the necessity of providing scholarships in keeping with the Salvation Army's mission - are proving to be tricky from an operational standpoint. Trickiest of all, facilities intended primarily to serve the underserved have tended to be built in locations that aren't within a short walk or drive of thriving businesses and upscale residential areas, thus subverting a standard principle of fitness-center membership sales and retention.
Capt. Brett Meredith, as the only Salvation Army administrator to work on two Kroc Centers - formerly stationed at Kerrville, Texas, he is now the administrator for the Norfolk center - knows this better than anyone. Still, he admits to some sadness within the Salvation Army ranks that the construction phase of the overall Kroc Centers project is winding down.
"We see these as very important tools to serve our communities, so when you start getting to the end of your financial ability, you're disappointed a little bit that you can't do it in more places," Meredith says. "At the same time, it has created enough challenges to last us a few more years. We're doing pretty well, but we haven't figured everything out yet."
Meeting Human Needs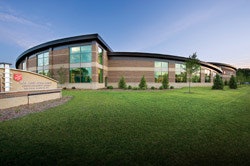 ON SOLID GROUND
The Salvation Army's "mission has not changed," reads the website of the South Bend, Ind., Kroc Center. "The way we go about our mission has evolved." (Photos by Daniel Showalter, courtesy of The Troyer Group Inc.)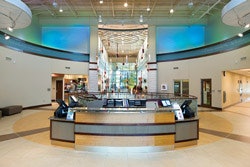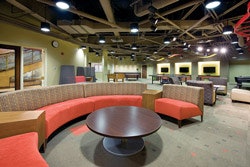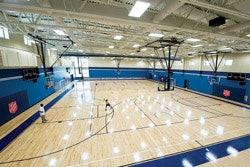 The Salvation Army has plenty of experience operating smaller facilities known as Red Shield Centers. Most, even those with gyms or other limited recreational facilities, focus on social services - for example, the downtown Modesto, Calif., facility "serves those in crisis: the homeless, the hungry, the neediest of the needy," according to its website. The lavish Kroc Centers, meanwhile, while aligning with the goals of the Salvation Army movement begun in England in 1865, have necessitated a bit of updating. "While the mission has not changed," reads the website of the South Bend, Ind., Kroc Center, "the way we go about our mission has evolved. The Center focuses on creating opportunities for individuals of all backgrounds to grow their natural gifts and talents. The Salvation Army Kroc Centers have been blessed with an opportunity to continually develop what it means to preach the gospel and meet human need."
Meeting human needs through wellness on such a grand scale turns out to be a complicated business, however, as several of the Kroc Center operators have appeared blindsided by circumstances that other fitness center operators would consider standard operating procedure. For example, news reports out of South Bend this winter showed that city's Kroc Center administration grappling with a very typical fitness industry situation - a drop in memberships from 7,000 a month after its January 2012 opening to 4,700 during the first summer, and a subsequent rebound to 5,600 as the one-year anniversary was celebrated. Administrators noted to a South Bend Tribune reporter that on one Saturday in January, the center welcomed 1,400 members but also 1,600 nonmembers to various activities, but it was clear that the focus in that traditional high-sales month would have to be on securing more paying members eager to make good on their New Year's resolutions. Kroc officials had arranged for corporate memberships with 85 businesses, were adjusting some of their membership fees and were offering current members one free month of membership for each new member they recruited.
Ken Ballard, a founding partner with Ballard*King & Associates Ltd. in Highlands Ranch, Colo., which has provided planning and operations consulting on 17 Kroc centers, says the buildings' administrators have had to get used to much greater scrutiny. "The Red Shield Centers are mostly in the 10,000- to 20,000-square-foot range, with a slightly different focus - they're simply not of the same magnitude," Ballard says. "Obviously, the Kroc Centers are a big step up, and are much more prominent in their communities. There's a lot more pressure on the Army to make sure these facilities perform the way they were intended, and the financial aspects of operating the facilities are larger and more daunting, as well."
Jeff King, BK&A's other founding partner, whose involvement with the Kroc Centers includes a stint as the interim operator of the once-troubled facility in Salem, Ore., says his firm is "helping provide a little direction, help them understand how this facility type works," while acknowledging that the Salvation Army is "great at providing social services, and has some wonderful programs and great people."
Three Challenges
According to people familiar with the Kroc Centers, the Kroc administrators' primary areas of challenge are threefold:
• Fundraising. It seems strange that this could be so, given the Salvation Army's association with fundraising on an international scale, albeit involving kettles and thrift stores. But the 27 winners of the Joan Kroc sweepstakes were required to raise funds locally (the amount varied by region and by project) in a show of commitment both by Army administrators and by the communities who stood to benefit. King points out that this posed an operational difficulty in that many large pledges to the centers were committed over a period of time and did not go immediately into Salvation Army coffers. In addition, he says, "It's a challenge for the Army to go back into a community where they've raised all this money and people are aware that they have a sizable endowment for operations. What they'll hear is, 'We already donated to that - you got $3 million, why do you need more?' The big cause was to get these facilities built, and in some cases the communities have moved on to the next cause."
• Marketing. Coeur d'Alene, Idaho, appeared "blight-free" to observers who initially questioned why a Kroc Center would be built there. Kerrville, a rural Texas community in which just 12 percent of families are below the poverty line, is hardly more blighted than that. And then there's the south side of Chicago, which became a Kroc Center community last year. "The need in each area is different, and that's one thing we're finding out more and more: They're not cookie cutters," says Steve Bireley, Kroc/community center coordinator for The Salvation Army USA Western Territory. "Not that we ever truly thought they were, but the degree of variability from one center to another - when you go from San Francisco to Coeur d'Alene, for example - is really significant. And that isn't to say there isn't a need in Coeur d'Alene; it's just very different."
Meredith describes Kerrville as "more affluent," with a good number of retirees settling there from Houston west to California. "We called it the Florida of Texas," he recalls, though he is quick to add that the Kroc Center "is community-transforming there." The Norfolk facility will sit among a population that he tabs as "stronger middle class in general," though the building itself will straddle "a wealthy area and a less wealthy area, a border community, which is kind of where Joan Kroc envisioned these centers would go."
With 14 months remaining prior to opening, Meredith's Kroc Center had $2.2 million left to raise to meet its $28 million goal, and he expressed some concern over the facility's location (ultimately, it was a four-year slog to acquire the necessary land). The Y has a strong presence in the area (the closest is 2.5 miles away), and the bulk of the 1.67 million Hampton Roads population base appears to sit outside the Kroc Center's immediate sphere of influence. "I do believe we have some challenges in the one-mile radius of having enough people to support the center, but we're looking at a marketing plan that will go beyond Norfolk," Meredith says.
• Mission. The fact that the proceeds from an endowment might generate $1 million annually when $5 million is needed each year to operate a center is not just a financial worry. As Ballard says, "Chicago is a classic example. The ability of residents to pay on the south side is not what it is once you move out to the first ring of suburbs. Trying to generate significant sums of revenue has been a concern, but it's also a real shift for the Army, which has been used to mostly giving their services away, or if they're charging, charging a very minimal amount."
"I think we have to take a very cautious view toward these facilities," says Meredith. "Yes, it is a departure from what we've done in the past, and it does present many challenges, but I think we're up to the challenge. To create centers that are ministry-oriented but also acceptable to the public, we sometimes have to think in different ways than we've thought in the past, and work in different ways than we've worked in the past."
Operational Standards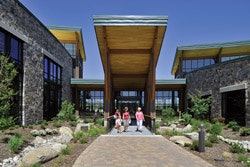 LOCATION? LOCATION
Coeur d'Alene, Idaho, appeared "blight-free" to observers who initially questioned why a Kroc Center would be built there, but Salvation Army sources say the facility served a need. (Photos by Daniel Showalter, courtesy of The Troyer Group Inc.)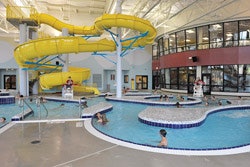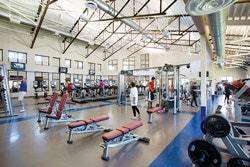 Money is at the root of all three of those areas of challenge, and so is operational know-how. The fact is that a 100,000-square-foot recreation facility operated by the Salvation Army is different from a 100,000-square-foot recreation facility operated by a municipality. "They have the endowments to help," King says. "But the challenge has been to operate the market-driven services such as programming and membership. They have to align themselves more with what's done in the fitness and recreation industry."
The different Kroc Centers are run locally and overseen by Salvation Army divisional offices (some fundraising occurs on the divisional level) under the larger umbrella of Salvation Army territorial offices. Ballard would like to see more operational involvement at the highest levels.
"Since they've been open, there's been some movement to try to develop some basic operational standards, to better measure success and share best practices. Some of that coordination has come after the fact," Ballard says. "Something we've been pushing for is an ability to measure and determine how facilities are doing, not only financially but in terms of service, within the territories. If everybody's calculating everything from budget to service delivery in a different way, there will be no consistent manner of assessing how these individual centers are performing."
"There are certainly some new aspects for the Salvation Army as a whole," Bireley concedes. "The Salvation Army has been operating community centers for a long time, but the operating model and scope of the Kroc Centers is new territory. Certainly there have been some growing pains, but we're getting pretty good at understanding what the life cycle of one of these facilities is, and that should make things a little easier as we move along."
How Were the Kroc Centers Selected?
Money was granted to each of the four Salvation Army territories, and while they had autonomy over deciding the ultimate number and scope of facilities within each territory, there were criteria set by the Joan B. Kroc Foundation that all had to meet, including the inclusion of a chapel and active recreation components, and an ability to support the Kroc Center with local funding.
Half of the money granted to each facility was used to cover construction costs, and half was set aside to endow future operations. The foundation specified that none of Mrs. Kroc's donation could be used for existing programs, services and administrative costs. Each Kroc Center must fundraise to make up budgetary shortfalls. For example, the Norfolk center''s estimated $84 million cost is being covered by a $56 million Kroc donation split two ways - $28 million for construction costs and $28 million for the endowment - plus $28 million raised in the community.
Even after being granted the go-ahead to build facilities, communities that could not meet these criteria were defunded and their projects canceled, including those in Long Beach, Calif.; Massena, N.Y.; Louisville, Ky.; Charlotte, N.C.; and Detroit.
- A.C.