Joe Brown knows how to make things happen. Thus far in his first year as director of the Reynoldsburg (Ohio) Parks and Recreation Department, he has raised $21,000 in sponsorship funds, nearly half of his $45,000 target.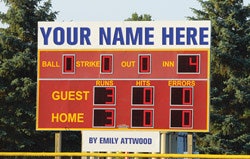 Joe Brown knows how to make things happen. Thus far in his first year as director of the Reynoldsburg (Ohio) Parks and Recreation Department, he has raised $21,000 in sponsorship funds, nearly half of his $45,000 target. Those dollars will go toward purchasing equipment for existing programs, expanding those programs and starting new ones, as well as allow the department to offer online registration for its programs.
His reputation for implementing and carrying out a successful sponsorship program during his time with the Harker Heights (Tex.) Parks and Recreation Department was one of his personal selling points when he came on board last December. "My whole reasoning behind sponsorships started when I was trying to create and implement an adaptive sports program in Harker Heights," Brown says. "We had no money for it, but I saw a need and wanted to create this program. Coming to Reynoldsburg, it wasn't for a specific program, it was for the entire department. We were in a different canoe fiscally."
THE INTERNAL SELL Whether to supplement funds for hurting programs or raise money for a specific project, a well-thought-out sponsorship policy is key to success. "I developed a sponsorship packet that showed a clear picture of who we are, what we do, the people we serve," says Brown. "These are the different levels of sponsorship, and here's what we'll do for you. But don't get married to it."
Before a policy can be used as a selling tool for potential sponsors, though, it has to pass muster internally. "When you're working with local governments, sponsorships can be a lot more political than you think," says Teresa Penbrooke, founder and CEO of GreenPlay LLC, a Lafayette, Colo.-based parks and recreation consultancy. "If it's just asking the local hardware store to sponsor a senior dance, that's one thing, but if you're looking for program-wide sponsors or for a large capital project, it's a different ballgame."
One of the most important things to be decided early is what's for sale. "Logos on websites, banners put in parks, being able to come to events and push their flyers or coupons," says Brown, listing various opportunities he has offered to sponsors. "Chick-fil-A wanted to bring their cow to our events. Chevy - part of their deal was that they could bring cars to our tournaments."
Not every community will be as open to sponsor involvement. "The tolerance for sponsorships is different in every community," says Penbrooke. "Some have no problem naming stuff, and some will not put a name on anything. There is no right or wrong, but it's all part of that community perception."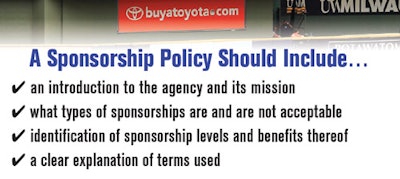 It's a matter of getting everyone on board not just with what aspects of a program are sellable but to what extent other parties need to be involved in the approval process. "If it's a $100 sponsorship, can I do that myself?" poses Penbrooke. "If I'm going after $500,000 or a million or several million, who needs to be involved in that?"
Having everyone involved with a policy's creation not only lessens the likelihood of issues being raised later, but creates a network that can be used to identify opportunities. "Usually those decision makers know the movers and shakers, the corporations," Penbrooke explains. "You can start to get a feel for whether you have anyone like that. Then you get a feel for, in this community, does it make sense to do program-wide sponsorship? Do we have assets that really should be standalone?"
MAKING THE PITCH In addition to identifying what is for sale, creating a plan beforehand allows an agency to know how much to ask for it. "In parks and recreation, we have a lot of assets and reach that we don't typically take credit for," says Penbrooke. "A brochure mailed to every home in the city? That's huge. To include the name of a sponsor in there, we say, 'Yeah, we can do that, that's free to us.' We're looking at what it costs to us, not what the value is to them."
And that's where things can get a little too deep for your average parks and recreation department. "Whether it's exposure on a website or how many drive-bys you get with a sign on a building, all of those hits have a value," Penbrooke says. "It's good to make sure the person you have doing this is well-versed in valuation, especially when you get into big money."
Like any good sales negotiation, knowing what your product is worth is just the starting point. "When I give out a sponsorship packet and it has what the city is going to give them lined out, some people look at that and say they can't fit that," says Brown. "I really love to have a conversation before they decide yes or no. We can make it flexible and come to terms."
Sometimes the community connection is all a sponsor is after, says Penbrooke, noting an often-overlooked opportunity. "One thing we don't necessarily understand in our field is that corporate businesses want to be associated with what we have to offer," she says. "They get how highly the community thinks of us. That affiliation with our brand is a big deal to them even if they're not getting their name on anything. If they can put in their ad, 'Official Sponsor of such and such,' that's big for them."
Very few parks and recreation employees are experienced in the sales process and are thus too quick to accept a rejection, says Brown. "In today's world, a lot of people are looking for that one-sentence conversation, and when they don't get it, they close the door and move on to the next guy instead of following up and following up. It takes time, and unfortunately, it's part of our society that we want stuff yesterday."
While securing the sponsorship might be the focus of the parks and recreation department, remember that the business on the other end probably has more important priorities. But that doesn't mean they won't get back to you, eventually. "In Harker Heights, we had a Dick's Sporting Goods right across the freeway," Brown says. "I thought, 'They have got to be involved in our program.' It went nowhere for at least five months. I was almost ready to quit, to admit it wasn't going to happen, and I got a proposal the next day."
"It really is a lot of discussion," adds Penbrooke. "It takes time and staff investment. You can't just say, 'We're going to do sponsorships.' You need to identify which staff people are going to have that in their job descriptions and have your plan thought through and well-devised. You can get a ton of return on investment."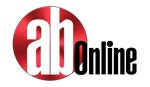 download - Reynoldsburg Parks and Recreation Department sponsorship packet