A common objective when designing recreation centers is to showcase the activity inside the building to passersby and to visitors as they enter the building's lobby. And yet one of the least-utilized components of recreation centers to be given such visibility is one of the most active of all: the walking/jogging track.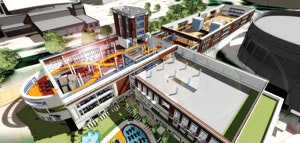 There are plenty of valid reasons for this, having to do with realities of budgets and building plans, but there are many reasons to bring the track into the foreground, too. Over the past decade, a number of high-profile and highly regarded recreation centers have been built that do so, from a track that meanders through program spaces to one that soars through the upper reaches of a natatorium in a glassed-in tube. There's even a track that breaks through an exterior wall on a curve, reentering the building before the straightaway. But until now, no one had created a jogging track that inclines and doubles over itself like half of a figure eight.
The walking/jogging track at the new Auburn University Recreation and Wellness Center, which opened in August 2013, is presumed to be the country's longest, at one-third of a mile, and is attracting significant attention for what the university's rec department refers to on its website as the track's "corkscrew configuration." Make no mistake, this particular track was made possible by the project's size (240,000 square feet) and construction budget ($53 million). Its influence is sure to be felt in buildings a lot smaller and less grand, however. Auburn's track stands as a testament to how these components can be better utilized as signature program elements in all types and sizes of recreation centers.
Log in to view the full article