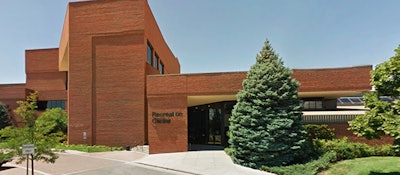 11 people were treated and at least one child remains hospitalized after an archery club was exposed to carbon monoxide at a Greeley, Colo. recreation center.
About 15 members of the Greeley Archers were participating in a practice session in the basement of the Greeley Recreation Center on Monday when some people began to fill ill, Jim Flores, vice president of the Greeley Archers, told The Greeley Tribune.
His wife decided to step outside for some fresh air. It's then she realized she barely had the strength to walk up the stairs and suspected something might seriously be wrong. Other archers complained of headaches and nausea and the group evacuated the basement.
Flores' 15-year-old son remains hospitalized.
City officials in Greeley, which sits about 55 miles northeast of Denver, traced the carbon monoxide leak to a faulty boiler plate on the first floor of the facility. The boiler plate is used to heat the center's swimming pool. The boiler plate was shut off and gas was restored Tuesday morning as the center reopened for business. The pool however, remained closed.
The city has now installed carbon monoxide detectors in the basement of the rec center. The facility previously did not have any carbon monoxide detectors.
As The Greeley Tribune reports, Doug Clark, risk manager for the city of Greeley, said there may be another problem to investigate. The faulty boiler is on the first floor, but the people exposed Monday to carbon monoxide were in the basement, meaning there also could be structural damage needing repair.

"The building is 25 years old and we've never had a problem before," Clark said. "We check the boilers annually, so we don't know yet exactly what happened. But this is a very serious incident and we're not going to rest until we find out what went wrong."

In the meantime, Clark said residents exposed Monday needn't worry about their hospital bills — the city is going to pay them.
Pool equipment, when not working properly, can be a dangerous source of carbon monoxide. Earlier this year, ABC's 20/20 television program aired a story about a hotel room where three people died and several others fell sick while staying there. It turns out the hotel pool's exhaust pipe was damaged. The exhaust pipe was leaking lethal levels of carbon monoxide from its location in the ceiling, which was just below the room where guests had died.
The hotel's manager was indicted on three counts of involuntary manslaughter and one case of aggravated assault by a grand jury.
RELATED: Carbon Monoxide Scares Shut Down Two Ice Rinks