Obesity continues to be one of the top health challenges nationwide. U.S. employers report a clear impact in higher costs and lower productivity, with overweight employees costing companies more than $73 billion a year, according to a recent report by the Northeast Business Group on Health.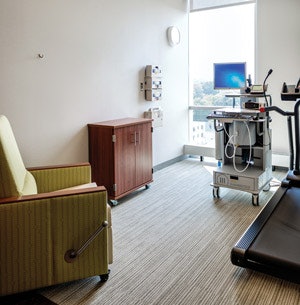 Recognizing the many benefits of helping employees pursue healthier lifestyles, businesses are exploring a broad range of options to bring health screenings, fitness programs, and wellness care and education to the workforce. Organizations such as the Mayo Clinic, which opened a wellness center for staff on its Rochester, Minn., campus in 2007, are seeing strong results in terms of both employee morale and reduced medical costs.
The success of these medically based wellness centers, in which members participate in health assessments and screenings, whole-body wellness programs and customized fitness programs, reveals an important opportunity for recreation centers on higher education campuses, as well.
According to the Centers for Disease Control and Prevention, childhood obesity in the U.S. has doubled and adolescent obesity has quadrupled over the past 30 years. In 2012, one-third of the nation's children were overweight. Much like medically based wellness centers, campus recreation facilities can be designed to accommodate healthcare screenings, assessments and resources, as well as implement programs designed to draw in those students who are less athletic or perhaps intimidated by large fitness facilities. Clearly, colleges and universities can play a key role in helping students recognize the importance of a lifelong commitment to wellness and healthy living.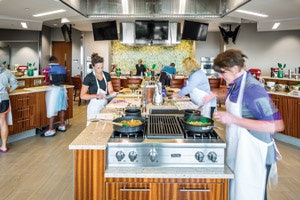 THE NON-TRADITIONAL MEMBER
The Mayo Clinic has a membership of 16,000 at the Dan Abraham Healthy Living Center. Summer months see approximately 3,200 members a day in the center. During the winter, daily attendance averages 4,000 members. According to director Beth Riley, active members have, on average, lower healthcare costs and lower BMIs.
"We are targeting the non-traditional club member," says Riley. "Half of our members have never been a member of a health club before. Half of our members are overweight. We have a customized new-member orientation process so we can increase engagement from the beginning of their experience."
The Dan Abraham Healthy Living Center offers many wellness-based programs and resources that are beyond the typical offerings of a community- or campus-based recreation center. The nine-story, 216,000-square-foot facility was built in two phases, with the first phase serving Mayo Clinic employees and a subsequent addition now open to the public. The facility features physical assessment spaces, laboratories and examination rooms that enable researchers to capture and analyze data related to the effectiveness of fitness programs. There is dedicated space for programs in weight management, nutrition and stress management. Educational spaces include classrooms, a library, resource areas and kitchen space that allows for cooking demonstrations.
"We offer a number of non-traditional programs," says Riley. "We have spiritual programs such as meditation and a gratitude workshop, a 'Hope and Healing' workshop led by a chaplain that addresses grief, a 'Healthy Back' program and a 'Move a Little, Lose a Lot' book club focusing on the NEAT (non-exercise activity thermogenesis) concept. We have a demonstration kitchen where we offer programs and classes led by dieticians and chefs. All of our programs are designed and delivered through a partnership with our wellness specialists and clinical experts. We also have a full research component led by a cardiologist.
"Health and healthcare are now connected at Mayo Clinic," Riley continues. "Employee and community health providers refer their patients to the center to discuss wellness goal-setting. These patients may not have joined the facility on their own and needed the nudge from the physician. We have the resources to make the lifestyle changes and it frees up time in the clinic for the providers. It makes a whole lot of business sense."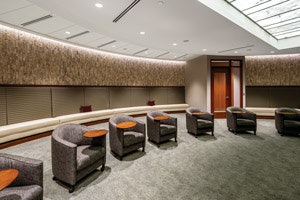 INTIMIDATION FACTOR
The Dan Abraham Healthy Living Center is designed to be a welcoming environment with warm colors and finishes, comfortable furnishings and abundant natural light. "We want to make members feel comfortable and less intimidated," says Riley. "We have a studio that is part of the women's locker room with cardiovascular and strength equipment so that women who don't feel comfortable on the main fitness floor can still access our services. We offer getting-started and beginner classes designed to acclimate members to our studios and equipment. People of all ages want to look like they know what they are doing and feel like they belong. We have a dress code so people of all shapes and sizes can feel like they fit in."
For the past five years, the center has tracked members who have visited at least 600 times. Riley reports that of these members, 80.4 percent have a BMI less than or equal to 30. Their average healthcare costs are $7,000 per year. In contrast, of the members who have come in 100 times or fewer over the past five years, 54.5 percent have a BMI less than or equal to 30, and their healthcare costs average $13,000 per year. "Clearly our members who visit more frequently are healthier," says Riley. "What is interesting is that the group that visits more frequently is also an older group."


CHAMPIONS of WELLNESS
The success of medically based wellness centers, such as the Dan Abraham Healthy Living Center, should inspire similar programs at college and university centers — in particular, those institutions that also have medical schools and hospitals available to partner in an array of clinical programs. A research-based approach in which student progress is monitored and documented may support a variety of university-sponsored studies. Many recreation centers are now being designed to be more inviting and engaging to non-athletic students, while a broader array of mind-body classes, resources and wellness services can help reach greater numbers of students.
The Mayo Clinic has also successfully engaged new members through a "Wellness Champions" program in which employees serve as advocates for the wellness center's programs and special events. A similar outreach program for a campus recreation center through which students build their marketing and communications skills by promoting fitness and wellness classes and events can help build awareness and participation.
Colleges and universities may also find that using recreation centers to promote a more holistic approach to wellness will benefit faculty and staff, as well, and as has been the case with the Mayo Clinic, reduce employee medical claims and absenteeism. There are many possibilities — the first step is for colleges and universities to look closely at what medically based wellness centers are offering and how they are designed to succeed.
"My advice to others looking to incorporate more of a wellness focus in their facilities is to understand your target market," Riley says. "Understand their preferences and barriers, and keep studying these trends. Look for partners and points of collaboration. Finally, create the most relevant service experience."
---
Tom Seymour is an architect and senior principal in the Peoria, Ill., office of Dewberry. Anita Moran is an architect and principal in Dewberry's Dallas office. Dewberry designs recreation and wellness facilities throughout the United States.
---
This article originally appeared in the May 2015 issue of Athletic Business with the title "Feeling Good"