In May 2013, the City of Philadelphia Commission on Parks and Recreation released a report titled "Safety in Philadelphia Parks and Recreation Centers." The 15-member commission's work was spurred by a spate of security-related incidents — ranging from shootings and robberies to trespassing and vandalism — in the city's rec facilities during the summer of 2011.
Though disturbing, these safety issues were not new to Philadelphia. As AB reported in July 2008, an 18-month-old was critically wounded by an errant bullet in one of several shooting incidents that plagued the city's public recreation centers in 2007.
In response to the 2011 crime wave and a survey that uncovered feelings of fear, isolation and stress among rec staff members, Philadelphia Parks and Recreation took several actions:
Moved to strengthen its partnership with the Philadelphia police department
Changed the registration and operation policy for adult basketball leagues
Began clustering activities at district recreation centers
Made improvements to external grounds (fencing, gates) at 50 centers
Began installing security cameras at 31 facilities
Made requested changes in maintenance, landscaping and lighting at 10 recreation centers
Began deploying part-time staff to high-risk areas
Conducted outreach to advisory councils
The commission's report indicated that incidents in Summer 2012 were down from the previous year, but that the department still experienced random shootings at several recreation facilities. More lighting and security cameras were installed. In October of that year, the commission hosted public safety experts from New York and Los Angeles and approximately 170 guests for a two-day conference called "Delivering Safe Parks & Recreation Centers: Best Practices and Next Steps."
By June 2013, the City Council of Philadelphia pledged $3.6 million toward the installation over the following three years of more than 1,000 security cameras, covering all of the city's 140 recreation centers. One facility, Vare Recreation Center, took matters into its own hands, raising the $18,000 necessary to purchase a 16-camera system. "These cameras are a deterrent," Parks and Recreation commissioner Michael DiBerardinis said at the time. "They help solve crimes."
Despite these efforts, ironclad security remains an elusive concept in the City of Brotherly Love. This past June, video surveillance captured the shooting of a 23-year-old at the city's Lonnie Young Recreation Center. The shooter escaped. It was the third rec center shooting in less than a week. The first involved the execution of a 42-year-old man and the critical wounding of an innocent bystander outside the Tustin Rec Center as approximately 100 children and their parents were inside.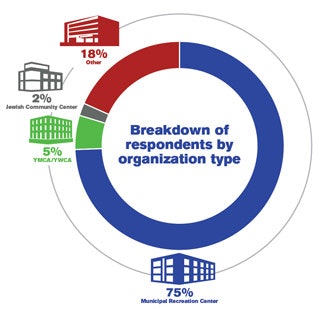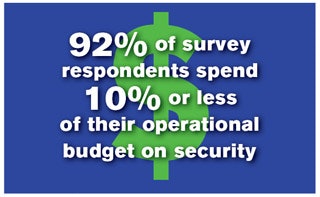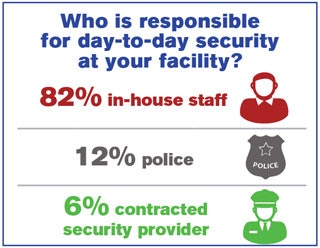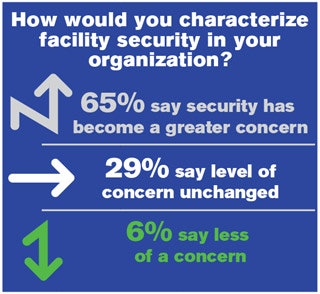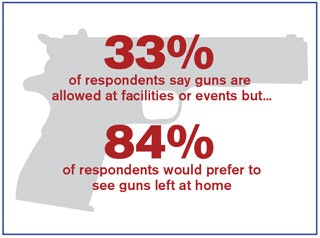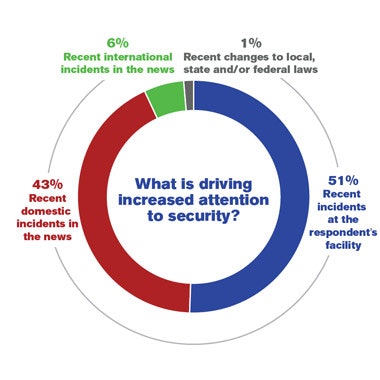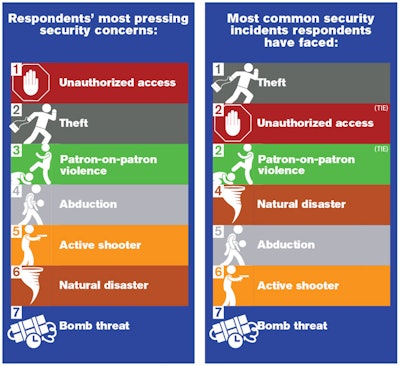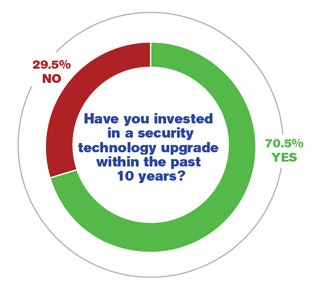 Though an unfortunate hotbed for such headline-grabbing incidents, Philadelphia is not alone. As of June 8, on-duty Cleveland police officers have been working four-hour shifts — from 4 to 8 p.m. — at each of the city's 21 recreation centers. Ten high-crime locations have had an officer on site for eight hours a day Monday through Saturday. Previously, off-duty police officers had been contracted to work the four-hour shifts at only 13 of the city's rec centers, but last year a shooting and a separate case involving an 11-year-old girl being offered money for sex drew the attention of local media and city council members.
In May, six men were playing dominoes after hours in a city-owned rec center in Wichita, Kan. A staff member opened a locked door when a group of teens asked to use the phone. The teens, who were armed, then made off with an estimated $2,500 worth of the men's jewelry, cash and cellphones. The rec center had no security cameras to assist police.

ASSESSING THREATS
Based on these stories and others, AB sought to learn what public recreation facilities are doing to meet their security challenges, whatever those challenges might be.
Roughly two-thirds of respondents to an AB survey conducted in July report that facility security has become more of a concern in recent years, with nearly 23 percent calling security a "much greater concern." Events taking place at their own facilities sounded the alarm for 51 percent of respondents, while another 42 percent attribute their heightened concern to news of security-related incidents occurring elsewhere in the United States.
When presented with a list of security breach scenarios, more than half of respondents said they had experienced at least one at their facility. Of those respondents, 80 percent had dealt with theft, 61 percent had faced unauthorized access and 61 percent had experienced patron-on-patron violence. Rounding out the list of incidents faced by respondents were bomb threats and active shooters.
On the subject of firearms, nearly a third of respondents said laws in their area allow individuals to bring guns into their recreation center or to their outdoor events. However, 84 percent said they don't believe permit-carrying patrons should be allowed to bring guns to their facilities or events. Yet, the prospect of being faced with an active shooter ranked low among survey respondents when compared to other security scenarios — sixth on a list of seven, behind (in order) unauthorized access, theft, patron-on-patron violence, abduction and natural disaster. Only the bomb-threat scenario ranked lower.
For those who have faced one or more of these scenarios, measures taken have included increased staff training and vigilance, and closer ties to law enforcement up to and including enhanced police presence. Operations adjustments can be basic. Said one respondent, "We have a lot of doors in our facility and we are keeping more of them locked at all times, which is an inconvenience for staff and patrons."
In many cases, enhanced security means a change to the rec center's physical structure and hardware — consolidating two entrances into one, installing turnstiles and railings, or (more commonly) investing in video surveillance and monitoring equipment.

SECURITY AT A PRICE Amid this climate of concern and real-life experience, public recreation professionals are challenged to keep their facilities safe, but often on shoestring budgets. More than 80 percent of survey respondents said they spend between 1 and 5 percent of their overall operating budget on security, and more than 83 percent of respondents report that in-house staff members are responsible for day-to-day security in their facilities. By comparison, only two percent of respondents spend between 21 and 25 percent of their budget on security, with less than six percent contracting with a third-party security provider. Moreover, nearly 30 percent have not invested in a security technology upgrade of any kind within the past 10 years.
For the 82 survey respondents who have made upgrades, 62 have invested in security cameras or video monitoring equipment — or in improvements to those systems. "We've upgraded the quality of cameras, and it has reduced teen fighting in our gyms, as well as the amount of stolen items," said one respondent. Security investments ranged from less than $1,000 to the more common tens of thousands. One respondent, whose upgrade included both cameras and ID-checking software, reported making a $200,000 security outlay.
Security concerns and approaches may vary, but the threats facing today's public recreation centers are real. It's clear from survey respondents that most are doing all they can with the resources they have to maintain these facilities' reputations as safe havens for young and old alike. But, as recreation officials in Philadelphia and elsewhere have learned firsthand, it's an ever-present aspect of today's operations.
---
This article originally appeared in the September 2015 issue of Athletic Business with the title "Keeping Rec Centers Safe"