This article appeared in the June issue of Athletic Business. Athletic Business is a free magazine for professionals in the athletic, fitness and recreation industry. Click here to subscribe.
Because they assume many forms and serve a variety of constituencies, recreation centers present design options like few other construction projects. Ultimately, a new center's programming effectiveness and efficiency of delivery will hinge on decisions made during design — in fact, well before design even begins.
Much of the vision for a new recreation facility takes shape during site visits to facilities already up and running. "Ideally you should plan on visiting three or four existing centers," says Ken Ballard, founding partner of recreation consultancy Ballard*King & Associates. "No renovation or development of a new recreation center should move forward without visits to key existing facilities."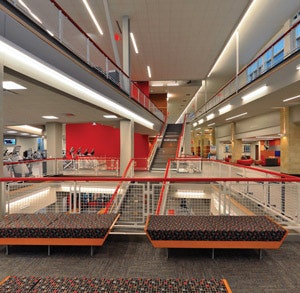 Why do it?
The reasons for site visits are many. They are an opportunity to witness firsthand a facility's design features, materials, equipment and amenities. It's also a chance to ask individuals in charge of functioning facilities about capital costs and funding, as well as operating systems and expenses. In short, such visits are a chance to learn from experience, to find out what's working and what isn't — even if a host facility has been open for only a year.
"New recreation centers are all beautifully designed, but the successful centers are designed efficiently," says Cynthia Costanzo, executive director of recreation at the University of Connecticut, which plans to open a new recreation center in January 2019. "It is important for the facility to operate well."

Who should make the visit?
If the project requires the approval of elected officials and they still need to be sold on the idea, their inclusion in site visits can be critical. Other constituencies that should be represented include individuals who will make up the new facility's staff — from administrators to maintenance personnel. If an architect has been chosen, it's best to have members of the design team on hand to gather feedback from facility staff members regarding elements of the host venue that they like and dislike.

Which facilities should be targeted for visits?
Ballard recommends visiting newer facilities that have been in operation for at least one year. They should be facilities that feature innovative design or operations (or both), and the types of amenities desired in the new construction. They should also be facilities that have made an impact and built a reputation within their communities, which — ideally — mirror the size and demographics of the community that the new construction will serve. Finding such a match may require leaving the state, Ballard adds.
"Acknowledge internally what you believe will be particularly distinctive for your project," says Ann Drummie, regional vice president for program management firm Brailsford & Dunlavey. "Is it an outdoor center? Aquatics? Student leadership and development? Campus gathering? Functional training?"
---

For Site Visits: Ken Ballard and Anne Drummie are regular speakers at the Athletic Business Show. Learn more about their upcoming sessions at the AB Show this November 17-19 in Orlando, Fla., by visiting www.abshow.com.
---
In a perfect world, visits to several facilities can be coordinated within a manageable radius for travel-budget efficiency, according to Drummie, who contends that variety can be a plus. "By focusing on objectives and components versus a demographic match, visits can remain open to lessons and ideas from markets that are not directly comparable, hence staying open to innovation," she says. "Within the cluster of facilities, there may be a mix of urban and rural, private and public, small and large, new and old, university and community."
UConn took the homogeneity route during two major trips: one to Colorado and Wyoming, the other to Tennessee and Georgia. "For our search we identified campuses that were similar in size, student population and program to ours," Costanzo says.

When should visits take place?
Obviously, to have the greatest impact on the new facility's design, site visits should occur before design of the new facility begins. "Although we are always interested in touring recreation centers, we began our facility searches before we started the predesign phase," Costanzo says. "We believe this approach was important to provide us with ample research and a vision of what we would like in our facility."
On the day of the visit, Ballard recommends touring the facility during peak usage and allocating enough time for post-tour questions. Says Costanzo, "Site visits should be scheduled for at least two hours. Colorado State University was particularly gracious to us, as they not only allowed us full access to their facility, but the professionals spent time with us sharing their lessons learned."

What should the visit encompass?
Visitors should come prepared with a list of things they want to see and people they wish to speak to — typically the facility's managers and programmers, its maintenance staff and (if possible) its end-users.
Drummie recommends asking about patron counts and in what ways those have impacted how the facility's business managers thought services such as check-in, lockers and locker rooms, and class registrations would function. The facility manager could be asked whether certain parts of the building are showing more wear and tear than expected, and the recreation director might offer what he or she would have done differently with the facility's design in hindsight. Finally, are staff members willing to be candid regarding job satisfaction and how coveted their positions are on campus or in their community?
"Remember to filter the advice," Drummie cautions. "Your context and environment may support great success with something that is failing elsewhere. For example, just because one facility has a climbing wall that is never used doesn't mean that yours will. Having an established outdoor club committed to programming and supported by student leaders and a versatile wall can all make a difference."
Information gathered during the visit should include capital cost numbers, operational budgets, marketing materials, and staffing and maintenance plans. "See more than just the public spaces," says Ballard, pointing to office areas, mechanical rooms and storage spaces.
The taking of notes, photos and even video is recommended. "We took hundreds of photos," Costanzo says, adding that each facility visited by her UConn group offered full access. "We took pictures of every space in the building. It was particularly important to take pictures of the control area/customer service centers, as well as all of the back-of-house spaces, including laundry and mechanical rooms."

What should be done upon returning from a visit?
Key stakeholders should meet as soon as possible while the visit is still fresh. "Debrief and discuss what was seen," Ballard says. "What were the likes and dislikes, problems or concerns?"
The best visits make lasting impressions, backed by a photographic record of what was witnessed in person. "Curate your photographs," Drummie says. "These will be what you refer to the most afterward. What you have generated is a common vocabulary among your tour group, and you can all point to a photograph and share between yourselves and then others lessons of what you want to avoid, what isn't applicable and what you want to leverage and further incorporate in your vision."
Adds Costanzo, "Our visits also helped us when we entered the predesign phase and needed to determine what centers we wanted to include in our benchmarking studies. The benchmarking analysis is used to educate our stakeholders, as well as justify budget."
UConn's preliminary designs were still being finalized as of this writing, with construction set to begin in spring 2017, pending university approval. In the meantime, site visits of a smaller scale continue for Costanzo. "I will now spend the next few months visiting local facilities to research materials and finishes," she says.
Every visit should be followed up with a formal "thank you" to the hosts. After all, if planned and executed well, site visits are invaluable to any new recreation facility's design process.
"Every director I spoke to indicated that the most important thing to do when building a facility is the site visits, and I completely agree," Costanzo says. "Essentially, there are very few directors who have the opportunity to be a key stakeholder in a new construction or significant renovation project more than once. Therefore, we are all reliant on our colleagues to share their experiences."
---
This article originally appeared in the June 2016 issue of Athletic Business with the title "How to make the most of facility site visits"