The Bethlehem Area YMCA in Delmar, N.Y., came into being following the conversion of a former two-sheet ice arena. One rink was converted to pool and gym spaces, and the arena's restaurant/bar and arcade were converted into a wellness facility. One rink remained, but it would begin seeing semiannual conversions of its own beginning four years ago.
The ice surface had always been removed for the offseason, but the polished concrete substrate underneath wasn't conducive to activity, essentially shutting down the rink space from March until August — that is, until the YMCA invested in modular tile sports flooring. Today, those once-lost four to five months are boom times inside the rink's dasher boards, as the 17,000 square feet of interlocking square-foot tiles accommodates basketball, soccer, box lacrosse, Ultimate, even pro wrestling — not to mention inline and floor hockey.
---
RELATED: PRODUCT SPOTLIGHT: Indoor Sports Surfaces
---
"To me, it's been night and day. It's a huge programmatic space that was not used previously," says the Y's program director Rusty Decker, who has experienced his own personal conversion. "The position that I'm in has always been focused mainly on the rink, and now the position has morphed into ice rink, offseason rink and also programming. I'm looking to do things year-round. I can now book a weeklong basketball camp in the summer and not displace our YMCA members out of the gym."
It's a change that allows the Y to bank some dollars without disappointing members. "Financially, it probably took two or two and a half years to pay the court off," Decker says, "and then after that it was all money that we hadn't seen previously."
What can modular tile flooring bring to your facility? Here's a look at six benefits: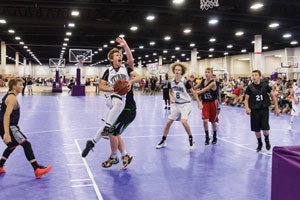 LIFE-CYCLE COST EFFICIENCY
Initial investment in a modular tile floor is roughly half the cost per square foot of a maple floor, according to Gabe Martini, sales manager at Utica, N.Y.-based Mateflex, which supplied the Bethlehem Area Y's rink flooring. And the savings don't end there.
"The beauty of a modular floor is it can last 30 years, and literally all you have to do is run a wet mop over the top of it. With a wood floor, you have to refinish it every year, every two years," says Brandi Connolly, senior director of marketing at Salt Lake City-based Sport Court. "It's that long-term maintenance and durability that come along with a safe surface that really make the difference."
"Modular products really allow for flexibility in budget, gym size and gym purpose," says Jorgen Moller, CEO of SnapLock Industries, maker of SnapSports Athletic Surfacing. "A surface engineered with multi-use in mind saves time, money, and ensures an excellent ROI."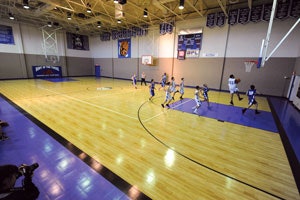 EASE OF INSTALLATION
Assembling the flooring inside the Bethlehem Area YMCA rink takes a team of 10 roughly five hours, according to Decker. Most of the rink floor is covered with identical tiles, but some are cut to fit along the side boards and at the radius of each corner. Those pieces — more than 400 of them — are numbered to expedite the puzzle completion.
Modular tile is particularly effective at quickly adding resiliency to floors where previously there was none — such as the YMCA's rink slab or the vinyl composition tile floors still found in some elementary and middle school gymnasiums. "All you have to do is come in over the top, put down the surface, paint the game lines and you're ready to go in two days," Connolly says. "If you did a wood floor, it would take you a month."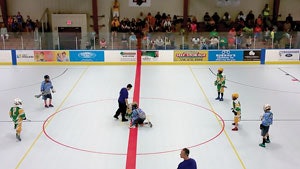 CUSTOMIZATION
Tiles are typically made of polypropylene, with varying top surfaces and underlying support structures depending on the desired application. A sturdy closed-top tile with an underlying honeycomb as support may facilitate inline hockey, while an open-faced tile better serves the ball-bounce requirements of indoor tennis, as "the grid pattern mimics the pattern of the strings on your racquet," Martini says of the Mateflex tennis product.
The flooring's reaction can be further tweaked by adjusting the thickness of an optional sheet-rubber underlayment. "If you're playing basketball, for example, you want your floor to be not as soft or cushioned, because you want better ball response," Connolly says. "But if you're looking at an elementary school gym, and you're wanting to get 30 percent shock-absorption because you have little kids who are going to be falling on their heads, you can do that by going with a thicker underlayment. Typically, there's an in-between surface that's really good for both, and they all meet the DIN standard no matter what."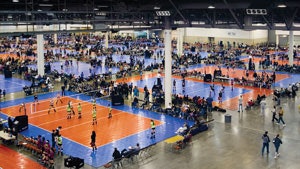 PLAYABILITY
The list of sports that can be accommodated on a modular tile floor seems to be in a perpetual state of expansion to include niche sports such as handball and futsal, as well as the increasingly popular pickleball and the European export floorball. "Basically anything that you can do on wood, you can do on this," Martini says of the tiles' accommodating nature.
Tile manufacturers are quick to point out that the thousands of connection points in a tile floor actually enhance safety. Says Moller, "The positive locking system not only makes for easy installation, it delivers lateral absorption during athletic play, making for a much safer surface."
Connolly adds that Sport Court, aided by the wood flooring expertise of affiliate Connor Sports Flooring, has perfected a proprietary finishing system that gives polypropylene tiles the same coefficient of friction as a finished hardwood gym floor, without the need for regular screenings and recoatings. How is this possible? "If you think about a hardwood floor, it's an organic material," she says. "It breathes over time. It absorbs. It changes. Polypropylene isn't an organic material. It's like plastic lawn furniture in your backyard versus your wooden fence."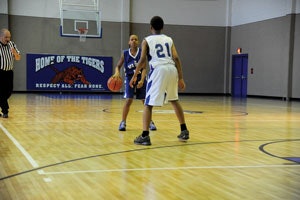 PORTABILITY
The ability of tile floors to be disassembled and stored allows facilities to periodically change their programming, as evidenced on the Bethlehem Area Y's rink and elsewhere. Field houses may be designed with an aggressive surface favoring indoor track, for example, but a smoother tile floor laid temporarily over the top of it expands the usage options. Says Connolly, "We have some pay-for-play-type facilities that actually will have our surface down and pull it up, pallet it and put turf down, then roll the turf up and put our surface back down to maximize the versatility of their space."
"Even mid-season, if there ends up being an event that the floor is going to be in the way of, they can literally take the floor up, put it away for a few days, and when the event's done, put the floor back down," Martini says. "It gives them a lot of flexibility in that sense."
"The locking system requires no tools for installation or removal, which makes it an ideal option for tournament use," adds Moller. "We also have surface options that don't require underlayment, but instead have a built-in shock-absorption system. This feature saves time and labor, and ensures fast assembly and disassembly of any sport tournament."
Modular flooring comes in a variety of options to accommodate nearly any sport that can be played on hardwood.
Locking mechanisms on indoor tiles may be designed for easier disassembly than those of tiles designed for outdoor activity, and end-users typically don't separate each individual tile anyway. "Most people will break the floor down into, say, three-by-four-foot pieces, because those fit conveniently on a pallet," Martini says. "You can use cardboard corners for protection and some shrink wrap, and you can pack the whole thing up nice and tight and sound. Packed in that size, you can put it in on-site storage or put it in the back of a tractor trailer and drive it away."
This comes in handy not only for seasonal conversions and event changeovers, but when a for-profit business — a volleyball club, for example — picks up its stakes and moves. "It's the number-one investment in their business," Martini says of flooring. "Half of them, or maybe more than half of them, lease the space that they're in. It's not uncommon for them at the end of the lease to lose the space. If you installed a permanent floor in that space, you've lost it. You can't get it back out. With a modular floor, you just take it with you to the next facility."
Tile's portability (and durability) can even ease recovery from disaster. Connolly recalls a tornado that tore the roof off a gym in Arkansas. "The floor was still intact, so they picked up the tile and power washed it," she says. "When their new building got built they put it back down."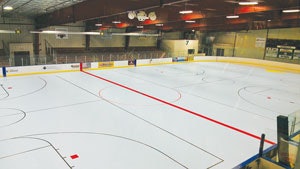 AESTHETICS
Few people deny the natural beauty of a traditional hardwood gymnasium floor, but today's modular tile flooring comes close to matching that aesthetic. "If you're looking at it from an eagle-eye perspective, you would think you're looking at a hardwood floor, and then you get down on it and you realize it's modular tile," Connolly says. "But the great part about modular products in general, we can make any color you want. Last year we made a court for Oreo. They sent us the specific PMS color from their logo that they wanted the court to be made in, and we were able to match it identically."
The color of the polypropylene rink at the Bethlehem Y is "ice blue" by design. "When it's down we want people to have to look at it twice," Martini says. "If you had one of those tiles on your desk, you would say, 'This looks like a powder blue.' When you put 17,000 square feet of them inside the dasher boards of an arena, it gives the illusion of ice."
From hardwood to ice, modular tile can mimic almost any aesthetic.
And the rink features other colors — gray behind the goal lines and yellow in the goal creases — with each color encompassing the entire depth of the tile. It can never wear off. Other markings, such as faceoff circles, are applied with a special walk-behind tape applicator for easy removal prior to breakdown. On permanent installations, paint can be applied. Custom logos also are available, says Moller, adding, "Facilities can create virtually any design they can dream up."
Likewise, volleyball courts often display at least a two-tone approach of vibrant colors — perhaps red inside a blue out-of-bounds area. "Volleyball likes tile for a number of reasons," Martini says. "First and foremost is just the fact that it's their floor. It looks like a volleyball floor. It doesn't look like the basketball coach was in a good mood, and he let us play volleyball today."
---
This article originally appeared in the November | December 2016 issue of Athletic Business with the title "Six reasons to choose modular tile sports flooring." Athletic Business is a free magazine for professionals in the athletic, fitness and recreation industry. Click here to subscribe.