In the expanding marketplace of recreational fitness, branding becomes an important part of an entity's business vision and vision of self. How can you get consumers to not only identify your brand, but identify with your brand? From public-access idea walls to stakeholder retreats, companies are exploring the many available mechanisms for finding out what the consumer wants — and what they want to be. Branding is more than just a marketing strategy; it's a celebration of space and identity that culminates in an immersive experience for the end user.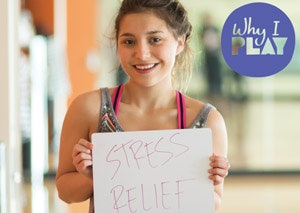 Celebrating play
In 2004, students at Portland State University passed a referendum allowing a new campus recreation center to be funded through student fees. The facility that was realized six years later is a monument to their vision, and as such the building has been carefully branded to represent a diverse student population as authentically as possible.
To that end, the recreation staff has worked for years to develop a brand that is inclusive to students of all abilities and in all walks of life. What they landed on, in 2015, was a coordinated "Play at Campus Rec" campaign, an ongoing effort to create student involvement and generate student input. According to Erin Merz, assistant director of marketing and communications for Portland State campus recreation and student services, the "Play at Campus Rec" campaign was inspired by a national "You Can Play" campaign to promote inclusion on college campuses.
"When I started here, it really inspired me, especially as I was looking into accepting this job, that I could really get behind the values of the department," Merz says. "The idea of play means something different to everybody. It's varied, and that's what we liked about the concept of play — it's specific to what we do in recreation, but it's also very broad and can be interpreted in different ways. We have a pretty diverse campus, so we wanted something that a large range of audiences could really see themselves in."
Merz worked for several months with her student recreation staff to develop a line of "swag" items — T-shirts, water bottles, hats and lanyards — all bearing the same visual identity as the select signage and discrete marketing inside the facility. Students and staff also worked together to create member profile videos, which were shared across social media and displayed digitally inside the rec center. "The storytelling is very powerful, and it helps people to see themselves and to see people like them in the rec center," she says.
One of the ways in which students have contributed to the brand is through a giant chalk wall that queries passersby, "Why Do You Play?" Students are invited to take chalk in hand and add their own ideas and motivations for what inspires them to get moving. Merz says the wall has been up for two years now, and is consistently cleared and continually filled back in with new contributions, showing that the same users are participating in the brand identity time and again as the campaign continues to resonate.
Despite the success of the brand's initial launch, the work hasn't stopped there. Says Merz, "We're always thinking about it and weaving it through really everything we do."
That involves new ideas, not just maintenance. One idea that was added to the campaign several years after the initial launch is something Merz calls "Pop-Up Play," a twist on the pop-up shops and restaurants popular in Portland. "We have a street team, and they'll go out around campus and set up different games, whether it's jump rope or corn hole or even Pictionary" in an effort to engage people outside of the recreation building and spark interest in all of the programs offered, she says.
Another new addition to the brand is a program the recreation staff has dubbed "Play 30," a series of workout ideas shared on their website and set up in stations around the rec center where students can participate in their doctor-recommended 30 minutes of physical activity per day — all in the name of inclusivity and inspiring students to try something new. "It definitely takes maintenance," says Merz, "but I think that's kind of the beauty of the concept of play. There's a lot of room there to have fun with it and rethink it to keep it fresh and interesting."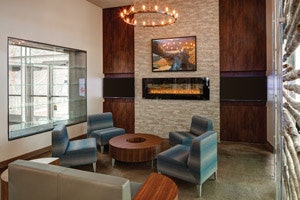 Outdoor inspiration
At Utah State University, the recreation department took things a step further by integrating their brand identity into the very walls of the Aggie Recreation Center. James Braam, senior vice president and director of sports, recreation and entertainment at St. Louis-based design firm HOK, emphasizes his team's holistic planning approach, and the responsibility team members felt to produce an integrated design that responds not only to the context of the campus, but also to the larger context of the region.
Braam describes the views surrounding the campus in Logan, Utah, as "spectacular, surrounded by beautiful mountains." The vision of university leaders was centered on the celebration of those mountains and the unification of the separate entities comprising the indoor and outdoor campus recreation programs. Says Braam, "There's an awareness of the outdoor experience, so you're bringing the outdoors in; at the same time, it was educational for the students, exposing them to something they may not have known existed."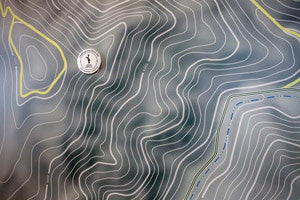 The visioning process for the ARC involved university leadership, campus recreation staff and students coming together as a team to create a cohesive brand identity that is consistent across the building concept, interior spaces and graphic design. At the outset of the visioning process, project manager Doug Barraza coordinated a wilderness retreat with students and university staff. Between paddleboarding and team hikes in the mountains, the artistic vision for the ARC coalesced into a celebration of Utah State's active lifestyle. "The retreat allowed us to immerse ourselves in the climate, in the region and in the experience," Braam says.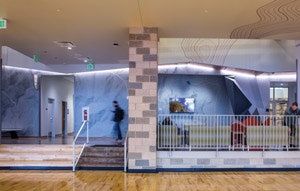 Shawn Sanem, senior graphic design specialist at HOK, says the university stakeholders wanted to use the opportunity of a new building to create an experience different from a typical wellness center. They chose a canyon scheme for the building, looking to the local geography and geology for inspiration. Stylized landscapes, topographic patterns and varying textures play into the unique outdoor feel of the ARC. Says Braam, "It wasn't so much about the imitation of mountains as the idea of that experience, so from the moment you approach the building, there's this kind of dynamic energy and tension to the design."
While out on retreat, students were able to show the design team one of their favorite features of the Utah mountain experience: the yurt, a round tent structure that the students were inspired to integrate into the recreation center. The yurt functions there as a student social lounge, with a fireplace hearth. Since the ARC opened its doors in November 2015, it has become a hub of student life, with 3,000 student visits recorded per day.

Public input
While this type of stakeholder brainstorming session may seem like a privilege enjoyed by a select few recreation professionals, branding should be a universal goal in establishing any new business or facility, and it's becoming more prevalent across the many sectors of recreation. According to Ken Ballard, president of recreation consulting firm Ballard*King & Associates, even recreation entities in the public sector have trended toward a more widespread understanding of the value and importance of branding in the past 10 years.
The value of branding, as Ballard sees it, is in making your organization easily recognizable in the marketplace. "Recreation is a discretionary use of people's time and money," he says. "They don't have to utilize the facilities or programs, or the services of any public agency. In most instances, there are other options."
Especially in the lingering post-recession mindset, even publicly funded entities are under more pressure to be economically viable, and having a brand that has a clear identity and a consistent message makes people more likely to buy in to the experience being offered.
For recreation programs serving the public sector, creating opportunities for stakeholder input is that much more challenging. "You definitely have to work at it," says Ballard. "A lot of times as part of the process you're doing quite a bit of front-end promotion of the fact that you're gathering input." But for any entity that is revenue-driven, that first step of trying to determine specific community needs is essential to developing a brand that resonates with consumers.
In his years working in the public sector, Ballard has used a variety of tools to identify the needs of a community. "We're big believers that you've got to use multiple mechanisms — especially in this day and age — to get public input."
Those mechanisms can be anything from community meetings to online surveys and social media outreach. Recent changes in media and technology have opened up new channels for amplifying the public voice, but Ballard warns that any one of these channels, if used alone, can give a very skewed perception of the whole community.
"What you're ultimately trying to do," he says, "is get the most input you can from the broadest cross-section of the community." To achieve this, he has often found that it's most effective to engage the community, rather than have it come to you, perhaps by establishing a presence at a popular community event, where people can be asked to give an opinion in a more natural setting.
Whether your facility serves a campus, a membership or an entire community, branding is a way to draw people in and celebrate all of the work you put into your programs. Identifying the critical elements of your consumers' identity will help you create a brand identity that resonates with users and keeps them coming back. Says Ballard, "If you're not getting out there and branding what it is you're offering, then you're really missing out on an opportunity to promote your facility and get people to understand who you are and what you do."
---
This article originally appeared in the July | August 2017 issue of Athletic Business with the title "Stakeholders' Role in Creating a Recreation Brand Identity" Athletic Business is a free magazine for professionals in the athletic, fitness and recreation industry. Click here to subscribe.