A new commitment to dress code enforcement at the University of Texas Rio Grande Valley rec center is drawing a mixed reaction from the student body, with some students applauding the required respect for shared equipment, and others feeling a little bit censored.
UTRGV student Andres Garcia told ValleyCentral.com he thinks the enforcement policy is a good thing. "When you do your weights or sit down on the bench — when you have clothes on, you don't really like stain the seat of sweat or anything," said Garcia.
Student Ali Corbitt said she wasn't even aware of the dress code until someone approached her while she was running on a treadmill at the center and asked her to put on a shirt. "I was wearing long leggings and a sports bra that nearly reached my leggings, so I didn't think there was anything inappropriate," she said.
According to UTRGV rec center director Kimberly Rottet, the school has recently introduced a pictoral education system in an effort to enforce the code while avoiding any discriminatory language.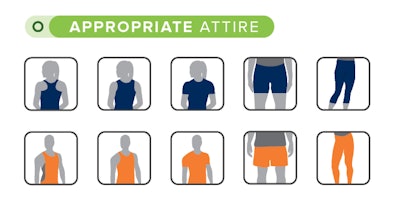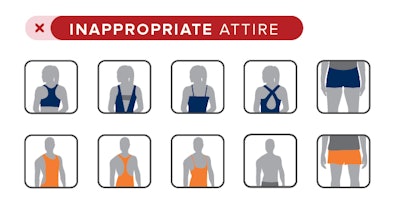 [Images from UTRGV.edu — See the full dress code here]
Said Rottet, "We recognize it might potentially be a sensitive situation. We don't want that, so we are doing our due diligence and we really want to make sure that the students are here and they are protected and safe while they are here. We are hoping that a lot of them will understand and meet us half way on that."
The center's decision to take a stronger stance on enforcing the dress code comes from concern over health and cleanliness, rather than any issues over body image or exposure. The center believes the policy will help reduce the risk of bacterial disease transmission, as well as prologue the life of expensive gym equipment.
UTRGV is allowing students a one-month "grace period" to become better acquainted with the long-standing dress code before full enforcement goes into effect.