Southern Oregon University in Ashland is building an impressive rec center for an institution with a modest enrollment of little more than 6,000 students. Scheduled for a March 2018 grand opening, the Lithia Motors Pavilion and Student Recreation Center is comprised of two buildings that total 100,000 square feet, featuring a 1,400-seat competition gym, a two-court recreation gym with a two-lane suspended running track, multiple group exercise rooms, a weight room and a climbing wall.
It's one thing to look upon such a facility with admiration, yet another to contemplate the logistics involved in daily operations. Hugues Lecomte was hired as SOU's director of campus rec in September, and it's not surprising that purchasing software was on top of his to-do list. "One of the first things I did was put together a team to select our scheduling and membership software," Lecomte says. "We did some research, established what type of features we wanted and put out a standard request for proposal."
Key to the process for Lecomte was identifying SOU's priorities, which helped the team focus on what was important when presented with a confusing and fragmented software market. When shopping for software, being prepared is important. These are the systems that will manage and track everything from class schedules to facility access — and the data the software collects can be mined for insights on how to optimize a facility's operations and strengthen member engagement.
It's fair to say that software is the heart of the modern rec center. Here's advice on some of the features to consider when selecting the right software for your facility:

Integration
One of the top priorities when selecting software for a campus rec center is whether it integrates with the school's overall student management system, such as Blackboard, Classe365 and Campus Café.
Saranda West, senior product manager at software provider Daxko, notes the importance of this from a vendor's perspective. "Integration with whatever system the university is using is key," West says. "If you don't have that, a potential client might not even talk to you past the sales process."
For software companies, it's worth checking with the university's vendor, as support reps often can offer advice on which third-party systems play nice with their platform.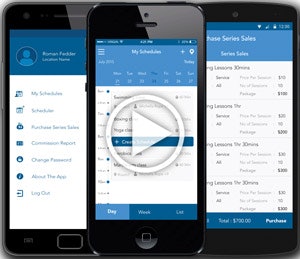 Scheduling
Software vendors offer a broad feature-set when it comes to scheduling. The right scheduling features can automate otherwise tedious data entry and free up staff for other tasks. A good software solution is capable of streamlining scheduling across the entire facility. Internally, operators can manage their programming, including classes and on-site personal training sessions. Externally, members are able to book those classes, as well as PT time. Some software packages have the ability to manage scheduling for intramural leagues, and many platforms include point-of-sale and invoicing features.

Mobile connectivity
Allowing students to schedule classes, reserve PT time or rent equipment from their smartphone or tablet is also an option. This can be done through a dedicated and branded mobile app or through a mobile browser. In some cases, campus rec functionality can be added to the school's existing mobile app.
Michael Vidal, product owner at EZFacility, says his company's mobile app started out with a few simple features and expanded from there. "Our mobile app started as just a scheduling app, so your students could find and schedule a session," Vidal says. "After that we introduced some communication tools, including push notifications, as well as allowing the facility to push out information such as news or upcoming events. The social aspect allows students to share a class or session that they might be attending on Twitter or Facebook."


Access control
Controlling access to a facility is no longer just a matter of who has a key. Today's access control systems are highly sophisticated and can actually track who's using what and when. Options for controlling access range from RFID chips embedded in ID cards to high-tech biometrics.
Not wanting students to have to carry anything additional on their person, Lecomte and his team at SOU chose an innovative hand scanner for McNeal Hall that's part of InnoSoft's Fusion software. "We didn't want to go with something that the patrons had to carry, so we opted for biometrics," he says. "We considered the SOU ID card for entry but even that seemed cumbersome. We chose a device where you put your hand on a scanner, there are stoppers between the fingers, and the scanner actually reads the top of your hand, not the bottom of the hand."

User-interface & training
A simple user-interface is no small thing. Websites like Amazon and Google, as well as touchscreen smartphones and tablets, have set an expectation of intuitive user experiences whether at work or at home. Easy-to-use software can drastically reduce the amount of time spent on training.
Nevertheless, vendors should offer help with staff training and ongoing support for their products, especially given one of the unique characteristics of campus rec centers. "Specifically with campus rec, one of the challenges they face is that a lot of their staff members are students," says West. "One of the things they're constantly struggling with is if they're trying to improve a part of their business, and they're trying to use a new piece of software to help them do that, as soon as they get someone trained up solid then it's time for someone else to pick it up. So, there's a constant focus on adoption of the tool."
With that in mind, Daxko offers continuing education for its users. "We offer user groups that go to different regions of the country," she says. "We take our team and do a one-day and invite every user in that area to come. It's not a training. It's more, we show up, customers come, and they have a list of questions. Most of the time they end up learning from other users. What's really great is that they leave finding out new features of our software that they didn't previously know about."
EZFacility takes a different tack. The company is able to track how customers use its software and can then send updates on ways that operators can better utilize the system's feature-set. "We have an internal tool that we use that basically syncs data from their EZFacility account into our Salesforce account," Vidal says. "That triggers notifications for our customer-success team to ensure that our clients are using the software as best as possible. For instance, we might notice that in the last two weeks, you haven't added any new students or clients. So, we might give you a call and ask how we can help. We're reaching out and engaging our users — and ensuring that they're engaging their users."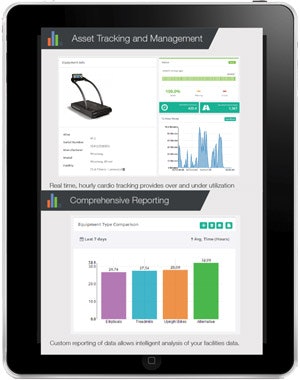 Equipment maintenance
Keeping track of a campus rec center's equipment cleaning and maintenance schedules can be a hassle. Lecomte says SOU selected a separate piece of software devoted to the task. "The fitness attendants on the floor can log in through a tablet, and he or she will then see the machines that they're in charge of for their shift," he says. "It also allows us to see the frequency of service and any issues with that machine."
All that information is even more useful in the form of reports that can be run as often as needed. "We can run a lot of reports through that software based on head count and use of machines," Lecomte says. "We can go back and determine if we have enough treadmills on the floor by looking at that data and what it says about usage."

Open API
It's rare that a facility will purchase a single piece of software from a single vendor and be done. In fact, a single facility might utilize three or four different programs from different vendors, each dedicated to a specific task. For instance, SOU went with one platform, InnoSoft Fusion, for scheduling and membership management, and another, Connect2Concepts, which handles tasks such as accident reports and utilization counts. The challenge is ensuring that all these different systems can connect to one another.
Open Application Programming Interfaces (API) might sound like a scary term, but it's really just what allows one piece of software to share data with another. "Our biggest feedback from campus rec customers has been for an open API," says Vidal. "They typically use multiple software programs, depending on the area. So, an open API will really help them consolidate that data."
So what does that mean for an operator? Connect2Concepts, for instance, tracks participation by facility area and then syncs that data to create head-count and capacity reports — something a rec center might want to share with its members. Connect2Conecpts users can then use the software's open API to publish live head counts to the rec center's website or app, allowing members to see how busy the facility is in real time.

In the end, software is about driving efficiencies across the rec center's daily operations, but the data it creates and collects can do so much more than that.
"Recruiting, retention, graduation," Lecomte says, as if it's his mantra, noting that he'd eventually like to use SOU's data to run reports that are able to compare the GPA of rec center users to those students who don't take advantage of campus rec. "There's a lot of value in that kind of research. We want to know: How is campus recreation helping recruit, and how can campus recreation help retain students? This software can help us understand that."
---
This article originally appeared in the January|February 2018 issue of Athletic Business with the title "What to look for in campus rec software." Athletic Business is a free magazine for professionals in the athletic, fitness and recreation industry. Click here to subscribe.