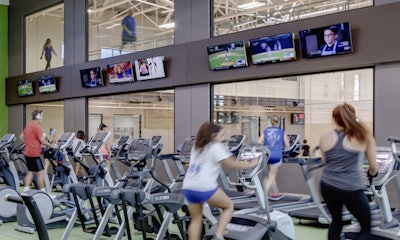 If you operate a recreation or fitness center, you're no doubt aware that distribution of broadcast signals has become a major challenge for facilities with myriad televisions and expansive AV options located throughout the building. And as some facility operators may be realizing, every new advance in digital technology leads to a set of increasingly complex questions.
What follows is my attempt — along with Kevin Devore and Jeremy Cook, digital network design specialists at ME Engineers in Denver, Colo. — to answer some of those primary questions.
Stephen Springs: What are the typical existing models for signal distribution in a rec center?
Jeremy Cook: Traditional approaches are similar to those in a hotel, where each room may have a tuner and access to all available channels, or each room could have a limited choice of channels, based on the on-site signal distribution. If each device (like each hotel room) has its own tuner, your subscription costs can be expensive when you have a lot of devices — like rows of cardio equipment. If you choose to distribute, say, only 10 channels, you only have 10 subscriptions (or tuners) to pay for. This is the familiar "choose which screen you want to hear" approach. However, the up-front cost is significant to install your own signal distribution system. So it has traditionally been a short-term vs. long-term thought process, and based on what kind of subscription terms you can negotiate with your cable/satellite provider.
SS: How have digital rights management issues impacted rec facility management?
JC: Until recently, prior to the end of 2016, we were freely able to distribute signals from satellite and cable service providers unencrypted after it hit the building. They considered the gateway of the building (the tuner, essentially) as the point of decryption. From there, it could go out in the clear to devices. TVs could just be plugged straight into the wall, and fitness equipment could be plugged into the cable jack on the floor or the wall. Then you could select from the channels distributed from your gateway. So, using the previous example, if you have a rack of 10 tuners in your gateway, you could select 10 channels from your provider to distribute.
As the digital rights management copyright issue has become more prevalent in the last two years, a lot of the service providers are now enforcing and requiring new services and upgraded services to become encrypted "to the edge," which means you have to have an encrypted signal all the way to each device. That is what does the handshake that says, "I am encrypted," and it poses a lot of challenges. Moving forward, this essentially restricts the on-site distribution model without an explicit agreement with your provider. So high subscription costs are becoming the new normal.
Physically, the fitness equipment industry is behind in terms of providing equipment that can decrypt satellite or cable TV signals. This means each device needs its own tuner.
SS: So this is a money grab?
Kevin Devore: While it can certainly feel that way, there are practical reasons for "to the edge" encryption. It is chiefly about preventing piracy. But also, until now, signal delivery has been in one direction. Users simply received the signal. That is no longer the case. Now providers need to receive data from the user, as well, to facilitate purchased content. The entertainment industry is in the midst of a sea change in how content is delivered, and new encryption standards are part of the vehicle facilitating these changes.
SS: What do facility operators need to know about making those provisions?
JC: None of the new facility owners that I've been working with are aware of these things when we walk into the room on day one, so there's an educational opportunity for us to help guide them through that. That said, the entire agreement is negotiated on the service provider level. So if you've properly negotiated your contract and rights within the business plan, it is possible the provider will make a variance for you. But it needs to be discussed at the ownership/contract level.
Next time: How facility operators can tackle bandwidth challenges