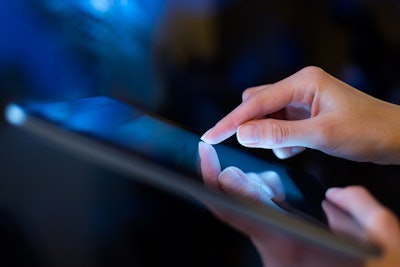 When used in the context of recreation and fitness, technology has become a ubiquitous term often describing wearable devices, health apps, facility management software and remote instruction. More recently, the concept of on-demand fitness classes has taken hold at some recreation centers, too, in an effort to help facilities maximize available space by hosting full classes.
But some truly revolutionary technology is leading the industry into uncharted territory — especially when designing a new facility or renovating an existing one. For example, LED-illuminated sports flooring projects line markings for basketball, volleyball, badminton and other activities on a patented built-tough glass surface. User identification badges embedded with specific access-control credentials also can be monitored by optical turnstiles. Such developments should be altering the way we think about facility design going forward.
One of the most popular (and controversial) technology trends involves making room for more activities and user groups in the form of rooms dedicated to esports. A forthcoming $20 million renovation to the Westerville (Ohio) Community Center will include a large space dedicated to competitive video-gaming — a trend already transforming college and university campuses around the country and now trickling down to municipal facilities.
"We're not following fads. We're looking for trends," Randy Auler, Westerville's parks and recreation director, told The Columbus Dispatch in February. Rich Dolesh, vice president for strategic initiatives at the National Recreation and Park Association, added in the same article that esports are a perfect way to bring young people and their "enthusiasm and energy into the center, where they'll be exposed to other things."
In fact, NRPA predicts that several park and recreation agencies will sponsor esports tournaments in 2019, combining digital gaming with supplemental events and physical activity challenges.
What follows are five more ways in which recreation centers and related organizations are leveraging emerging technology to enhance not only their facilities, but also their programming and general operations.
1. Digital check-ins
Membership cards and key fobs are quickly becoming relics, especially as companies such as MiGym and Convergent make entering facilities easier than ever for patrons and operators. Smartphone apps that allow users to check themselves in via scan, as well as other digital platforms that automate guest registration, print user passes and notify employees of specific arrivals, are helping facilities free up front-desk space and increase productivity.
2. Tech education programs
RecTech, a leading community resources program that is part of a partnership with Seattle Parks and Recreation, offers "effective technology-driven programs [that provide] education, recreation, and community development services for children, families and neighborhoods," according to its mission statement. That means striving to bridge the digital divide by providing technology access, training and opportunities for personal and career development in underserved neighborhoods. Programming takes place in public Community Technology centers across south and central Seattle and includes youth development services, workforce training and adult digital literacy training.
Similarly, we are also seeing public recreation centers develop studios for digital recording and video editing, as well as allocating areas for "maker spaces" — teen tech centers, where young people can learn graphic design skills, 3D animation, robotics, video game development and music production. All are terrific ways to provide effective use of space while encouraging members of the community to engage with technology in productive ways.
3. Interactive digital displays
Several companies offer opportunities to easily create and manage interactive gaming and educational displays. They include Lumo Play, TouchMagix, FX Game Zone, BEAM and Exergame Fitness Solutions, and they each offer diverse options for providing creative, energetic and engaging physical activity — especially for kids.
4. People-counting technology
By combining powerful sensors with the latest depth data and computer vision, tech companies are developing new ways to accurately and anonymously count people in a variety of facility types. Although not specifically targeted to recreation centers, the technology is certainly applicable. The ability to map population density in key spaces throughout the day is a perfect way to measure program popularity. Data gathered from such look-ins could provide insights regarding budget and resource allocations and potentially benefit design professionals in determining space needs for a future renovation project. Additionally, if hallways and public spaces also were monitored, valuable data could aid in designing for the most-efficient use of pedestrian traffic flow.
5. Virtual reality workouts
At least two startups — Black Box VR and ICAROS — have entered the virtual reality fitness market, fusing health science and gaming technology in an effort to make working out more entertaining than ever. Forward-thinking facility operators might consider installing VR gym units in a converted group exercise space, and also utilize that space for testing other trends — such as the tech studios and interactive digital displays previously described.
While I'm not endorsing or recommending the specific implementation of these emerging technologies, I do think it's important for facility operators to be aware of their options as they strive to maximize space, optimize programming and expand their user base.