As colleges and universities are still determining if and when they may open their campuses, there is a lot of emphasis on the how, what, when with regards to academics. However, there is much more to the "college experience" than just the courses provided. Here are two important reasons why campus recreation should become a priority to safely reopen as campuses begin to welcome students again.
1. After months apart, rec and wellness programs can help safely create a sense of community and improve student success. While no one can accurately predict how the nation's pandemic will ultimately change the course for campus life, it is safe to assume that when students do return, they will be eager to not only engage with each other inside the classroom, but will look for ways to safely interact outside of a formal setting. Recreation and wellness opportunities impact the entire student experience. A number of studies over the years have demonstrated that students factor in non-academic opportunities, such as recreation, sports and fitness, into their decision on where to attend. These programs not only teach students how to build relationships and balance priorities, but they also been shown to have a direct impact on student success as those who engage in consistent recreation and extra-curricular activities earn higher GPAs and earn more credit hours than those who do not.
Beyond this, recreation will help restore a sense of normalcy as everyone adjusts to post-pandemic life. Sadat Khan, Associate Director of Member Experience Recreation & Wellbeing at the University of Wisconsin-Madison, agrees. "With so many of us cooped up at home for months, doing virtual programming and getting outdoors have been the mainstays for many of our members and students to stay active. What this is lacking is the sense of community and that is what campus recreation departments excel at creating. When we get back to life after COVID-19, we are going to be a much needed outlet for many. The ability to reconnect and get back to a 'normal' routine will be crucial for the overall health and wellbeing of campus. We need to do our best to proactively plan ahead for reopening so that we can provide a safe space for students to continue being active."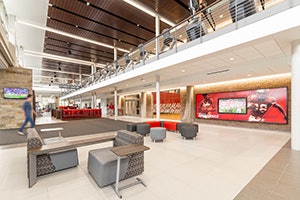 "Mental health can be greatly affected by social distancing, so our focus will be to offer opportunities for students to recreate in order to maintain their mental, social and physical health," shares Andy Jepsen, Director of Recreation and Sport Operations at the University of Wisconsin-Eau Claire. "The community building aspect of Recreation will help support the mental well-being of students as they reintegrate into a post COVID-19 society. Offering group programs, even when adapted to safe sizes, will help restore a sense of normalcy and forward movement. We will provide a cautious, well prepared, and adaptable outlet for students and staff to resume fitness and social routines, which are crucial to re-establish connectivity to campus."
2. Recreation, Wellness and Fitness facilities may contribute to financial improvement. Prior to COVID-19, the recruiting of incoming students was already extremely competitive. If, as many predict, fewer students return and/or apply to college, the need for campuses to differentiate themselves from their peers is even greater.
In 2018, Ripon College shared their success after opening their improved athletic and wellness center in Athletic Business Magazine after a renovation and fieldhouse expansion. The College closely tracked their return on investment and the campus-wide results of updating their facilities. Those results include everything from an increase in overall student deposits to nearly doubling their ability to recruit student-athletes. Additionally, there was a significant increase in community resident memberships. While it may take years for many colleges and universities to financially recover from campus closures and loss of athletics revenue, a major capital investment into these spaces may not be necessary to still realize the positive impact of these spaces. Simple strategies to ensure rec and fitness centers feel safe and welcoming to students may prove to be a surprising source of revenue and recruitment going forward.
So what can campuses be doing now to prepare their rec and wellness centers? Here are a few considerations if a campus decides to open:
1. Rely on your peers and experts in the industry. There is a wealth of information being shared by experts and program directors through a variety of sources including social media and the National Intramural and Recreational Sports Association. Additionally, design firms who specialize within campus recreation and athletics can help you explore ideas. Given their role in the industry, they can comment on how to reconfigure facilities to accommodate social distancing, approaches for equipment placement, and have access to a wide variety of sources for materials and equipment that could aid in disinfecting your facility.
2. Start with a Phase 1 plan. Recognized plans may need to shift as new information about the virus develops, so set expectations to be flexible and reactionary to change. It may be best to look at a 1 month strategy and understand what needs to happen immediately. Consider social distancing and PPE first: how to add space between pieces of equipment; the addition of PPE stations; scheduling to limit occupancy.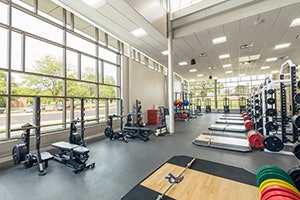 Gary Harms, Director of Recreation Sports & Facilities at the University of Wisconsin-Whitewater shared how his staff is gearing up to open. "We will need to be sure that our Athletics/Recreation facilities maintain at least 6 feet between workstations/workers and exercise equipment" he states. "Plexiglass barriers may be needed in our front office and ID Card check-in areas. Appropriate signage regarding building policies, such as face masks requirements, hand washing and sanitizing requirements, and maximum occupancy capacities, will need to be promptly displayed throughout the building. High traffic areas will need hand sanitizers installed and frequent cleaning will need to take place in high touched areas including doors, counter tops, and drinking fountains. These physical changes definitely appear to be the new normal for quite some time to come."
3. Investigate mechanical, plumbing and electrical systems before opening. Rec centers will want to ensure their systems – air handling in particular – are running at top capacity to ensure air exchanges are maximized.
4. Develop reopening messaging early and share it ahead of time. Many students will be hesitant to use a facility that involves using shared equipment at a close proximity, so sharing a safety-first message will help address their concerns. Develop and share a clear plan, including cleaning practices and expectations regarding how the students can assist in disinfecting before and after use, will alleviate fears and bring people in the doors.
As higher education adapts to a post-COVID-19 landscape, collegiate recreation has the ability to provide a comforting sense of normalcy to students, faculty and staff. By considering both the benefits and the effort required to safely open, recreation and fitness can once again resume their important role on college campuses.
Adam Bastjan, AIA, LEED AP BD+C is an associate principal at architecture and design firm Kahler Slater.As a Lead Designer on Kahler Slater's Higher Education and Sports + Recreation teams, Adam has extensive experience designing sports, recreation, and wellness projects that enhance the daily lives of those who use them. For more information, email abastjan@kahlerslater.com.