Sharing the same southwest region of Utah as Zion National Park, the campus of Dixie State University is surrounded by visually stunning natural landscapes.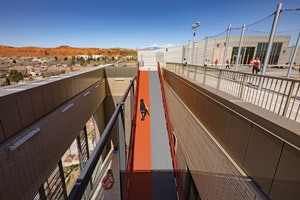 The institution challenged designers of its Human Performance Center to come up with features unlike any other in the region, and they responded in part with what is believed to be the only two-level indoor-outdoor jogging track in the country. The track features a textured surface on the third-level indoor portion and concrete on the roof above. In between, a 22-degree textured ramp can be used as a sprint hill or as connector to form a complete 1,400-foot circuit (3.8 laps to a mile). An automated sliding door allows runners to enter and exit the building without breaking stride, and a ball-control netting system affixed with lights separates the track from the rooftop courts it surrounds. By circling the roof perimeter, the track puts its users in open-air proximity to the building's surrounding vistas. "It's a dry, mild climate, so we took advantage of that," says Hastings+Chivetta principal Steve DeHekker. "We also took advantage of the surrounding geography, beautiful land formations and really nice interaction between the sun and the soil. In every direction you see that, and the building as a whole really engages that. This indoor-outdoor track is something that takes that engagement to another level. It allows you to pass from inside of the building to the outside and take in not only the hospitable climate, but the views, as well."
This article originally appeared in the January|February 2021 issue of Athletic Business with the title "Track heads outward, upward to capture views." Athletic Business is a free magazine for professionals in the athletic, fitness and recreation industry. Click here to subscribe.
Log in to view the full article