My start in campus recreation came at a time when I was struggling to connect socially at my institution. I grew up playing soccer and other team sports, which led to most of my friendships prior to leaving my hometown of Frisco, Texas, to attend the University of Arkansas.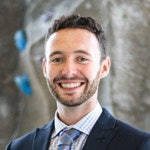 Without having a soccer team to help foster friendships, I had a difficult time socially acclimating to the campus environment and even considered leaving.
Browsing different opportunities to get involved, I wanted to do something that would help me connect with other students with similar interests. I came across an opening for an intramural soccer official and attended an informational session later that week. From there, the friendships developed naturally. I started to feel connected to my school due to the mentorship I received from my supervisors and the connections I made with other students. I was challenged to expand my involvement and eventually started a second position with facilities that helped further my growth.
Throughout my campus recreation experience, I moved into top student leadership roles in both facilities and intramurals, attended the NIRSA Region II Conference, and participated in student development courses. This prepared me for where I am now — the graduate assistant for facilities at the University of Central Florida, the NIRSA Florida State Student Leader, and a member of the NIRSA Region II Student Lead On Committee.
Because of the social connections I developed with students and supervisors, I naturally gravitated toward campus recreation as a potential career route.
From my time at the University of Arkansas to this past year with UCF, I have grown tremendously due to the educational opportunities I was encouraged and self-motivated to take advantage of. I have been able to develop transferable skills like problem-solving, communication and leadership. I also recreated some of the developmental opportunities I had Arkansas with students at UCF to further their social connection to the institution.
Most importantly, I have learned to be adaptable by navigating the last half of my graduate assistantship during a time in which the pandemic has changed the way we live and social injustice has become a forefront topic. Through this, I have learned the importance of committing to being a lifelong learner and an advocate for other students. Learning how to advocate for others has to be the most important thing I have learned from my time as a student within campus recreation. I learned how important it is to recruit and develop a diverse staff that represents the population of the university. Ensuring representation in leadership roles has become a main focus of mine due to the impact it has on other students who look for mentors who either look like them or share similar experiences. Not only does representation on staff matter, but creating an environment in which a diverse population of students feels comfortable participating in programs and coming into the facility is of the utmost importance, as well.
I have learned about universal design and its importance in creating an environment and culture of inclusion. From participating in programs such as wheelchair basketball and recruiting diverse students, my eyes have been opened to the endless possibilities we have toward creating a more inclusive environment in campus recreation.
The future of campus recreation is universal design, diversity and inclusion efforts that create a sense of belonging for underrepresented populations. Adjustments of facility spacing, equipment and inclusive planning in programming can help foster a welcoming environment. Throughout a facility, it is important to make sure there is enough space for someone in a wheelchair to navigate without barriers. It is important to have gender-neutral restrooms to ensure everyone has the option of a space in which they feel comfortable. There should be inclusively designed fitness equipment woven throughout the facility among other equipment. The programs planned by campus recreation students and professionals should consider how to shape their programs to fit students of all ability levels.
The creation of adaptive and inclusive sport clubs for sports such as tennis and basketball would give students with disabilities similar opportunities as able-bodied students. Fitness classes can be designed to accommodate different ability levels by building programs that are naturally inclusive rather than having to make exceptions for a particular student. Intramural programming can offer adaptive and inclusive sports that students, with and without disabilities, can play together. The opportunities are endless.
By looking at the layout of a facility, rethinking space and planning programs with the idea of making them universally inclusive, the future of campus recreation looks bright.
---
This article originally appeared in the January | February 2021 issue of Athletic Business with the title "How recreation paved the way to a life of learning and leadership." Athletic Business is a free magazine for professionals in the athletic, fitness and recreation industry. Click here to subscribe.