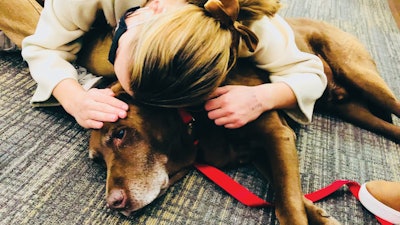 The deaths of three Rowan University students by suicide over a two-month period during the fall 2019 semester acted as a campus-wide wake-up call.
"We needed to ask ourselves how we could get ahead of this to help students and give them tools to not despair or be in crisis," says Kevin George, director of campus recreation at Rowan and the leader of Rowan Thrive — a "lifelong wellbeing toolbox" initiative launched the previous year.
With Rowan Thrive as the foundation, efforts to integrate campus recreation-led wellbeing programs soon spread throughout the university community and are now woven into the fabric of the institution via a first-year class, student support services and more. Additionally, at least 450 faculty and staff have participated in suicide-prevention training.
"From the beginning, we wanted to make sure Rowan Thrive could be utilized in all facets of the campus," George says. "It should be everyone's responsibility to say, 'I need to take care of my own wellbeing so I can take care of the wellbeing of others."
"The increase in mental illness has brought integrated wellness to the forefront on college campuses," adds Darcie Burde, senior associate director of fitness and wellness in the Department of Recreational Sports at the University of Florida, as well as co-chair of NIRSA's Health & Wellbeing Task Force. "Unfortunately, we're seeing higher numbers among traditional college-age students, which is another sign that we need to make sure we are focusing on holistic wellbeing — not just components of wellness, but how somebody is doing as a whole person."
Enter the new NIRSA Promising Practices series. This three-part, multimodal learning experience is designed to encourage collaborative and integrated campus-wide approaches to holistic wellbeing and includes three components: a brief introductory video, an educational brief describing each institution's integrated wellbeing effforts, and a roundtable conversation. (The videos and PDFs are available on the Promising Practices website: www.nirsa.org/promising.)
"We want to recruit individuals willing to share what they're doing in the area of holistic wellbeing and help all of us set students up for success," Burde says. "The idea is to inspire other collegiate rec professionals to get engaged in wellbeing work on their campuses by providing direct access to people who are doing this well."
Based on their efforts, Oakland University in Rochester, Mich., and Rowan in Glassboro, N.J., were the first two institutions chosen from a pool of applicants to participate in the Promising Practices series. A third will be announced later this year. The goal, according to Burde, is to eventually identify three colleges or universities each year to participate. "We want to feature a wider variety and more diverse offering of institutions to have a comprehensive representation of NIRSA membership," she says.
Oakland and Rowan are both worthy initial choices, and campus recreation leaders from both universities believe their participation in Promising Practices will serve as an invaluable long-term recruitment and retention tool.
"This is a way to share with people that we are committed to their health and wellbeing," says Becky Lewis, associate director of programs and administration for Oakland University Recreation and Well-Being. "I think it's important to showcase what we're doing. With pending budget cuts and no salary increases, we really have to focus on other positives when we're recruiting both employees and students."

'We're doing a lot of good things'
Oakland University, which was designated as the first Promising Practices campus in fall 2020 and held its roundtable discussion in July 2021, has been building toward campus-wide wellbeing for years. A part-time student health and wellness coordinator position was increased to full-time in 2015 to provide additional programs and services that help support students and to collaborate with the already existing employee health and wellness coordinator. Then, in 2018, Oakland held a summit with University Recreation and Well-Being, the School of Health Sciences, Human Resources and the university's benefits broker. From that event sprung the "Oakland University Healthiest Campus for Michigan" (or simply "Heathy Campus") initiative.
Benefits-eligible employees now receive free access to the campus rec center, and programs include opportunities such as interactive stress-management workshops for students, faculty and staff; designated days for therapy dog visits; and the Green Bandana Project, a joint campaign between campus rec and the Dean of Students Office that encourages willing participants to prominently display a green bandana (on backpacks or office door handles, for example) to indicate they are a "safe person" to approach with mental health-related issues and can point individuals to appropriate campus resources.
The university also added a peer wellness ambassador component, in which it pays students who are trained by the student health and wellness coordinator to provide peer-to-peer wellness programs and host tabling sessions designed to encourage fellow students to talk about physical and mental health.
"We've always felt strongly that we're doing a lot of good things," Lewis says. "We aren't perfect, by any means, but we had the right people in the administration. Our president [Ora Hirsch Pescovitz] is a medical doctor who understands the importance of health. Anything we can do to engage students to get them to talk about their health and wellbeing, ask questions and learn about what we have available for them is a win."
At Rowan, where student enrollment has doubled since 2008, Rowan Thrive encompasses six dimensions of wellbeing: physical, social, community, financial, purpose and emotional — which are based on Gallup's "five essential elements of well-being."
"We added 'emotional' because that kind of ties all of them together," George says. "When I'm not doing well financially, I'm emotionally and mentally impacted. And, obviously, if I'm thriving in my purpose wellbeing, my emotions are more positive. So, we wanted to have that emotional component in there."
Since the creation of Rowan Thrive and in the wake of 2019's tragedies, Rowan created a university wellbeing committee — comprised of students, faculty, staff and individuals from two nearby medical campuses — that has further prioritized integrated wellbeing on campus. The focus now, George says, is to secure university approval and funding for a full-time position that would oversee all integrated wellbeing efforts and report to the vice president of student life.
"We've been recognized as the fourth fastest-growing institution in the country, and we know that's not going to be sustainable, based on the number of available 18- to 25-year-olds," he adds. "So, what we're doing with integrated wellbeing could be the secret sauce when we talk about recruitment, retention and a thriving alumni base."
A 'promising' future
The "Promising Practices" name evolved during an early brainstorming session between Burde, Butler University's Josh Downing (her NIRSA Health & Wellbeing Task Force co-chair) and Erin O'Sullivan (NIRSA's director of advocacy and strategic partnerships).
"We wanted to take this from idea to action," Burde recalls. "And Erin made an off-the-cuff reference to 'promising practice.' Because who's to say what is always a 'best practice'? 'Best practice' on one campus certainly may not be 'best' on another. So when Erin brought up that term, it stuck. I think it spells out, fantastically, what this is all about."
"As the Promising Practices series evolves, NIRSA seeks to maximize the reach through sponsor support, and we're thankful for the investment into integrated wellbeing." says NIRSA executive director Pam Watts. Oakland University's initiative was sponsored by Cannon Design, while Rowan's is sponsored by the NIRSA Foundation, which is celebrating 30 years of fundraising and stewardship in 2022. "Future sponsors will continue to help NIRSA grow the impact of the series," Watts says.
"By having integrated wellbeing become a priority on university campuses, we'll see that not only are institutions doing a good job of educating students, but they're also teaching students to advocate for their own health by providing them with resources to succeed," Burde says. "And, ultimately, that means getting through the challenging times and finding happiness."