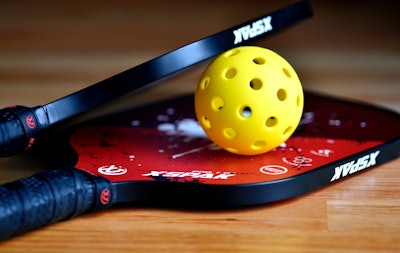 A Colorado man is in a legal pickle after he drew lines for a pickleball court on a local rec center's gym floor.
The Central Park resident, who was only referred to as "the Mayor of Pickleball" in the Denverite's reporting on the incident, has been banned from all of Denver's rec centers after he used permanent black marker to draw boxes and X's on the floor to mark the makeshift pickleball court.
The rec center's court is usually marked with temporary yellow cloth lines for pickleball.
The local parks department estimates the damage will cost $10,000 to fix. The rec center said that it is required to report all vandalism to the police.
"Anytime there's any type of vandalism at any of our city-owned facilities, we do file a police report," Parks and Rec spokeswoman Cynthia Karvaski said. "It's protocol to file a report. A person took a permanent marker, came into the gym and marked the floor. That would be considered vandalism. Similar to if we walked into the City and County Building and drew on the floor."
The man had previously approached rec center employees about creating permanent pickleball boundaries on the Central Parks court, and he discussion has been ongoing.
"It's something we've looked into, but it's not something we've committed to," Karvaski said. "There are other recreation centers nearby that have permanent courts."
Pickleball players have now taken to social media to defend the man.
"It's a way overreaction," said one user. "I don't think this qualifies as vandalism. We're not talking about a teenager carving their girlfriend or boyfriend's name into the floor. It's not spray paint. He's the leader of all of these older people [who play pickleball]. You're basically giving an older person a death sentence when you're telling them they can't exercise and do social activities."