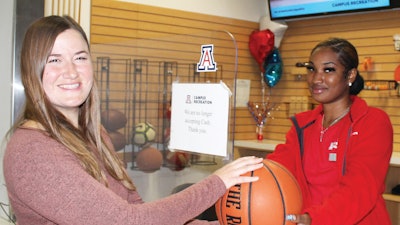 [Photo courtesy of University of Arizona Campus Recreation Marketing]
Over the past two years, managing campus recreation equipment — everything from cardio and strength equipment, to basketballs and volleyballs, to outdoor gear such as tents and skis — has changed in previously unimaginable ways.
"I'm not going to lie: We never used to clean basketballs," says Courtney Copp, assistant director of facilities and member services for the University of Arizona's Department of Campus Recreation. "But if you think about it, there are so many things that people put their hands on today that we would have never thought to clean two years ago."
Indeed, COVID-19 has dramatically enhanced facility-cleaning regimens, placing new burdens on both full-time facility staff and part-time student employees. "That is an added bullet point to the job description now," Copp says. "The expectation is, no matter what your position is, that you are cleaning equipment before and after usage. I'm on the floor with my staff, cleaning with them and giving lots of pep talks."
With sanitization now synonymous with safety, overseeing equipment requires the same mindset as operating the entire recreation center, according to Jenny Larson, associate director for recreation programs and facilities for Elon University's Campus Recreation & Wellness Department.
"It's about looking at the idea of 'safety first' in a variety of ways," she says, explaining that Elon operates eight satellite campus recreation facilities that cater to various interest groups. "Satellite locations are tricky, because we don't have any professional staff in those spaces on a day-to-day basis. So I do walk-throughs. Because we have so many locations, I plan them over a two-week period each month to make sure that I'm spending time in each space, looking for issues and being proactive. I try to do it at times when participants are there, so I can ask them about their experience with the equipment, and also at times when there's nobody there, so I can get a nitty-gritty look at the equipment."
For example, when she visits Elon's esports center — a converted computer lab that is accessible only with a staff member's swipe card and includes 14 secured-in-place gaming stations and four televisions — she makes sure all technology is working properly and that no equipment has disappeared. She also gathers feedback from students about their experience using the gaming gear.
"When student employees are on their shift, they're hearing from patrons about issues, and they're noticing things when they clean," Larson says. "They're going to see things day to day. Then I come in with a critical eye and follow a holistic view of facility management."
Part of that holistic view requires ensuring that end-users have a safe and enjoyable experience before they even touch a piece of equipment.
"I think the biggest thing I like to communicate is just how much effort goes into the back-end operation before a piece of equipment goes out," says Donald Schmit, coordinator of the Outdoor Recreation Rental Shop at Washington State University. "We spend a lot of time picking out items that will meet our patrons' needs, while also meeting our needs by being something that's durable and simple to use. We set people up for a positive outdoor experience, so they will come back and have another positive experience."
Technology 101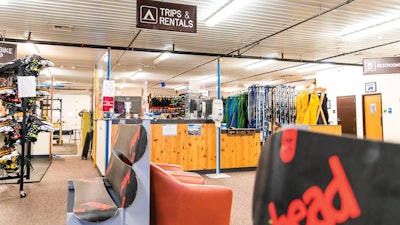 Setting people up for a positive experience is simpler than ever with specialized software systems. Among other things, a system can track inventory and work orders, as well as help campus rec center managers facilitate online rentals, file missing item reports and adhere to best practices.
While it's no surprise that Arizona, Elon and Washington State all use such systems, it's worth noting that each campus recreation department opted for a different one. "Find a good technology that works for you when you're not in the building — one that can help you know what's going on and stay proactive," Larson suggests. "That's one of the most important things in this job."
"Our system really acts as a one-stop rental-management system," Schmit says. "When something breaks, we can create a repair ticket for it, which then pulls it out of inventory until the repair ticket is closed after the item has been repaired. It tracks our rental customers, and we have rental histories for them. We've kind of tweaked things to where we can input customers' sizing information, so next time they don't need to come in and get fitted again. It makes things easier for returning customers and allows us to give better customer service."
Campuses are encouraged to assess their own equipment management needs, seek out the software systems that can meet those needs and then meet with sales representatives to determine which one ultimately would be the best fit. If necessary, they should consider changing providers or upgrading services with their current provider to ensure that the system is robust enough to satisfy full-time staff members, yet intuitive enough for student employees.
Elon participated in a pilot program with about a dozen other universities, testing out a then-upstart software system to which Larson now pledges staunch loyalty — claiming the software is more than just an operations tool. "The company does a lot of really good educational sessions and makes changes and updates based on users' feedback," she says. "The system has become a great resource."
With two recreation facilities on campus and a smaller third one slated to open in January, Arizona has used its software system to streamline equipment rental procedures at multiple buildings and achieve consistency regarding checkouts, service and maintenance needs, and other equipment management tasks.
Copp says the campus recreation department also converted all of its outdoor rentals to online checkout status. "We found that a lot of people renting outdoor equipment are more engaged online," she says. "There just wasn't enough foot traffic for outdoor rentals."
Maintenance and upkeep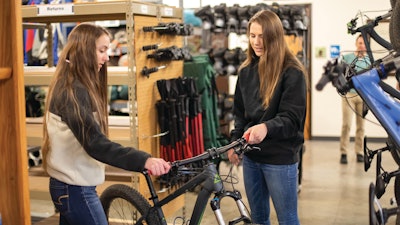 The outdoor equipment rental business at Washington State has always been brisk, but it's accelerated in the wake of the pandemic.
"In Washington, outdoor recreation was the first thing to reopen" after the state's pandemic-related shutdown, Schmit says. "And on campus, we were the first facility to reopen and paved the way for the entire university's reopening. We have seen more business than we ever have."
While it falls under the campus recreation umbrella, Washington State's outdoor rentals operation functions out of its own 7,200-square-foot space. The facility offers equipment to students, staff and the Pullman community at large, and its inventory includes kayaks, downhill and cross-country skis, snowshoes, tents and backpacks, mountaineering gear and just about every other piece of outdoor equipment one can think of — 2,396 pieces in all, as of November 2021.
"I think, in a lot of ways, we do more continuous maintenance than indoor equipment requires," Schmit says. "Every piece of equipment that goes out requires inspection when it comes back. So a tent gets set up to make sure that there's no damage, that it still works properly and has all its pieces. Our inflatable boats get inflated, we inspect them for damage and then make sure they hold air for 24 hours before we deflate them. It's almost constant maintenance and inspection, because we don't want to send people out with unsafe or faulty equipment."
The majority of that maintenance and inspection work is done by the rental shop's staff of nine student employees, who are trained to provide quick overviews of (or refreshers on) equipment with each user — from adjusting a kayak's foot pegs to wearing skis properly. Student staff members also are trained to handle the majority of repairs in-house. Users who return damaged equipment typically are charged for at least some of the repair labor and materials.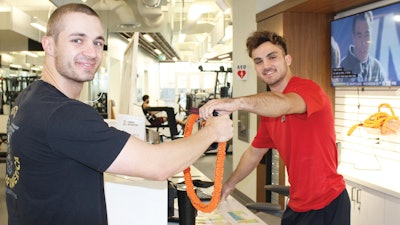 "If they completely lose the item, we charge the replacement cost," Schmit says. "Sometimes, we can buy parts, and sometimes we need to buy an entirely new item. But we always charge the full retail replacement cost versus the price we pay for it, because we don't want people walking out with a sleeping bag and then coming back saying they lost it — just to get a sleeping bag at half the price they would have paid at the store."
At Arizona, campus recreation staff likewise bestow a degree of responsibility on users. "Depending on the condition of a returned item, that person will be charged and have to pay before they are allowed back into the facility," Copp says. "We want to hold people accountable. We also ask that, if they see something is damaged or has a lot of wear and tear, they point it out to us and ask for another piece of equipment instead."
In addition to her own facility walkthroughs, Larson works with a preventive maintenance professional at Elon on a regular basis to ensure that equipment at all of the university's recreation facilities is in prime working condition — staying ahead of potential breakdowns and identifying worn-out units.
That said, with supply chain challenges likely to continue, obtaining new equipment in 2022 could prove difficult. That's why maintaining and retaining existing equipment is more critical than ever.
"Even just acquiring what was on our replacement schedule [in 2021] has been difficult," Schmit says. "There are certainly things that we've added, but there also are things we can't get. We're just having to make do."