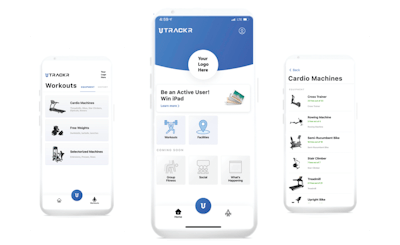 Athletic Business made the trip to Portland, Ore., at the end of March for NIRSA's annual conference. The show's expo floor was a showcase of all the products and services that support college recreation and its facilities, including a spate of companies innovating in the technology space. Here's a close look at one startup with big aspirations in the college rec marketplace, as well as a rundown of a few other tech innovators we spotted at NIRSA 2022.
Utrackr CEO David Levinson, along with a group of students who helped create the platform, envision a solution that will allow anyone on campus to reserve cardio equipment and generally use a rec center's fitness areas without wasting time waiting for a machine to become available.
The idea started out as part of an entrepreneurship project Levinson's son was participating in at the University of Delaware. The challenge for the project was to solve a problem facing not only the University of Delaware but many university rec centers across the country.
Log in to view the full article