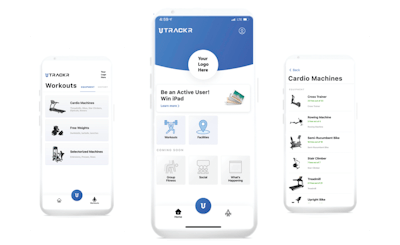 Athletic Business made the trip to Portland, Ore., at the end of March for NIRSA's annual conference. The show's expo floor was a showcase of all the products and services that support college recreation and its facilities, including a spate of companies innovating in the technology space. Here's a close look at one startup with big aspirations in the college rec marketplace, as well as a rundown of a few other tech innovators we spotted at NIRSA 2022.
Utrackr
Utrackr CEO David Levinson, along with a group of students who helped create the platform, envision a solution that will allow anyone on campus to reserve cardio equipment and generally use a rec center's fitness areas without wasting time waiting for a machine to become available.
The idea started out as part of an entrepreneurship project Levinson's son was participating in at the University of Delaware. The challenge for the project was to solve a problem facing not only the University of Delaware but many university rec centers across the country.
"Often students might have to take 10 to 15 minutes to get to the rec center. Especially during high-stress times, when they really need to use the rec center the most — during finals, during stressful periods — they could get to the rec center and find that all the cardio machines are busy," Levinson says. "So here they are, headed to the rec center to reduce stress, and they probably added some because they might have wasted a half hour."
Levinson notes that most universities don't even have a way to create a waitlist for cardio machines, which is where the Utrackr app comes in.
"So, with myself mentoring, what we've done is we've created a mobile application where students, from wherever they happen to be on campus, can see real-time availability down to the equipment level," Levinson says. "And not only can they see if there's 10 out of 13 cardio machines available, or one out of 13 available, once they get there, if everything is busy, they're able to add themselves to a virtual queue."
Levinson explains that Utrackr can help gym managers in other ways. The app will allow operators to collect and analyze metrics to optimize programming and equipment utilization, which can help provide data to inform future purchases. Moving forward, Utrackr may soon include features that would allow the university to proactively message students during downtimes and promote student health and wellness by encouraging fitness participation.
For now, Levinson is hoping to attract five to eight schools to beta test the application this fall. While he admits NIRSA's spring conference was a little earlier than he'd like, he didn't want to wait another year to introduce the product to the industry, and Utrackr still saw a lot of interest from rec and athletic directors at the show.
Says Levinson of his two days on the NIRSA expo floor, "Based on the meetings I had, people feel that there's a huge opportunity to make the students' experience frictionless and allow them to be more productive with their time when they're at the rec center."
CampDoc
Designed by camp doctors, nurses and directors, CampDoc is an easy-to-use web-based solution that manages health forms, allergy backgrounds, medication histories and illness/injury tracking. The solution is being used by college rec departments that run summer programs for youth. CampDoc provides instant access to vital medical information, thus limiting the time and energy staff have to spend during initial camper check-in, while also reducing risk and liability.
The CampDoc platform has no limit to the number of camps, sessions or programs that can be included, and it can be used to help families set up a payment plan to pay their balance over time. The system will automatically send customized email receipts and balance reminder emails. CampDoc includes add-ons to facilitate the processing of coupons, donations and waitlists. All major credit cards and electronic checks can be processed online, and refunds can be issued through the system.
MyZone
MyZone is a wearable fitness tracker and online social platform that shows and rewards an exerciser's effort. The tracker displays real-time heart rate, calories and intensity with five color-coded personalized zones that are defined by a rewards-based metric called MyZone Effort Points.
According to MyZone, each of the platform's zones represent a percentage of the user's maximum heart rate. The intensity of the workout is then determined by which zone the user is in and for how long, which then converts to points. If the user's MHR changes over time, MyZone will automatically update it. The MEPs align with the World Health Organization's guidelines for physical activity, and data can be displayed collectively for group training or individually to any smartphone.
CFE Services
CFE Services makes a variety of cleaning and disinfecting products, but the company was specifically focused on displaying its air-purification tools at NIRSA. The company's Beyond Guardian Air unit combines passive techniques with the proactive technology of ActivePure. This combination of technologies traps and inactivates mold, fungus, bacteria, viruses, dander and more.
The ActivePure technology is the fifth of five stages built into the Beyond Guardian Air unit, and it works to "actively" purify air by emitting safe and effective scrubbing molecules into the air that quickly seek and destroy pathogens and on surfaces. The company also offers the ThinkLite Flair IAQ Monitor, which detects, analyzes and reports key air-quality measures in real time. Facility operators can then monitor, make adjustments and share how well their protocols are working 24/7.