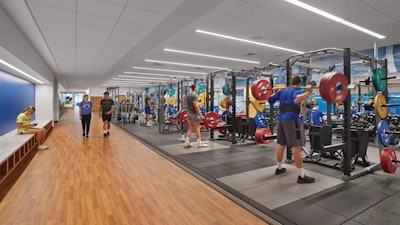 [Photo courtesy of Elizabethtown College]
As the coronavirus enters a new phase — not yet endemic but also no longer as untamed as it was when colleges and universities shut down in spring 2020 — campus recreation professionals are acknowledging an increasing responsibility to enhance their approaches to integrated wellbeing.
"One of the things I think we all learned from the pandemic is that maybe we're not focusing enough on the total wellbeing of people the way we should be," says Gary Wohlstetter, senior associate athletic director of recreation and physical education at the University of Maryland, Baltimore County. "I think it created new opportunities for us."
"The pandemic forced us to think about our programming differently," adds Whitney Crull, director of the Bowers Center for Sports, Fitness and Well-Being at Elizabethtown College. "We now offer small-scale intramural sports like pickleball, cornhole and badminton. At first, we thought, 'Nobody's going to sign up for badminton,' but now it's one of our most popular sports."
If nontraditional intramural programs brought new students into the Bowers Center for the first time, COVID-19 vaccine clinics at UMBC's recently renovated Retriever Activities Center (RAC) went even further to break down perceived barriers to entry that have challenged campus recreation professionals for years.
"Students, faculty and staff who normally would come to our building to work out now were coming in for another reason," Wohlstetter says. "And it has increased our regular usage for recreation and fitness."
Fostering a greater sense of unity through campus recreation will be more essential than ever moving forward, and facility programming and design will be integral components of that.
"We all need to realize that what we've traditionally done is not going to be what we're moving toward in the future," says Tiffany Lomax, director of recreation services at Colby College, which opened the new 350,000-square-foot Harold Alfond Athletics and Recreation Center in August 2020. For example, a multipurpose space with large interior windows overlooking an Olympic-size pool has become ground zero for intense jigsaw puzzle competitions and Uno games, both complete with music and impromptu dancing. Even a learn-to-knit program at the facility became a hit.
"When we talk about holistic wellness, being able to reach people mentally is huge," Lomax says. "It doesn't always have to be about who can run the fastest or who can shoot the best. It's also about doing something for individuals who don't get excited about basketball or soccer but still want to be competitive. This facility allows us the space to do that, and if we can find a way to reach people to make them relax, make them laugh, make them feel like they belong, let's do that."
'Break the stereotype'
Colby, Elizabethtown and UMBC are among the 10 recipients of the 2022 NIRSA Outstanding Facilities Awards, sponsored by Aacer Flooring and honoring excellence in innovative design of new, renovated or expanded college recreation and wellness facilities.
The 82,000-square-foot Bowers Center (which opened in fall 2019 and then sat vacant during the early stages of the pandemic) filled a longtime void on a campus where the previous fitness center was housed in a windowless 4,000-square-foot basement.
The new building is equipped with a demonstration kitchen, an outdoor firepit, a relaxation room that can be reserved for 30-minute slots by individuals seeking a private space for meditation, yoga or a power nap, and The Well — staffed by the college's Student Wellness Advocacy Group and providing over-the-counter medicines, menstruation supplies, sleep masks, earplugs and other products and tools to help improve physical and mental wellbeing.
"We had to break the stereotype that this building is just for sports and fitness," Crull says. "We offer financial wellness classes, book clubs, food and mood programs, nature walks. Within a month, we see close to 10,000 check-ins, and just half of those are for the fitness center. Not everyone is coming in to work out or play sports."
At Colby, where the old recreation facility emphasized athletics, the challenge has been convincing students that the new Harold Alfond Athletics and Recreation Center offers something for everyone. The three-story facility features large expanses of windows that let in natural light and offer interior views into other spaces. An outdoor atrium in the center of the building encourages socializing, and mindfulness and meditation spaces received just as much priority in the design process as dedicated fitness studios and athletic training rooms.
"This building brings together athletes and non-athletes, and I think that is a huge piece of integrated wellness," Lomax says, citing a recent learn-to-lift program that introduced strength-training fundamentals to beginners. "To me, that was essential to helping others understand that this building was for them, too. We've been very intentional about that."
Taking the lead in new ways
Meanwhile, the RAC at UMBC has undergone two renovations since opening in 1974 — the most recent of which, completed in summer 2021, expanded the building to more than 140,000 square feet. But because space would not allow for an integrated recreation center that also housed health services and a counseling center, as originally planned, Wohlstetter says the university fast-tracked the design and construction of a prefabricated integrated health building near the residence halls on campus.
Despite working with health services and other partners for years, the pandemic revealed new ways in which campus recreation could take the lead. Wohlstetter cites more than 400 fitness and wellness videos created by the university's certified fitness instructors at their homes and then posted on the UMBCRecTV YouTube channel. "We were able to promote those through social media and our partners on campus," he says. "The amount of participation we had was more than we could ever do in person."
Wohlstetter also stresses the importance of providing integrated wellbeing opportunities for faculty and staff. He and his team meet regularly with members of the UMBC Wellness Initiative (overseen by the university's human resources department) to develop in-person and video activities as diverse as gardening, craft-making and meditation walks for employees.
"Our plan is to continue to offer more programs to support mental health, mental wellbeing and mindfulness on a much higher level than we have in the past," he says. "I also want to team up more with our partners across campus and do more collaborations to help support students and staff. We don't have all the resources, but we can share our resources with other entities on campus to create programming for the better good of the student population and UMBC as a whole."