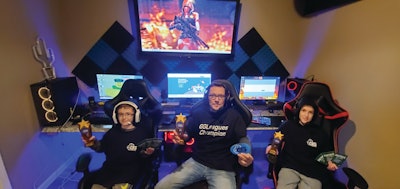 "If you think about peewee football, or Little League Baseball, we're building that, but for people who like video games," says Erich Bao, who developed his passion for video gaming into his own company, GGLeagues. The company helps parks departments and colleges organize and manage esports competitions, including a recent partnership with the Bryan County (Ga.) Recreation Department to start rec esports leagues for residents.
Bryan County Rec athletic director Amber Porter says esports leagues are a concept that some county residents are still getting used to. After a TV news story in February about the upcoming spring leagues, the department received positive feedback and signed up about 18 participants, but it also heard some criticism from residents who didn't understand the benefits esports can bring to communities. "You have people who are like, 'We're trying to get our kids off the computer,' or people making side comments, that there are creepy people on the internet. And I'm gonna be honest, our staff knew about esports before, but not to this level. I think that's what it kind of boils down to: you have a lot of people who have no clue how popular this is, what it actually is about."
According to technology consulting firm Activate's most recent Consumer Tech & Media Research Study, by 2025 more than 700 million people will watch esports, up from 550 million today. Though not a direct comparison, to put that into context, Super Bowl LVI in January reached an estimated 208 million viewers, according to the NFL. Activate says esports viewership among adults who report watching an esports competition within the past year grew from 39 million in 2019 to 62 million in 2021.
What competitive gaming is about, Bao says, is young people learning the same kind of social and cooperative skills they would out on the infield with the Little Leaguers or pushing with other peewees toward the end zone, but in another form. He says the rise of esports is a generational change with today's youth parents — who grew up playing Mario Bros. on Nintendo — who see video games as more than just screen time.
"With the growth of professional players, you start seeing kids who are now parents who don't see video games as a waste of time," Bao says. "They see video games as a way to get a scholarship for college. They see it as a potential career option for them, whether that's as a player, or as a coach or an analyst. And I think that's really been one big driver of why the timing is perfect."

How the league works
The Bryan County program is offering leagues for Fortnite, Madden, Mario Kart, Rocket League and Super Smash Brothers. Participants pay $40 (compared to $65 for the county's popular basketball league) for the six-week season, and the sessions take place weekdays beginning at 7 p.m. Participants can compete from home on PS5 (Madden, Rocket League, Fortnite), Xbox Series X/S (Madden, Rocket League, Fortnite), Switch (Mario Kart, Smash Brothers, Rocket League, Fortnite) or PC/Mobile (Rocket League, Fortnite). All you need at home to play is the system; access to the games comes with the league pass.

Safety and diversity
Another aspect of the rec league is that it provides some supervision over online activities. "Kids are playing video games. They are going to do that whether you have them join a league or tournament or not," Bao says. "And they're playing against random people online who you have no oversight over, so why not have them play in a local league that's run by the local city, where they're playing against other kids their age, where it's modulated?"
Porter says safety — and inclusion — for the young competitors were important elements for the department. "You want to have diverse programming, you want to be able to reach that kid who's like, 'Hey, I'm not an athlete, but I am interested in gaming,' " she says, adding that it's important to parents that their child is doing so in a safe environment.

"Like other sports, esports can open up doors for scholarships and can be a career path for players," Bao explains. "So, yes, it's screen time, but you can channel that in a productive way. The concept of sports as the only social outlet for kids, I think, is going to be very outdated. There are kids who love sports, and that's great. But there's a percentage of kids who just don't ever want to do sports. That's not how they connect. That's not how they express themselves. And video games, very often, are a great outlet for kids like that. And then you have a huge overlap of kids who like sports and like video games; it's not one or the other. And you're just trying to help parents find a balance."