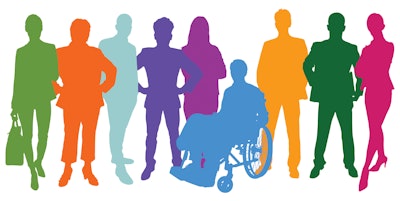 In its 2021-24 Strategic Plan, NIRSA "committed to becoming an anti-racist organization that empowers its members to be actively engaged in the work to create anti-racist campus communities and dismantle systemic racism."
But that doesn't go far enough, according to NIRSA elected officials, association members and a new report that outlines nine ways in which the association can more effectively incorporate justice, diversity, equity and inclusion (JDEI) in its operations.
"My vision is that NIRSA members feel a sense of belonging and that they see that the association hears their concerns and addresses them authentically and genuinely. That has not always been the case," says Victoria Lopez-Herrera, senior associate director of campus recreation at the University of Texas at San Antonio and a member of NIRSA's EDI Climate Study Steering Committee, which worked closely with 122 Consulting Group, a Philadelphia-based diversity, equity and inclusion firm, to gather data and facilitate focus groups that resulted in the "JDEI Organizational Climate Assessment." The results will be made public this summer.
Indeed, NIRSA's history, which dates to 1950 when 20 intramural directors from 11 historically Black colleges and universities founded the association, has been marred by the exclusion of women from 1959 to 1971, as well as a decades-long run of white male presidents.
"We as an association must recognize that harm and hurt occurred," Lopez-Herrera says. "We made a commitment to be an anti-racist organization, and this is part of following through on our commitment."
"Over the last five to seven years, we've been much more intentional about creating work teams and committees that are representative of what our universities look like, what our association members look like, and that they have as many voices represented as possible, because everybody looks at things differently," adds Mila Padgett, director of campus recreation at the University of South Carolina Aiken and NIRSA's 2022-23 president. "This study reinforces that there definitely needs to be more intentional recruitment, there needs to be more intentional questions asked so you can get clarity on what might be a bias that you don't even recognize."
Calls to action
122 Consulting Group determined that NIRSA "has an inconsistent JDEI strategy in place," according to the assessment, which then presents several calls to action that Lopez-Herrera says will be addressed by an association-wide implementation team along with smaller groups focused on specific responsibilities. NIRSA will be putting a call out to members this summer, looking for volunteers to serve on those teams. Here are the nine "actions" outlined in the report:
1. Improve vision, mission and strategic plan to reinforce shared JDEI language and values
2. Ensure organizational focus on the cultivating of relationships with minority-serving institutions
3. Ensure hiring practices are inclusive
4. Make membership recruitment inclusive
5. Create robust curriculum for JDEI member education driven by NIRSA
6. Develop a set of shared norms and language for JDEI
7. Build a clearer process to report grievances or concerns about exclusionary behavior
8. Increase transparency and accountability for NIRSA Board and headquarters leadership
9. Review all policies for equity concerns, including accessible language

Of those, the first, fifth and seventh ones will be top priorities for the implementation team, according to Padgett and Lopez-Herrera, while leaders at NIRSA headquarters and other groups will work concurrently to address the others.
"The 'J for justice' is a newer concept, and the work to define the current language will be a part of the charges for the implementation team," Padgett says. "We need to refine the language and then further socialize those concepts. What are the expectations as an association that we're going to hold our membership to? What does it mean when we talk about diversity versus equity versus justice? What does it mean to be inclusive and have an inclusive environment?"
"I identify as Latina and as a woman of color in a predominantly white organization," Lopez-Herrera adds, noting that the report confirmed some of her own assumptions and likely will help NIRSA members see beyond their own points of view. "I hope the intersectionality of my professional and personal identities will help move the needle on this work. I aspire to break down barriers, so more people will feel as though they can be involved with the association."
Lopez-Herrera will co-chair the implementation team steering committee with NIRSA's 2021-22 president Cara Lucia.
A key role of the implementation team and other entities responding to the calls to action will be developing ways to bring change to individual campus recreation departments. Lopez-Herrera cites NIRSA's 21-Day Racial Equity Habit Building Challenge for Campus Recreation — which occurred in 2020 and included weekly virtual small-group discussions and daily assignments featuring a mix of readings, videos and podcasts — as one potential approach.
"What members who participated in that challenge have done, and what I've done, is take that content back to our departments," she says. "As a department, we engaged with those same readings and had conversations with our colleagues. What are we experiencing on campus? What are the challenges that we are seeing in our community?"
'You constantly have to refine'
In the meantime, Padgett says individual campus recreation departments can start initiating change right now. For example, they can evaluate the language used in hiring and training practices, as well as other policies and structures, to make sure they are equitable.
"The work that comes with this is ever-evolving, and you can't say, 'Oh, we did this five years ago, so we don't have to do it again.' That's just not true," Padgett says. "For the last decade, NIRSA's EDI Commission did some great work creating resources to set the foundation for our membership. But you constantly have to refine and grow. The 'J in justice' is now coming into this conversation, because we have changed as a society. Justice wasn't part of the conversation before. Not to say it shouldn't have been, but it just wasn't. The Climate Study shows that defining each component should be a part of this evolution."
NIRSA – and, by extension, campus recreation departments around the country — have a singular opportunity to further broaden the horizons of young people.
"For many students who come to our college campuses, it is the first time they have ever been around someone who is different — whatever that difference is," Padgett says. "They are also in a space where they're exposed to different ways of thinking compared to when they were growing up. It is the first time they may be faced with challenges to their thoughts and how they view the world."
She says the idea extends to campus recreation student employees. "As industry professionals, we bring people together who have not had a chance to interact in the past," Padgett continues. "They have to depend on each other because they're working together, they're covering each other's shifts, they're working on teams to develop programs for the rest of the campus community, and they're developing life skills. One of those life skills is understanding and embracing JDEI, because it will be critical to have that when they go into the workforce."
This all might sound relatively easy, but it isn't, Lopez-Herrera contends. "This is hard work, and it is messy," she says. "There will be missteps along the way. We're not going get it right every single time, and I think anyone engaging in this work needs to be okay with that. And when people do make missteps, others need to speak up and say, 'This is a misstep; let's talk about it.' There also has to be the commitment to learn from those missteps and still move forward."