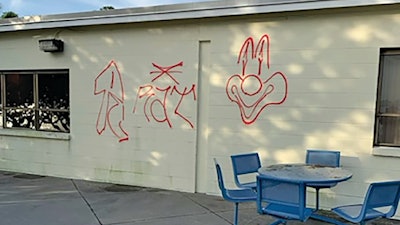 Photos courtesy of Tampa Parks and Recreation
If you're part of the AB Today community (a free and easy way to stay updated on the industry), you've seen an increase in the number of stories about parks departments confronting increased nuisance vandalism: burned trash cans, tire-damaged fields, destroyed bathroom fixtures, defaced signs and more. Repairing such damage siphons from the department's general funds, taking money and time from legitimately scheduled maintenance, such as landscaping and new coats of paint.
"For any recreation office, taking care of vandalism — whether it's a play piece that's broken or graffiti — is part of the daily operations," says Joseph Spadafino, director of parks and recreation for the city of Newark, N.J., who's been working in the recreation field for nearly four decades. "Over the last probably seven, eight months, it has definitely increased. Where [before] it was something that would happen maybe in one park area on a monthly basis, it now has turned into pretty much a weekly issue. Even as recently as last week, we had four trash cans set on fire in one of the parks."
Newark is one of two large parks operations that have agreed to share how they're grappling with vandals, including one tactic a department of any size can employ to keep would-be vandals at bay.
TikTok challenge catches fire
"We learned, apparently, it's something that's not exclusive to Tampa, but I think social media has played a big role in this," says Adriana Colina, director of Logistics and Assets Management who oversees parks facilities, among other things, for the city of Tampa, Fla., where vandalism incidents have cost the city general fund about $30,000 so far this year. "There was apparently some TikTok challenge encouraging this kind of behavior. We know that this is being done because someone's bored. Someone wants to put it on social media, and we just really wanted to prevent that."
In 2021, a viral TikTok challenge began wreaking havoc across non-monitored public areas frequented by youths. Schools and parks across the United States were reporting vandalism, largely in bathrooms, as a result of the so-called "devious licks" challenge, which encouraged viewers to damage public property and post videos of it to the wildly popular social app.
TikTok in September 2021 announced it would remove videos associated with the "devious licks" trend and redirect related hashtags after nationwide reports of vandalism and theft, but the damage had already been done in many communities.
Nuisances in Newark
In Newark, the largest city in New Jersey with more than 300,000 residents, the parks division includes 37 parks covering more than 700 acres of parkland. Most of the parks have a play feature, with around 250 total play pieces under the department's purview. But vandalism hasn't been limited to man-made structures.
"We've gotten anything from teenagers to 50-year-old individuals who the police have caught doing vandalism, or tearing out trees," Spadafino says. "We've had 12 of our trees vandalized on our main street where we've had to replace them in the last few years. [Vandals] are snapping the young trees that are like two-inch caliber, and they're tearing them out."
Trouble in Tampa
Colina, who's been with the city for more than three decades and is a third-generation Tampa native, says her department did not want to waste any time in tackling the vandal problem. "Around spring break time, I noticed an uptick in vandalism at our rec centers. And I said, 'Oh, wait a minute, we're going to have to try to think this through and get out front of the summertime.' Because if we noticed this was happening during spring break, chances are the culprits are going to be back in the summer."
The city — the third-most-populated in Florida — has nearly 200 parks serving more than 380,000 residents. Since March, the Tampa facilities team responded to more than a dozen incidents of vandalism, including damaged restrooms, graffiti and purposefully set fires.
Colina says in the history of the Tampa parks operation, it has never had to launch a campaign to remind the city to keep an eye on its parks, but Colina did so in May. "You have to have the pride in your city, you have to have the pride in your programs," she says. "And you have to have that ability to stand up and say, 'Not here. We're better than that.' "
Tampa's "Love Your Park" campaign focuses on a collective pride in the parks, and activating community partners and neighbors to be the parks' eyes and ears serves as a vandalism deterrent. The city printed and posted materials inside various city facilities and rec centers explaining the best ways to prevent and report vandalism. Says Colina, "We want to try to get out in front of this and engage some partners with us, like our Tampa Police Department, like our citizens, like our visitors, and let them know of the problem, show them the pictures and tell them what it's costing us — but more importantly, what it costs them — in terms of loss of use."
Spadafino points out that the vandalism isn't just a drain on parks employees' time, but it stretches to other government departments, too.
"It takes time because we have to go out and check on the area," Spadafino explains. "And now we're involving the police department, we're pulling officers off the road to come and fill out the police report, and then we have to wait for the police report. It's pulling our park staff off of their daily routine, so it puts us behind."

No matter the department size, Colina and Spadafino say there's one thing any department responding to vandal activity can do to lessen the culprits' reward: If you can't thwart them, steal their thunder.
"We try to remove the vandalism as quickly as possible," Spadafino says. "Because I think part of it is they get enjoymount out of, 'Hey, go look at my vandalism, my artwork, that I did on this in this area or that area,' or bragging to their friends that they broke something. And hopefully, by the time they go back out there to take a look at what they had done, we've already corrected the problem. So that's one of the things that we think sort of helps out a little bit."