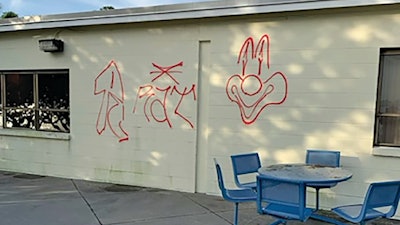 Photos courtesy of Tampa Parks and Recreation
If you're part of the AB Today community (a free and easy way to stay updated on the industry), you've seen an increase in the number of stories about parks departments confronting increased nuisance vandalism: burned trash cans, tire-damaged fields, destroyed bathroom fixtures, defaced signs and more. Repairing such damage siphons from the department's general funds, taking money and time from legitimately scheduled maintenance, such as landscaping and new coats of paint.
"For any recreation office, taking care of vandalism — whether it's a play piece that's broken or graffiti — is part of the daily operations," says Joseph Spadafino, director of parks and recreation for the city of Newark, N.J., who's been working in the recreation field for nearly four decades. "Over the last probably seven, eight months, it has definitely increased. Where [before] it was something that would happen maybe in one park area on a monthly basis, it now has turned into pretty much a weekly issue. Even as recently as last week, we had four trash cans set on fire in one of the parks."
Newark is one of two large parks operations that have agreed to share how they're grappling with vandals, including one tactic a department of any size can employ to keep would-be vandals at bay.
Log in to view the full article