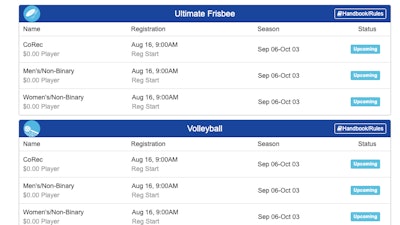 One month after NIRSA released its "JDEI Climate Study Report," justice, diversity, equity and inclusion were featured topics at the association's 2022 Intramural and Club Sports Virtual Institute in June. Included among sessions about team handball and camps on campus were ones focused on gender neutrality and universal design.
"These are concerns you can't ignore now. We do have queer people and trans people at our universities, and we need to make everybody feel included," says Amber Mateer, associate director of campus recreation at Plymouth State University, who identifies as nonbinary. "It is important to make all of your students feel welcome and to ask, 'What policies can we change to make sure everybody has a spot on this campus?' "
Implementing change
Mateer has been making policy changes at Plymouth State since their arrival last year from the University of the Pacific. One of the biggest was reclassifying all intramural sports as "open," which means anybody of any gender can participate, and club sports now operate under a "no cut" rule. Men's, women's and co-rec leagues no longer exist, but the open leagues are divided into competitive and recreational divisions.
"We have hosted all of our sports that way this year," says Mateer, who was a speaker at the Virtual Institute's gender neutrality and social justice sessions. "The big thing is making sure that in our student trainings, the language used is very clear, very equitable, because anybody can play. We're not going to make a judgment."
Campus recreation officials at Indiana State University are implementing changes, too. For example, they're incorporating universal design concepts into programming and digital content — from updating rules of play and expanding accessibility in event spaces to adding subtitles for video content in social media posts and running online documents through an online accessibility scanner to ensure they can be read by screen readers.
"Our goal using universal design is to meet the needs of all of our students, faculty and staff," says Nick Horton, assistant director of facility operations and sports programs at Indiana State. "A lot of times, I think professionals forget to go back and look at the verbiage in our rules, they forget to make sure the documents are digitally accessible before they put them on the website. Here, we try to remove as many potential barriers as possible at the start of each year, and then evaluate throughout the year to identify other possible barriers."
One of those barriers involved fraternities and sororities, whose participation in campus recreation programs at Indiana State traditionally has been high. For that reason, many offerings were skewed toward the Greek organizations. Since Horton took over the program and committed to universal design, the program now ensures everyone has an opportunity to participate and has a voice.
Another modification at Indiana State allows participants to wear any kind of jewelry in such non-contact sports as volleyball and softball, with the caveat that players are wearing it at their own risk of personal injury. Stricter jewelry-wearing policies remain in place for contact sports such as basketball, flag football and indoor soccer. In the past, all jewelry (even pieces worn to represent religious affiliation) often were banned in campus recreation competitions on campuses across the country.
Modifications like these are happening more frequently, in part because a new generation of students is speaking up — and more campus recreation professionals are listening.
"I think people who have historically been marginalized and oppressed are now being really vocal about their needs not being met," Mateer says.
"Maybe somebody just hadn't raised concerns before, and now that somebody has, we're doing something about it," adds Kourtney Graham, intramural coordinator at Iowa State University and a former graduate assistant at Indiana State. (Graham and Horton co-presented a session on diversity, equity and inclusion at the Virtual Institute.) "There's definitely still room for improvement. You can still change things without students first bringing them up, and I think that's what is going to happen in the future."
'Legitimize the work'
Change can be difficult. For Mateer, opposition to the new gender neutrality policy at Plymouth State came not from the administration or participants, but from the campus recreation department's student staff.
"A lot of students had been with the program for two or three years before I got here," Mateer says. "They were in their fourth year on staff and asking, 'What the hell are you doing with our program?' But my direct supervisor said, 'Love it. Let's make it work. Change the policy.' He was my number-one champion."
Says Horton, "It's absolutely easier if you can get a few campus partners saying, 'Hey, we've instituted a lot of initiatives that are working and are for the students. So why do we continue to go down this road that isn't for the students?' "
Chief diversity officers can play a major role in helping campus recreation departments develop gender neutrality and universal design initiatives, as well as ensure that they stay updated. Colleges and universities that have created such a position "legitimize the work that needs to be done and that needs to percolate through all aspects of the institution," Mateer says.
Mateer, Horton and Graham recommend that campus recreation professionals seeking to implement change in their own departments study up on issues related to gender identity and LGBTQ culture, connect with other NIRSA members and partner with various campus organizations.
"A lot of the things we did with gender neutrality at Indiana State were through reaching out to the LGBTQ+ Student Resource Center, getting their opinions and having them educate us. They provided Safe Zone training for our student staff," says Graham, who arrived at Iowa State from Indiana State in June.
Mateer also suggests that a little humility can go a long way when admitting what people do and do not understand about JDEI and its increasing role in society.
"I think people need to be vulnerable and admit where they are in their learning journey," Mateer says. "I'm currently in a book series at my university on equity, and for half of the people there, it is the first time they've even said the word 'equity.' They're scared, because they don't want to feel judged for not knowing certain things. I think it's very much up to how much confidence you have in yourself and then how willing you are to be vulnerable about what you don't know. My current supervisor is awesome, because he will take me aside and tell me, 'I don't understand something; do you time have to explain it to me?' "
The level of commitment required to make JDEI initiatives succeed is high, but Horton believes the endeavor is a worthy one.
"We don't get paid a lot to do what we do," he says. "So, we need to at least enjoy what we do and make sure that we're approaching our work through the lens of the students. Because if we aren't, why are we in campus rec? Let's be champions for the students."